Advantages of Undermount Kitchen Sinks vs. Overmount
South End Plumbing, Heating, & Air Expert Tips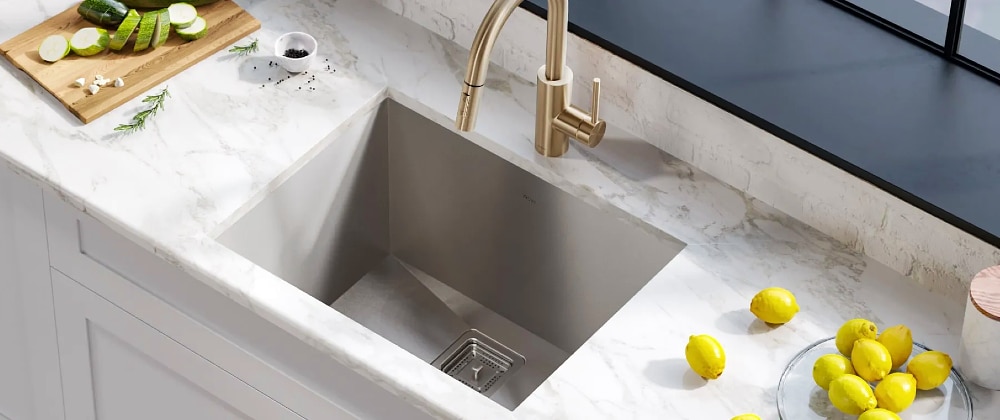 Undermount Kitchen Sinks vs. Overmount
An under-mount sink attaches to the bottom of the counter as opposed to being installed on and around the rim. Installed from below, under-mount sinks are held fast to the bottom with silicone adhesive and brackets. The bracket mounts are secured by bolts or a strong epoxy adhesive. Keep in mind with an under-mount sink, the hole in the countertop will be visible and exposed to water. For this reason, under mounts are commonly used with solid counter material such as marble or granite that are polished and sealed.
Advantages of Undermount Kitchen Sinks
They Have Distinctive Features
People often pick under-mount sinks for their kitchen remodels because of their smooth design. Since the sink is installed underneath the counter, its lip of it is flush against the countertop. This creates smooth lines with a look that is best for a sophisticated or modern house design. In addition, the sink's taps can be set up right into the wall surface for an interesting look. Without the eye being attracted to the kitchen sink, visitors will see the other design traits in your home.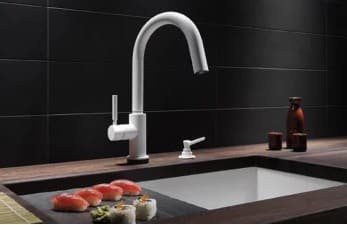 Easy to Clean
When cleaning a counter in the kitchen, you know how the lip of the sink creates a tiny crack or crevice. Food or gunk can get in there and become nasty and hard to get out. An under-mount sink solves this issue. It's easy to clean around the sink, and it's important since it's always a busy place, really for the whole home. You'll be able to wipe messes straight into the sink. Some under-mount sinks additionally include a draining board, built-in, to keep dishes off of your countertop. Everything looks cleaner, even with fewer bad odors lingering in the kitchen, and saves you time.
They Add Value
If you're thinking of selling your home, you are most likely thinking of effective ways to improve the interest and resale value. Combining trendy décor with popular functions is what you're looking for. An under mount sink is an excellent idea to include popular style and functional features.
The floating sinks of recent years are beautiful, yet they won't be as useful as people want when it comes to using a kitchen all the time. An under mount sink has the smooth look that is preferred in houses today. It enables any design style in the surrounding space, and because it is easy to keep clean, new homeowners will still enjoy it for years to come.
You Get More Space
A small kitchen area might be cramped and difficult for multiple people to work in. And, think about the kitchen, there's almost always more than one person doing something there. If you put in an under-mount sink, you will not have the edge of the sink to cut into the counter space. Instead, you can use the space right to the edge of the sink.
This makes it simpler to use multiple appliances, cutting boards, knife blocks, and other devices on the counters. This space saver is perfect for homes, apartments, or smaller kitchens.
If you're on a budget and do not want to put in new countertops, you may consider doing a DIY project with an under mount sink. An under-mount sink might be the design and the functionality you'll really like in your kitchen.
Disadvantages
Incorrect Installation
You might well choose to have a pro install a new under-mount sink. This is often a wise decision. Without pro-caliber installation, and using a pro-quality sealant and exact standards, the sink may have major leaking problems.
The correct support is also needed with an under mount sink. Think just how much water weighs. Now think of how heavy a full sink is. Considered it a kitchen sink, and how busy your kitchen sink is. Add in a bunch of dishes. The weight in your sink could cause it to sag and break. The cool renovation project becomes a total disaster.
When hiring an expert to put in a new sink, ask about their experience putting in the model you've chosen, and the items utilized. A qualified pro will use a two-part epoxy adhesive and seal it with silicone caulking around the edges. He or she might use screws, clips, or bands to affix it safely to the kitchen counter. The whole procedure usually takes less than an hour when done by an expert.
Having a Compatible Counter
Since an under mount sink may weigh a lot, it doesn't work well with all kinds of kitchen counters. If your countertop is old, it is most likely made from laminate or ceramic tile. These materials have weak spots that could make it difficult to effectively secure the sink. Undermount sinks are best used with materials such as marble, soapstone, concrete, or granite. If you do not already have this sort of counter, you'll need to renovate it in addition to renovating your sink.
More Expensive
An under-mount sink typically will set you back more than an overmount or drop-in sink. An under-mount sink costs about $300. In addition, you should factor in more expenses than just purchasing the fixture. Take into consideration whether you want a higher-end sink, which might cost much more than average. You have to budget for any counter replacement you'll need to make certain the sink is safe, along with labor prices for having a specialist install your new sink.
Keep in mind, your installation expert will build a customized opening in your countertop. This may make it more difficult to purchase a new sink in the future, so acquire one that is the best quality the first time to stop future problems and has the new sink last for years.
---
South End Plumbing specializes in leak repairs and water heater installation, so remember, we are just a click away. We also specialize in tankless water heaters – give us a call! South End Plumbing is one of the only companies that will give you a free estimate. Call us at 704-919-1722 or fill out the form online to schedule a visit.