Best Portable Air Conditioners for Camping
South End Plumbing, Heating, & Air Expert Tips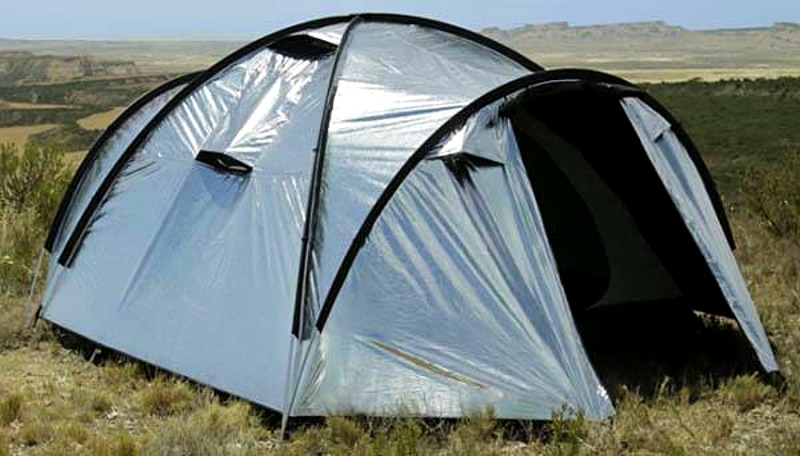 You enjoy camping. You have time for the trips during the summer. Even at night, while you want to sleep, it can still be hot, so you want AC, even if you're in the middle of nowhere. Fortunately, there are many options when it comes to portable, mobile air conditioners which will make your camping trips better and more enjoyable.
Types of Portable AC Units
There are different types of AC units, each with their pros and cons. Some are better suited for camping trips. Some work best depending on how you camp, where you go, what other gear or vehicle you take, and the extent you need the AC. Here's a quick look.
A window unit might be your first thought with portable air conditioners. They are designed to fit in a window, bringing air in from outside to inside. This isn't the most compact or lightweight option, but it might well fit your style of camping. You need a space – generally a window – to mount and hold the unit and you need electricity.
Spot cooler AC units may be ideal if you're needing the ability to cool a large space, even an outdoor space. For example, a large tent or picnic area can be cooled with a spot cooler unit. Possible cons include they use a lot of energy, which could be expensive and inconvenient, and they won't be a good, useful fit for a small space.
This type is quite common for campers. They are good for effectively cooling a small space. They are made to be portable. For the space it's designed for, they are more effective and easier to set up than window or spot cooler units. They can cover about 250 square feet. You still need to be aware of ventilation in an area while in use.
If you're valuing compact and easily portable over power, a battery-powered air conditioner is what to look for. These aren't as powerful, but you might not need that cooling capacity anyway. They usually run on 12-volt power. If you're camping without electricity, going to be on the move a lot, or just need temporary AC sometimes, check out these units.
What to Know About Portable Air Conditioners for Camping
Here are some of the specifications and aspects to know about with AC units. A little research can narrow down what you need for your usual trips.
Mobility – Are you camping and mostly staying in one spot? Or going to be constantly on the go, maybe just by yourself away from civilization? How much are you going to need to set up, break down and move all your stuff, including an AC? A very portable, then probably not as powerful, unit could be exactly what you're looking for. On the other hand, if you setting up a unit for days at a time and won't need to move it, portability and weight aren't as important.
Power – There's a power source to consider. There's also a unit's power rating. There are battery, electric, and solar-powered units. If you're often camping where there's no electricity, there are still many good options, but you need to know before you buy one. For the power rating, you can have an AC that's too large or too small for what you're needing. You should also ask yourself, do I need this a few minutes at a time on occasion, or am I going to run this near 24-7?
Size and Fit – Some of this is about portability but a logistics question is also, does this unit fit my tent, vehicle, backpack or anywhere else I expect to set it up and use, along with transport? With a window unit, for instance, is this going to function with the windows and electric outlets I'll have?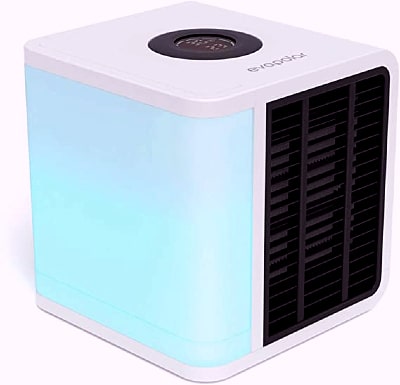 AC Units to Consider
Here are some examples of what's on the market. There are many more to check out. It's all about getting what works best for your camping trip and logistics, so it makes your time out there better, not more aggravating.
Emerson Quiet Kool Portable AC
The Emerson Quiet Kool is ideal for a 2-4 person tent. It cools an area of 150 square feet. It's easy to maintain. This unit is a battery-powered unit but has a very long battery life. It is heavy, so it's certainly not great for lugging around a bunch, but it has functional wheels and handles to cut down on lifting. It has a remote control, and an auto shut-off feature, and is quiet.
Evapolar Evalight Plus Personal Evaporative AC
This model is much lighter and easier to move – at three pounds. The Evapolar Evalight is one of the smallest AC units out there. It's a battery-powered unit and a long battery life because it's very energy efficient. This is good only for small areas, such as in a small tent. Surprisingly, it can function as a humidifier, cooler, or air conditioner.
Colzer Portable AC for Camping
The Colzer 14,000-BTU unit is recommended if you're needing a powerful, fast AC. This device works for up to 500 square feet. It is battery-powered. It weighs just over 50 pounds and must be set up in a window or other well-ventilated spot.
KingTec Solar Powered Window AC
If you're camping, but setting up your camp for a few days or more, this could be an option. It runs on electricity or solar. It is heavy, 169 pounds, so it's not easily portable at all, but if you can set it and leave it until it's time to head home, it's powerful, cools about 500 square feet, and works quickly and dependably.
AC Units With Heating Functions
Black & Decker Portable AC with Heat
This is a powerful cooling and heating unit which could be your choice for good power and covering a lot of areas, such as a large party or a picnic area. It covers about 375 square feet. It runs on electricity. The unit has a vent hose – which means it doesn't need to be near a window or door, but it also means you've got more stuff to carry around. It is fairly big and weighs 35 pounds.
At South End Heating and Air, we specialize in HVAC and furnace repair, call us for a free consult and free estimate. We'll evaluate your system and help make recommendations for optimum value. After all, we want to keep you cool all summer long and warm in the winter. Just schedule a visit with one of our technicians to talk about how we can help with your heating needs. Would you like to learn more options our techs can help you with? Give us a call 704-684-5339.