Electric Fireplace FAQs
South End Plumbing, Heating, & Air Expert Tips

What's an Electric Fireplace?
An electric fireplace is an electric heater that simulates the look of a traditional wood or gas fireplace.
Electric fireplaces are generally put on a wall or inside traditional fireplaces which aren't made for use with wood or gas and "conventional" fires. They connect to the wall and operate only on a "flame only" mode.
Electric fireplaces can heat rooms or spaces of varying sizes. They can typically heat a space from 400-1,000 square feet.
How Does an Electric Fireplace Work?
Electric fireplaces project LED lights onto a screen, which looks like a fire in a hearth. The realistic look and customization of the LED visuals depend on the model. Most models have a heater that actually functions with or without the LED visuals, so you can run the heat with no visuals or vice-versa.
Why Buy an Electric Fireplace?
Electric fireplaces could be a good choice for a home in many situations. It's an alternative in places, neighborhoods, or cities with different codes or environmental restrictions concerning wood or gas burning. If you live in a place where venting can't work in a residence or building, you could look into getting an electric fireplace. An electric fireplace could be an easier, cleaner choice over a fireplace you otherwise rarely use or don't like using.
Is an Electric Fireplace Hot to the Touch?
Electric fireplaces make and put out heat, but the fireplace itself, and the screen showing the "fire" are not hot to the touch.
Are Electric Fireplaces Expensive to Run?
No, most electric fireplaces run on plain ol' 110-120 volt electrical currents and use about 1,500 watts an hour at full power. The heat and the whole unit use very little power and are energy efficient. It should cost a few cents an hour of electricity. Electric fireplaces can be a good choice for zone heating, especially in an area of the house you use a great deal. It's possible to use an electric fireplace for supplemental heating in a room or area of a house. You can save money compared to turning up the heat everywhere.
How Do You Turn It On and Off?
Most electric fireplaces have remote controls and are simple and safe to turn on and off. It's easy to control the heat. The fireplaces also have manual controls on the unit itself, maybe the back, front, or side of the device, depending on the design and model.
What Maintenance Does an Electric Fireplace Need?
There is little to no maintenance with an electric fireplace. Some units will need light bulb changes very rarely. Fireplaces with LED bulbs virtually never need bulb changes or maintenance.
What about Gas, Smoke, or Fumes?
No. Electric fireplaces give off no smoke, emissions, or pollutants. Electric fireplaces also emit no carbon monoxide.
Is an Electric Fireplace Safe for Kids and Pets?
Yes. Electric fireplaces are very safe, especially compared to other types of fireplaces. They are safe to touch while on, basically like a TV that is on. Electric fireplaces emit no smoke, ash, toxins, or carbon monoxide.
Can an Electric Fireplace be Close to a TV?
Electric fireplaces are safe to install near TVs or other electronic or tech devices. You might need to be mindful with some fireplaces about leaving some space, as in from a few inches to a foot, between the heat being emitted and a device.
Can You Put an Electric Fireplace Outside?
Yes, although you will want to be sure to get an outdoor-rated fireplace. Patios, porches, and outdoor kitchens can be great places for a fireplace to make those areas more enjoyable and useful.
What's a 3-Sided Fireplace?
There are a variety of types and looks of electric fireplace models. A built-in, three-sided electric fireplace can be installed in such a way that the flames are visible from three sides. Electric fireplaces can be in the center of a room, as in not recessed, or in a hearth at all. They can be two-sided on fully inset into a wall or hearth to look more like a traditional fireplace.
What's a Firebox Insert? Or a Log Insert?
Electric fireplace inserts convert an existing wood or gas fireplace into an electric fireplace. Here there are firebox inserts and electric log inserts.
A firebox insert looks closest to a built-in fireplace. It is placed into the recessed space of an existing fireplace.
An electric log insert looks like a grate and firewood is in the grate. It has lights that show a flame image within the existing fireplace.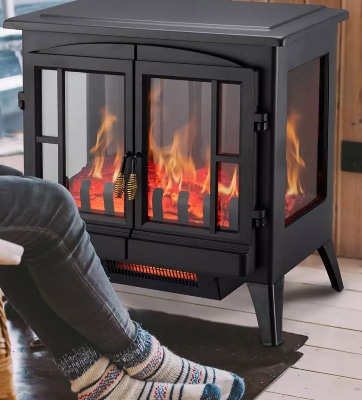 Will I Need a Permit to Have an Electric Fireplace?
No. Most models can be used right away with no permit. Most fireplaces use a standard 3-prong cord and a standard home electric outlet. You may choose to have an electrician install it and, if needed, hard-wire it. Even there, though, no permit is required.
Should I Have a Pro Install it?
This depends. Most electric fireplace models are easy to use very quickly and easily. Installation is usually a matter of putting it where you want it and plugging it in. Depending on the size of the fireplace and how you want it placed, installed, inset or mounted, it could be a two-person job. You might need some assembly with some models or mounting options. It is best to have a professional electrician do the work if you're putting in a built-in and hard-wired electric fireplace.
At South End Heating and Air, we specialize in HVAC and furnace repair, call us for a free consult. We'll evaluate your system and help make recommendations for optimum value. After all, we want to keep you cool all summer long and warm in the winter. Just schedule a visit with one of our technicians to talk about how we can help with your heating needs. Would you like to learn more options our techs can help you with? Give us a call 704-684-5339.