How to Tell if Your Home Thermostat is Bad
South End Plumbing, Heating, & Air Expert Tips

How to Tell if Your Home Thermostat is Bad
So how do you tell if your home thermostat is bad? When thermostats break, homeowners have problems with comfort levels inside Charlotte area homes. Plenty of homeowners may guess the problem is with their heating and air devices. In reality, a malfunctioning thermostat is a possible cause. South End Heating & Air shares how to inform if your house thermostat is bad and what to do about it.
How to Tell if Your Home Thermostat Is Bad
A malfunctioning thermostat produces some symptoms to inform house owners it is time for a replacement. These signs frequently feel like convenience problems, which leads Charlotte homeowners to think it's a heating or cooling device issue. In fact, your thermostat is a possible reason for these problems, and a thermostat upgrade is often more budget-friendly than an HVAC device repair– excellent news!
If you do not know how to tell if your house thermostat is bad, review the following list of symptoms a bad thermostat typically produces:
Uneven temperature levels throughout your house: The thermostat reading doesn't match the temperature level in all areas of the house– some spaces are hotter/colder than others
The thermostat is unresponsive to your adjustments: It does not turn on your HVAC systems when you change the temperature level, or the display does not change when you push buttons
Your a/c system won't switch on: Defects in the thermostat's electrical wiring may interrupt the normal signals it sends out to your heating and cooling equipment
The thermostat does not turn on: Even with fresh batteries or a confirmed electrical connection, the display does not appear
The a/c system starts and stops a lot: Calibration may be off which provides incorrect temperature readings
Your heating and cooling system does not shut off: Circuitry problems can disrupt signals to turn off, or the thermostat never gets the message that correct indoor temperatures are reached due to miscalibration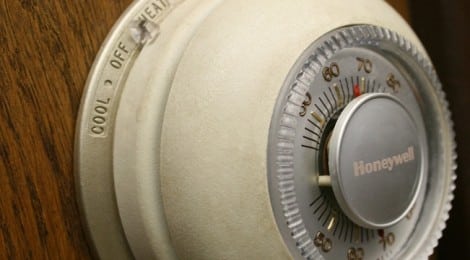 The Benefits of Thermostat Upgrades
Once you understand how to tell if your home thermostat is bad and discover the signs, it's time to set up a new thermostat. A thermostat upgrade provides homes with many valuable benefits:
Gain scheduling capabilities when you upgrade from a manual to a programmable or wise thermostat
Enhanced temperature level control with accuracy calibration
Better energy performance with appropriate control over the heating and cooling system
A thermostat with more user-friendly functions than out-of-date models
Less wear and tear to a/c equipment, as it is only signified to run when needed
Lower energy expenses due to less energy waste
What to Do Prior to You Purchase a New Thermostat
When it's time for a thermostat upgrade in your Charlotte area house, call your relied-on regional HVAC specialist. While there are numerous thermostats offered online or at your regional hardware shop, you need the best model for your home and HVAC system.
Thermostats are not one size fits all. You require a brand-new thermostat compatible with the kind of heating and cooling equipment in your house. If you're updating, it makes sense to update comfort and control. The ideal thermostat choice provides both, but it's tough to inform in some cases which design is best for your house.
At South End HVAC we specialize in home thermostats, contact us for a free consult. We'll evaluate your system and help make recommendations for optimum value. After all, we want to keep you cool all summer long and warm in the winter. Just schedule a visit with one of our technicians to talk about how we can help with your thermostat settings. Would you like to learn more options our techs can help you with? give us a call 704-684-5339