How to Use Your Ceiling Fan Better
South End Plumbing, Heating, & Air Expert Tips

Ceiling fans are great to keep rooms feeling cool in the summer, really most of the year here in the Carolinas. They can be used in the winter, too. It just takes a little know-how about using fans properly. It's easy to do with your fans in your home. You can get your ceiling fans to work with your heating system so your home feels more comfortable and you save some on energy bills during the winter.
Summer
Ok, you've probably got this one figured out when it comes to using your ceiling fan better. Run ceiling fans counterclockwise on medium to high with the AC running.
You should only use fans in rooms that are occupied. Fans aren't actually changing the temperature of a room or the whole building. The effect of the fan is just making it feel cooler to you and people in close proximity to the fan. This is why it is a waste to run a fan in an empty room. You're using energy and wearing the motor and lifespan of the fan unnecessarily.
Fans make you feel cooler in warm or hot temperatures because it's creating a breeze that evaporates moisture off of your skin. When a fan is going counterclockwise, the angle of the blades forces air down. This creates a cooling feeling. It lets you keep your system's thermostat set a little bit higher.
Winter
This is a part some might not know. You can run ceiling fans in a clockwise direction, on low, to move the hot air, which naturally rises, back down to where you are in a room.
Ceiling fans can generate the opposite effect from how we normally use them. This is a major way to use your ceiling fan better. When we run the heat in a home, hot air gathers near ceilings, be it in a room or in the house as a whole. There's an even greater temperature difference in rooms or spaces with high ceilings. It can also be a larger difference in homes with older, less-efficient HVAC systems.
It's best to keep the fan on low for winter heating. You don't want to create a strong breeze that could wind up feeling cool. You just want the warmer air to circulate more than it otherwise would.
Now with warmer air not staying up by the ceiling, where it does little good, you can keep thermostats set a little bit lower and your heating system won't work as hard on average through the winter.
If you try out these two ideas, you can have a more comfortable home year around and be a little more environmentally friendly, too.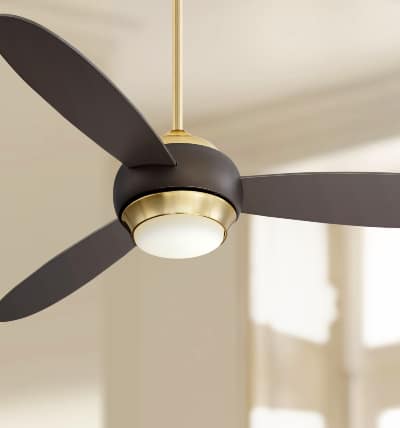 Advantages of Ceiling Fans
Even though we are used to widespread heating and air conditioning use everywhere we go, many people still like ceiling fans, and there are plenty of good reasons why.
Ceiling fans can help you save money on energy bills. During hot and humid seasons, it makes sense to do more to keep cool. Ceiling fans do this while using little energy. A fan can work with air from a cooling system or outdoor air. The term "wind chill" usually doesn't go along with July or August, but the measured difference of how the temperature feels with a fan going is 4-6 degrees. With this, you don't have to blast your AC so often even on the hottest days.
Utility Savings Year Around
Yes, ceiling fans can be used all year, for cooling and heating. When you want a fan to help with the heat, all you got to do is change the direction to a clockwise rotation and run it on low.
Also, to make certain you use ceiling fans all year, and efficiently, it makes sense to install them in all rooms you and your family use the most. Ceiling fans can be installed in the living room as well as bedrooms, offices, dining rooms, garages, man caves and outdoor spaces like porches and patios.
You Can Add Lights and Looks
Ceiling fans typically have light fixtures. You can upgrade the style, design, and functionality of a room while making it more comfortable. There are plenty of good possibilities. The purpose and creativity are up to you.
The light can be ambient or useful for working or reading. The style for a room can be utilitarian, simple, colorful, traditional, elegant, or modern.
Cons of Ceiling Fans
For the most part in most situations, ceiling fans are excellent home upgrades. They can even make your energy usage and HVAC system both better. However, there are disadvantages to keep in mind. Here are a couple worth noting:
Noise
Some ceiling fans generate a lot of sounds. In time, usually pretty long into a fan's lifespan, the fan's overall weight may move to one side, or its blades may have loose screws. There can be other wear over time. When any of these happens, you may get an obvious whirring, humming or buzzing sound that can be fairly frustrating, particularly if it leads to a loud motor drone. Another option here is putting in bladeless ceiling fans which don't generate as much sound as conventional ones.
Dust and Dirt
Fans can be a little bit of an extra effort to keep clean. When fans are dirty, they spread the dust, hair, and mess around the house. Because it's installed on your ceiling, it will be a bit hard to reach, so regularly dusting and cleaning a fan is easy to forget or put off. There are vacuums or magnetic dusters made for reaching fans or other high spots.
At South End Heating and Air we specialize in air conditioning service, call us for a free consult. We'll evaluate your system and help make recommendations for optimum value. After all, we want to keep you cool all summer long and warm in the winter. Just schedule a visit with one of our technicians to talk about how we can help with your heating needs. Would you like to learn more options our techs can help you with? Give us a call 704-684-5339.