Taking Care of Landscaping Near AC Units
South End Plumbing, Heating, & Air Expert Tips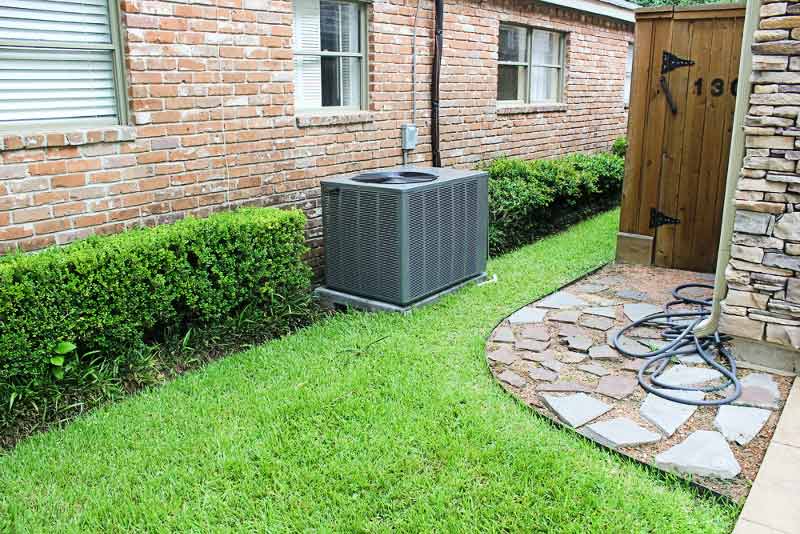 Going from winter into spring, the spring clean-up all around the house likely, quite literally, means around the house, too. When getting the spring yardwork underway, the work might include landscaping and taking care of space right around the AC units. Your main idea may be safety, just taking care of a mess, or truly doing a photo-worthy landscaping job. You might be looking for a way to hide the big, ugly machines. Whatever the goal, there are some helpful tips. Good landscaping can solve problems before their problems, improve your system's efficiency and make your whole yard nicer.
Keep a Buffer Zone
If you're weeding out overgrown foliage or putting in a whole, new landscaping plan around the HVAC unit, it's important to leave the right amount of space in between plants and the machines. You're looking to keep good, clear airflow going into the units, specifically the coils.
Keep 2-3 feet of space clear all around any units. If you're starting to plant, or clearing out a season, or maybe a lot more, of growth, think about plants growing and leaving at least the 2-3 feet. Also, think about making it easier on yourself in the future as far as space to work on the units and the trees, flowers or shrubs. If you have trees or tall plants growing over the unit, trim them to keep any leaves or branches five feet or more from the unit.
The More Shade, the Better
This goes double for AC units for most of Carolina's spring, summer, and fall. Any areas of shade near your home, even if only for part of the morning or afternoon, help with how hard and long your AC has to run.
It can be difficult to balance shade on or near an AC unit with keeping it clear of plants for good airflow but keeping or, over time, growing tall trees can help your home and yard be a little cooler. In the home, it can be energy and cost-efficient even if just a little bit at a time.
We suggest making use of tall trees, shrubs, and also hedges to create shade. Because fallen leaves, dust, and tall grass can block the condenser, you'll need to be on top of raking and cutting. However, even that will not be so bad in the shade.
This could seem counterproductive, yet trees that lose their leaves in the autumn may be the best all-around choice for your home. In the summer, they give a great deal of shade. In the winter, they will let sunlight reach your house or yard, which will be nicer and maybe a bit more efficient for the heating system. With a few trees, you can get savings and a yard you like spending time in all the time.
Picking the Right Plants
Choosing the right plants is about more than what looks nice, although it's your home, so do what you really like. When possible, right around the HVAC units, don't pick plants or trees which lose or shed foliage in the fall or winter. This will create a mess on or near the machines you'll have to take care of.
Hedges are a common, good idea. They can be trimmed away from the units. The right picks can grow to give some shade and hide units for a better look to your yard if that's part of your plan.
Building a lattice around AC or heat units can be a good choice. Then, you can put hanging or climbing plants on the lattice.
Whatever landscaping choices you pick, make certain to trim plants, bushes, and trees away from units and all components to keep a proper airflow.
Make or Grow a Windbreak
You can create your own windbreak with plants around your AC or heat units. This can be some protection against bad weather and be more scenic with camouflaging machines from the rest of your pleasant yard. The main tip is, to make sure taller, thicker trees or shrubs are securely planted.
Some good windbreak plants include easy-to-grow evergreen trees or plants such as boxwood, cypress, spruce, and cedar. These evergreens won't lose large amounts of needles. They are easy to trim to the height and shape you like.
Large Potted Plants
Large plants in pots give you a very nice look and they can be moved or removed as you like. You can hide the ugly machines very easily. You can change what goes in the pots as the seasons, or years, or your taste, all change. If you need to move them for maintenance or a bigger HVAC or yard project, it's simple.
Using a Lattice or a Screen
Putting up a screen, wall, fence, trellis, or lattice, with or without plants, maybe a way to protect and hide units. With a lattice or trellis, you can hang plants or have plants, such as vines or bushes, grow up the wall or fencing. If the lattice actually goes over the top of the units, do not have plants growing on the top.
With anything you choose to go with, still keep the 2-3 feet gap in mind, including trimming plants back over time. Also, make sure the structure is strong and well-built enough for your weather and environment.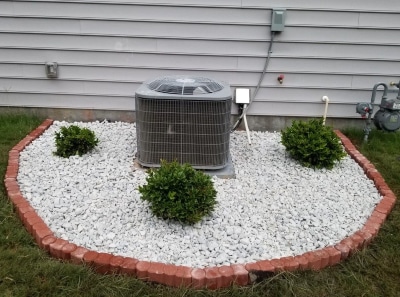 Go With a Gravel or Rock Garden
You can have a creative, clean look with practically no maintenance. Lay down a rock or gravel garden for part of your yard or patio, especially around the HVAC units. The unit can be elevated on a concrete platform. Around it, put down a rock or gravel bed. Plant beds, with mulch and borders, can be part of the design. It might take a few days of work, but the end result and the maintenance or yardwork you save later will be great.
At South End Heating and Air we specialize in HVAC and furnace repair, call us for a free consult. We'll evaluate your system and help make recommendations for optimum value. After all, we want to keep you cool all summer long and warm in the winter. Just schedule a visit with one of our technicians to talk about how we can help with your heating needs. Would you like to learn more options our techs can help you with? Give us a call 704-684-5339.