The Pros & Cons of Freestanding Bathtubs
South End Plumbing, Heating, & Air Expert Tips
The Pros & Cons of Freestanding Bathtubs
Before you commit yourself to that huge bathroom renovation, there is a crucial question you're going to require to handle: freestanding or built-in? We're talking, of course, about tubs.
Let's face it, freestanding bathtubs are more appealing, whether you like contemporary or classic design. They've been actually popular in recent years because not just are they gorgeous, but most are in fact created for individuals who wish to enjoy a bath. They make a strong style declaration in a space and they can be found in an unbelievable range of shapes and sizes, allowing you to personalize your bathroom's style to a tee.
On the other hand, there are some useful benefits to integrated bath tubs, particularly in the smaller sized areas a lot of us are now residing in. They just fit much better in most bathrooms and they are often simpler to use and tidy.
Let's take a look at the advantages and disadvantages of both choices. Here at South End Plumbing, we're fans of both styles, as they both have advantages and downsides. But each is not for everyone, and not for every restroom. It is necessary to consider your space and think about what will fit the very best. Our guide will give you everything you need to understand to make the ideal decision.
Freestanding Tubs
Ah, the tasty freestanding tub. It's hard to get past it– these tubs look so very trendy. They attract attention, quickly getting your eye when you go into the restroom. They can be a little not practical sometimes, however fans of freestanding tubs will forgive all else just for the look.
Pros
Options – A freestanding tub can fit any design. From the timeless claw-foot to a modern egg shape, there is no limit to the irregularity of freestanding tubs. They aren't restricted by the requirement to fit between walls or into tile, so their designers have the ability to be more innovative with the shape.
Style – The majority of people who select a freestanding tub do so because of the appearance. It's special, and it makes a declaration that is often related to luxury– most high-end day spas will utilize freestanding tubs.
Ease of Install –  Compared to a built-in tub, a freestanding tub is painless to install. Instead of a decorator and a tile guy, you'll likely simply need a plumber.
Location – Freestanding tubs permit you to use your area more creatively. Want a tub directly under a skylight in the middle of the room? Why not! While built-in tubs might require 2 or more walls for their install, with freestanding tubs anything goes!
Cons
Expense – Freestanding tubs are usually more costly than built-in tubs, even when setup is considered. This is because they are more complicated to build and have more style flourishes.
Weight – Freestanding tubs can be very heavy, often requiring an enhanced floor. It holds true that you can buy fiberglass models, however these are less typical and can be more costly. They are also normally larger, and that implies they weigh more when filled with water.
No Shower –  If you want to combine a shower with a tub, an integrated tub is the way to go. It is possible to mount a shower to a freestanding tub, however it tends to look ungainly and needs a wrap-around curtain. Some featured a small hand-held unit for rinsing, so if you're content with that you'll be okay.
Storage – Freestanding tubs have less alternatives in terms of accessible storage than do built-ins. There is merely no ledge on a freestanding tub to put your shampoo or your candles. Nevertheless, this problem can be mitigated through the purchase of a rolling caddie.
Size – You might have problem getting in an out of some of the swimming-pool sized appeals we've seen. Plus, some are also way too tall to lean over the edge, which is a problem whether you're cleaning or offering a kid or animal a bath.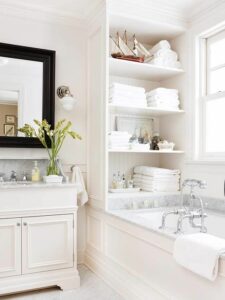 Integrated Tubs
The old reputable is called the standard for good reason. The built-in tub continues to be a favorite of many due to its usefulness and sensibility. We're not knocking its appearances either: with the right style, a built-in tub can have every bit as much beauty as a freestanding tub.
Pros
Price – In spite of the increased accessibility of less expensive freestanding tubs, integrated tubs are typically going to be the more budget-friendly alternative. This, obviously, depends on the expense of the surround, if your integrated tub requires it.
Space Savings – Built-in tubs are going to be more space-economical. They sit flush with a wall, so they're generally tucked out of the way. Freestanding tubs will generally need space around them, so they tend to utilize area a little less effectively. If you have a little restroom, you might wish to opt for a built-in tub.
Storage – Due to the fact that integrated tubs are installed flush with walls, they will offer much more alternatives in terms of storage. For instance, shelves can be mounted on the walls next to integrated tubs for bath and shower products. In addition, if you have a substantial surround, you'll have the ability to use the edge of the tub itself for storage of soap dishes and shampoo bottles.
Plumbing – Plumbing for freestanding tubs can be a little complex and generally requires running brand-new piping, whereas lots of bathrooms will already have plumbing for built-in tubs set up. In addition, pipes for freestanding tubs is challenging to hide and can be somewhat unsightly. With built-in tubs, the pipes is tucked away under the tub itself and out of sight.
Much easier to Clean – Integrated tubs are smaller sized, and they normally do not have as lots of fractures and crevices to clean within. Plus, you only have to clean the inside of the tub, instead of the outside and the bottom.
Cons
Flexibility – Naturally, placement isn't as flexible as it is with freestanding tubs. Built-in tubs are going to be relegated to the sides of the room, and lots of will require to be put in a corner.
Options – There just are not as lots of alternatives for built-in tubs. This means that built-in tubs need to count on their surround for their design, their distinct appearance. Though there is some imagination in the built-in tub space, there is far less than with freestanding tubs.
Setup – Regardless of the possible need for brand-new plumbing, freestanding tubs still make for a much easier installation than do built-ins. Integrated tubs need sealing, installing, and typically the production of a surround. Freestanding tubs need none of those things.
Styling – While it comes really comes down to personal taste, there is something about a freestanding tub that outshines even the most trendy of built-ins. There is nothing in the built-in tub space that compares to the design declaration that freestanding tubs can make.
It's All Up To You
Ultimately the option is personal. If you have the area and like the appearance of a freestanding tub, you'll want to overlook the disadvantages and choose the more trendy choice. If you want the usefulness and simplicity of an integrated tub, do not despair. There is a lot of variety out there and you can discover something that will work for the look you're choosing.
If you're attempting to identify what will add the most worth to your house, it's a hard call. Our recommendations is to make sure the bath tub fits you well so you can use it. A bathroom that works well together is going to have the most value.
We hope that the list above has at least offered you something to consider, but the choice is ultimately yours to make. Which will it be? Freestanding or built-in? You can let us know what you have actually decided on and why in the comments below!
South End Plumbing specializes in bathroom remodel plumbing, so remember, we are just a click away. We also specialize in video sewer line inspection – give us a call! South End Plumbing is one of the only companies that will give you a free estimate. Call us at 704-919-1722 or fill out the form online to schedule a visit.