What Household Items Can Unclog a Toilet?
South End Plumbing, Heating, & Air Expert Tips
What Household Items Can Unclog a Toilet?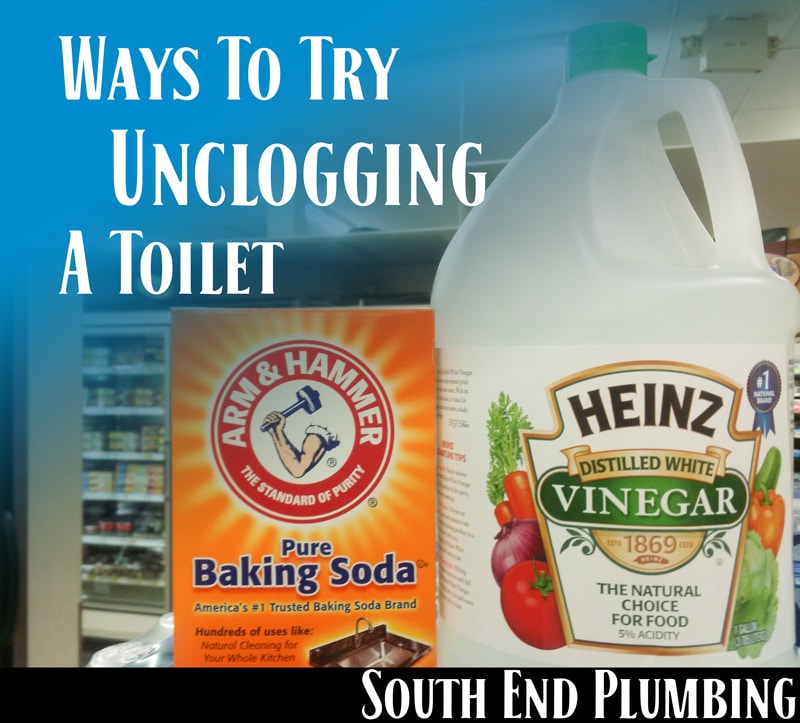 Everyone has clogged a toilet without a plunger handy. Thankfully there are many potential solutions using household items that do not require a plunger. Here's a few tips how to unclog a toilet that don't cause a lot of mess. And if you're sneaky enough you may be able to break up the clog without anyone knowing! (your secret is safe with us)
1. Using Baking Soda and Vinegar for the Clog
You may be familiar with using baking soda to release a mass of foam for drain clogs, school science project volcanos, and cleaning battery terminals, but did you know you can also use it to get rid of clogs in your commode? Baking soda and vinegar is a great cleaning agent, and when poured into a clogged toilet, often will bust up the clog without you having to get out the plunger (or running to purchase one if you don't already own one).
Here is the best ratio/recipe for this concoction: combine three cups boiling water with two cups vinegar. Then pour in one cup of baking soda into the clogged toilet, and next pour in the hot water/vinegar mixture. Leave the ingredients to do their job, and make sure and check back in about 30 minutes. It's likely the clog will have dispersed, and a single flush with send it on down the drain. As a bonus your toilet bowl will be much cleaner due to the foaming and natural cleaning action of the baking soda and vinegar!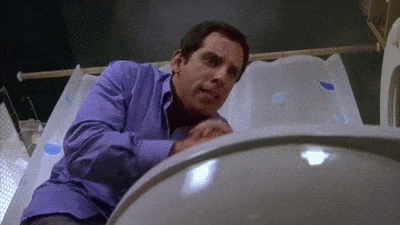 2. Using Dawn Dish Soap to Degrease a Toilet Clog
There may be cases where you don't have vinegar or you simply don't have the room in the bowl to try the foaming action. In that case you may want to try this clog busting trick! Pour a half cup of Dawn Dish Detergent (you may also use other brands) into the clogged toilet. To accelerate the cleaning effect you may also carefully pour boiling water into the bowl after the dish soap. In most cases, the boiling water and soap will break up the clog, allowing the toilet to flush the clog on down the drain!
Bonus Info: It's likely that you may be caught in a toilet clog situation on a date. If  this ever happens and you don't see a plunger you can try using any liquid hand soap or shampoo that you see handy and hot water from the sink to attempt to get the clog to go down. With any luck you'll make your way out with the room smelling a bed of roses!
3. When it's time to go to Lowe's or Home Depot for a Drain Snake
In the event that you've tried everything known to man, you'll want to buy or rent a drain snake. This can get into tricky territory because there are many lengths and grades of snakes. Some even have the potential of damaging your pipes if you get one that's made for larger drains so consult your "expert" at the hardware store and read descriptions before making a mistake and causing damage.
To use snake, feed the flexible end of the snake into the drain and then crank the snake handle to break up the clog. A word to the wise though, be careful with how much you push in the snake. Many home owners using a snake for the first time can actually compact the clog more and make it worse. If you feel like you are having to force the snake too much to get past the clog then back it back out and try to go forward again. This is something you really have to get a feel for and where professional experience starts to come into play.
4. Schedule Service with South End Plumbing
In the event you still haven't been able to fix the clog, you may need to call a professional plumber. You don't want to risk damage to pipes considering the cost to unclog is relatively low compared to the cost of replacing damaged drain pipes.
Need to Schedule a Professional Plumber in the Charlotte NC Area?
Give us a call at 704-919-1722 or use our online quote request for emergency 24/7 service. Our price is the same day or night, week days and weekends, and as always, we give FREE Estimates so you don't pay a trip fee! It doesn't get any easier than that folks!