Inspect Plumbing Using Our Video Drain Inspection
South End Plumbing, Heating, & Air Expert Tips
What The Drain Camera Sees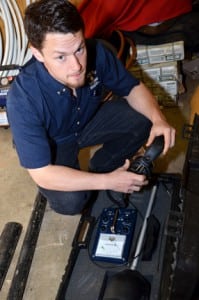 Here at South End Plumbing, we take pride in leaving your home or business the same or better than when we found it. So often a plumber needs to access pipes behind walls, underground, or in other hard-to-reach areas that can leave quite a bit of repair work behind for the home or business owner. On the other hand, we strive to look for ways to keep our home and business owners from spending more than they need to. It is for this reason that we offer video drain inspections for our clients.
A video drain inspection is a good way to visually inspect all or most areas the plumbing in a home or business. Using a special camera, we are able to snake through the pipes and find the exact location of a clog, leak, burst pipe, or other issue that you may have. Because we find the problem before we enter any walls or dig any dirt, we can help you save quite a bit on repairing these areas. Additionally, we can be done with our work in a timelier manner than if we were to spend our time making educated guesses.
When you call us for video drain inspection services, you can feel confident that not only will we have the best tools available to help you with your plumbing problems, but you can also rely on our 25 years of experience to ensure that the job will be completed correctly the first time. Our professional team is waiting to hear from you. Contact us today and find out what's really in the pipes of your Cornelius, NC home or business.