Ways to Use Your HVAC System More Energy Efficiently
South End Plumbing, Heating, & Air Expert Tips
Utility expenses can become a major drain on your budget. This doesn't need to be the case. There are practical steps to take to make your heating and cooling more energy efficient for your home and energy bills. The typical property owner spends over $2,000 on their energy bill every year, and half of that expense is due to cooling and heating. Ensuring your HVAC system is as efficient as possible will save money on your energy expenses. Here are some ways to use your HVAC system more efficiently.
Maintenance and Upkeep
This is the most important step. It's very important to maintain your HVAC system throughout the lifespan of the system. A properly maintained home heating and cooling system will run a lot more effectively and save you money.
There's simple maintenance you can do yourself. It is very important to replace your filter as often as recommended! It is also critical that you schedule tune-ups throughout the year with professional HVAC experts.
By implementing these ideas you will save money on your energy bills and decrease your house's energy emissions. For more ideas and suggestions on house energy usage and how to save power and money, go to Energy Star at energystar.gov and read more.
Seal and Insulate Parts Correctly
If you seal and insulate your house, including the right HVAC parts and components, properly, it will save money in the short term and long-term. You'll save on energy bills now. It's estimated heating and cooling costs can change by about 20% based on insulation usage. You'll save big money over the years as an efficient, protected HVAC system should last longer. You won't have expensive repairs or total system replacements as soon.
When your home is not effectively insulated, your rooms will feel too hot or too cold, depending on the season. And, it won't matter just how efficient your heating and cooling system is if these issues aren't remediated. It is important to find any type of air leakages and seals these.
Seal Air Ducts
Do you have humidity issues in your house? Maybe it's abnormal quantities of dust, or rooms that never seem to get to the right temperature? These could be indicators your ductwork is leaking or poorly protected. The majority of the time ducts are hidden within walls, cellars, attics, or ceilings so they can be hard to know about and just plain out of mind. For the ducts you are able to see and get to, it's important suitable sealer materials are made use of. It is likewise crucial to check as well as make certain that all the connections are correctly sealed. It is common to locate leaks near the floor or ceiling where the vents and registers are. Don't seal with duct tape because it doesn't last and isn't as efficient as mastic sealer or foil tape.
Upgrading Parts or the Whole System
As the HVAC system and all its components age, it'll become less efficient. Regular maintenance and upkeep will help a great deal in the condition of your system. If your system is 10 years old or older, then experiencing more frequent repairs and/or rising utility bills, these signs are likely telling you it's time to upgrade the system. Call us today for information on HVAC systems and installation. We can help you review which energy-efficient tools would be the most effective for your residence and requirements. If you're not prepared to change your whole heating and cooling system some upgrades like a high-efficiency heat pump or furnace can be options for you and your home.
Change Air Filters When Recommended
The air filters on your HVAC system will get more and more clogged with dirt, pollen, hair, particles, and pet hair as time goes by. The more you procrastinate on this, the more clogged the filter gets, the harder it is for your system to maintain temperatures, the more it runs and the more you spend. This drives down efficiency. Switching out the filter every month is an easy way, and much less expensive, to help keep the heating and cooling in your home working at peak efficiency.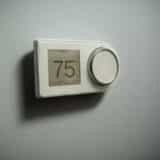 Go to a New Thermostat
Installing a modern thermostat, with programmable settings or even smart capabilities, can improve energy efficiency. Then, if you have a programmable thermostat, the next step is to learn the best ways to use it. By leaving your thermostat set to a consistent temperature all the time, it uses more, unneeded energy and adds to the cost of your utility bills. It's helpful to change your set temperature when you and the family are typically away or sleeping. Inspect your thermostat to find out which setting is best for your routine.
When getting a new thermostat installed, we advise mounting it in a location far from any heating or cooling vents, the fireplace, home appliances, windows, or any place that may affect or give weird temperature readings.
Contact an HVAC professional and speak with one of our home energy specialists. We can visit your home or property to do a proper inspection and advise you on the most comfortable and energy-efficient HVAC system.
At South End Heating and Air, we specialize in HVAC and furnace repair, call us for a free consult. We'll evaluate your system and help make recommendations for optimum value. After all, we want to keep you cool all summer long and warm in the winter. Just schedule a visit with one of our technicians to talk about how we can help with your heating needs. Would you like to learn more options our techs can help you with? Give us a call 704-684-5339.