What Are The Benefits of a Plumbing Manifold?
South End Plumbing, Heating, & Air Expert Tips
What is a Plumbing Manifold?
Whether you know it or not, Charlotte area home owners who need the services of a residential plumbing are likely to take advantage of a flexible, prevalent technology that has just recently ended up being a cornerstone of the industry: the plumbing manifold. While house owners who have specific issues or questions about their homes' water systems must constantly seek advice from a certified plumber for assistance, this guide ought to work as an useful introduction to the concept.
Plumbing Manifold Introduction
The plumbing manifold gives clear utility for home owners. Manifolds can be comprised of conventional copper, brass, bronze, or a more technologically advanced material called PEX/cross-linked polyethylene. In any case, they act as crucial control mechanisms for the circulation of hot and cold water. They usually integrate with flexible plastic plumbing systems to deliver reliable streams of water at different temperature level points. As such, plumbing manifolds factor into such plumbing jobs as water heater repair, pipeline replacement, and retrofitting jobs.
Fundamental Structure
The plumbing manifold is not particularly complicated. While these devices can be found in multiple types, their fundamental structure includes a primary service line that feeds into a tubular chamber with multiple connections to outflow lines. Each outflow line is devoted to a particular component within the plumbing system. One line might connect to the cold-water faucet in a master restroom, and another may lead to the hot-water component in a guest bathroom.
Simpler manifolds, a lot of which are constructed from copper, function 4 or more connections from the main service line to each fixture-specific outflow line. Older systems might require separate cold and hot manifolds. Newer, more complex manifolds are generally built from PEX and function separate supply lines for cold and hot water. In these systems, hot water streams from the system's hot water heater and remains separate from the cold water that stems from the primary service line.
Benefits of Pipes Manifolds
No matter their type, plumbing manifolds provide some clear benefits. For starters, they can accept supply lines as small as 3/8 inch. Modern manifolds use safeguards that lower the danger of pressure drop and require less components. While copper systems are trusted and cost-effective, PEX systems are extremely versatile and might be more energy-efficient. Throughout cold snaps, they likewise resist freezing. Obviously one of the main benefits is the ability to cut off supply lines to individual fixtures. This means the main supply line going into a structure doesn't have to cut off water to the entire structure any time there's repairs or fixture change outs.
Are Plumbing Manifolds Necessary?
Plumbing manifolds aspect prominently into numerous pipes tasks. Essentially every modern-day residential plumbing system needs a minimum of one manifold, and larger systems may require to rely on a number of traditional manifolds. For small and medium-sized systems, one PEX manifold might suffice for basic components. Multi-unit residential structures generally count on networks that include a single "primary" manifold and multiple "mini-manifolds" at unit-specific junctions.
In single-family structures, plumbing technicians normally locate plumbing manifolds at the closest possible area to the house's inbound service line. This might be in a basement or ground-level utility closet. To allow physical access for manual shutoff operations, manifolds should be separated from other equipment. Although they must have at least 18 inches of horizontal clearance and 36 inches of vertical clearance from the system's hot water heater, they are rarely much farther from this crucial node. For benefit, certain kinds of plumbing manifolds can be mounted between wall studs.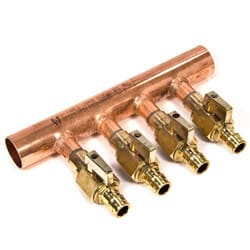 Types of Pipes Manifolds
Depending on the requirements of a given plumbing system, manifolds come in lots of sizes and shapes. Compression manifolds are complicated pieces of equipment that control water flow for smaller houses and structures. Along with crimp manifolds, they are typically considered the most user-friendly manifolds on the marketplace. Meanwhile, copper sweat manifolds function as "traditional" options to modern MANABLOC manifolds that can control hot and cold water circulation in a single system. PEX press manifolds represent a hybrid plan between larger PEX gadgets and simpler copper carries out.
South End Plumbing specializes in all plumbing services, so remember, we are just a click away. We also specialize in tankless water heaters – give us a call! South End Plumbing is one of the only companies that will give you a free estimate. Call us at 704-919-1722 or fill out the form online to schedule a visit.