What are the Benefits to a Ductless System?
South End Plumbing, Heating, & Air Expert Tips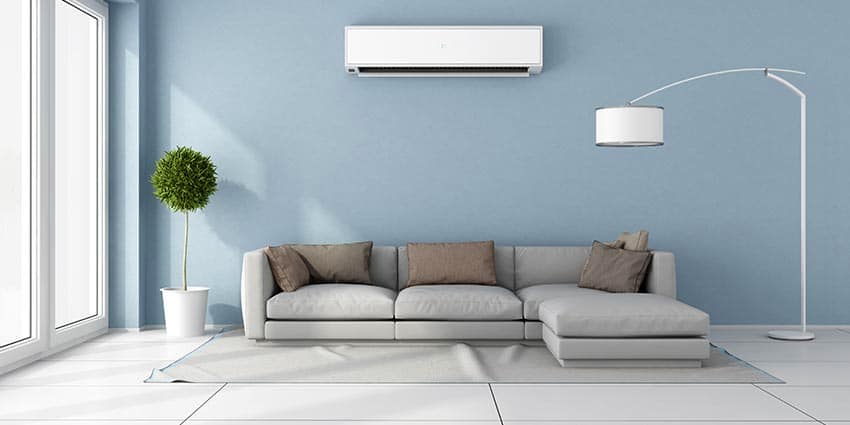 Ductless mini split air conditioning systems are becoming more popular and good for more properties and uses than ever before. They are convenient and reliable with a lot of interesting benefits. If you're thinking about installing a ductless AC system in a home, office or other type of building, it's good to know how there more benefits now than years ago.
Mini split cooling systems have two main units. There is an outdoor compressor/condenser and an indoor air distributor. Other components include the conduit, which has a power cord, cooling agent tubes, suction tubes and a condenser drain. The exterior and inside systems are connected. These units and parts are relatively small and easy to set up.
They are simple to relocate if you need to need to re-install them at another location or rearrange them in your home. If your AC needs repair work or adjustments, both devices are very easy to access for quick, easy and complete maintenance.
Benefits to a Ductless System
There are a number of definite advantages to putting in and using a ductless mini split cooling system. When you choose a new system, you'll see different conveniences you'll enjoy.
Clean & Swift Install
Installation of a ductless system compared to other HVAC and AC systems and machines is easy and simple. The connection between the inside and outside units is through a three-inch hole through a wall. Because companies can provide consumers with varied conduit sizes, you can place the exterior unit up to 50 feet away from an indoor unit. This is specifically helpful when homeowners or residential property supervisors want to mount units on an outside exterior wall of a building while placing the indoor air units wherever is best in a house or building.
Energy Efficient
Since there are no ducts, this reduces the typical energy loss from a central heating and air system. Energy loss in a duct system can add up to about 30 percent of energy being wasted, especially if the ducts are in spaces or rooms that aren't being cooled. Most ductless mini split users discover they have the best, most efficient energy usage when they AC runs steadily on hot and humid days and nights, then adjusting the temperature in a specific, zoned area if needed.
Size and Zones
Ductless systems take up very little space and have the neat flexibility of being a zoned system for your home. Most brands and models are commonly offered now with up to four interior air units. The four indoor units can cool four separate or zoned spaces or areas of your office or home. Each area or zone will have a separate thermostat for easy temperature adjustment. These interior air managing systems can be reconfigured as needed to give cooling to other spaces.
Save Money
Each indoor air distributer is controlled individually. You can adjust the temperature in each zone on its own, generally with a remote control or app. With efficient settings and adjusting the temperature when you need to for one zone at a time, it can cut usual, monthly energy bills. When getting a system, if you don't want to spend to install a system for a whole house or building, you can put AC into one or two areas or rooms, then add onto the system later.
Interior Design
With a mini split AC system in a home or office, you will have a lot more design, space and functionality alternatives available to choose. Your indoor air distribution units can be mounted on a wall or ceiling. If you put interior units on a floor, they can be positioned or adjusted fairly easily. Most interior units in these systems are about seven inches deep and have compact, sleek and modern-style looks to them.
Not as Much Noise
Ductless mini split systems run quietly and with each modern tech upgrade, they're getting quieter all the time. Fans in the interior and exterior devices are built to run slower, with more efficiency, than older ductless or traditional central systems. With the compressor/condenser being outside, there's virtually no noise from these components inside. Ductless systems, as a whole, offer efficient and quiet running that you and your family, by design, won't notice.
Tiny and Mighty
Convenient, budget friendly and energy friendly, ductless AC systems are becoming more preferred as the cooling system for many homeowners today. These trusted cooling systems are also beneficial to many business offices as well as other industrial facilities and public buildings. These practical, smooth and compact mini splits are either changing or supplementing the traditional HVAC systems people are more used to.
Being easy to use and energy efficient, the parts to a ductless air system save space and are modern-looking. They can be put in and used in any room, space or zone which makes sense for your climate and livelihood expectations. The exterior units are simple to install and maintain.
Each room's or zone's air distribution unit is controlled on its own very easily with a remote, thermostat or app. It's simple to set and control all interior climate controls. Ductless AC systems can cool homes, apartments or business buildings. These flexible cooling systems are very useful as an additional cooling source in the hotter times of the year. These devices typically call for only occasional servicing and minor repairs, if any at all for years of dependable work.
At South End Heating and Air we specialize in HVAC and furnace repair, call us for a free consult. We'll evaluate your system and help make recommendations for optimum value. Also, we want to keep you cool all summer long and warm in the winter. Just schedule a visit with one of our technicians to talk about how we can help with your heating needs. Would you like to learn more options our techs can help you with? Give us a call 704-684-5339.