What Causes Slab Leaks?
South End Plumbing, Heating, & Air Expert Tips
What causes Slab Leaks?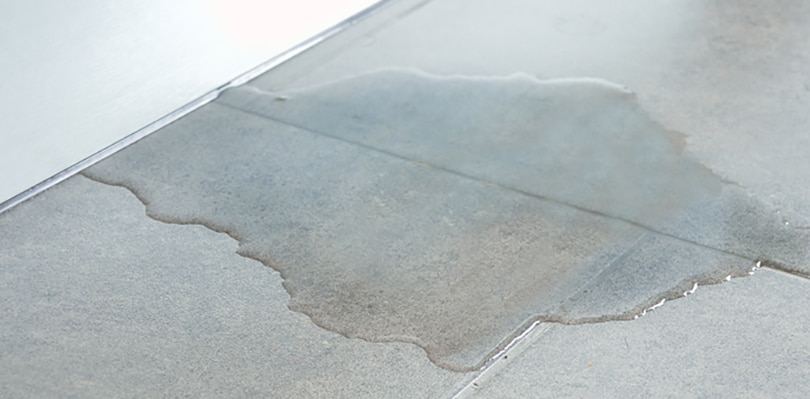 There are a large number of water and sewage system pipes beneath the home of a family that you are most likely not familiar with. These pipes connect to your city's primary water supply lines and sewage system. The pipes in the slab foundation on your residential or commercial property are designed to deliver water to your faucets without a problem, the pipes can begin to corrode and crack as your house becomes older. As soon as a pipe in your slab foundation is damaged, it can be exceptionally challenging or difficult to identify the indications of a water leak. To assist you to secure the foundation of your house, we have assembled a list of the most regular reasons for slab leaks and methods to repair them.
What is a Slab Leak?
Houses are built on a strong concrete structure that is described as a slab. This piece of concrete was originally poured with water supply lines and drain lines embedded as an economical means of construction. As the pipes beneath your residential or commercial property end up being older, it is not unusual for fractures and holes to form. When a pipeline that lies straight below your slab structure becomes broken, the water in the pipes may begin to leak.
The surrounding soil will start to soak up the moisture and trigger the ground to end up being unsettled. When the ground beneath your house becomes too wet and unstable, the concrete slab foundation will begin to split and weaken. If the leak in your concrete slab is not fixed quickly, the foundation of your home will start to move. This will trigger the floorings and walls in your home to split or collapse.
What Causes Slab Leaks
Earthquakes
The vibration in the ground from earthquakes can have terrible effects on the pipes in the concrete slab beneath your home. Although slab leaks are unavailable as the pipes underneath the ground start to degrade, the vibrations from earthquakes trigger joints to become loose between pipes. In addition, the movement of the ground can trigger cracks and holes to form in pipes.
If you hear noises that resemble running water in your household, this suggests a slab leak. On the other hand, a warm spot on the floor in your home is an indication of a leak in a hot water pipeline. Once a leak starts in your slab foundation, you may start to see mold and mildew on the floorings, walls, or ceiling in your house.
Highly Acidic Water
Depending on your city or suburban area, the hard water can be very acidic. The typical pH level of hard water varieties is from 1 pH to 4 pH. If the water in your area is too acidic, the pipes below your slab structure will gradually begin to deteriorate and break for many years. To combat this problem, a large number of homeowners select to buy a water softener to get rid of minerals such as magnesium and calcium in the water. Although purchasing a water conditioner can prolong the life of your pipes, there are circumstances where it can damage the pipes in your foundation.
The standard pH level of soft water varies from 9 pH to 14 pH. If the water in your regional suburb has an extreme quantity of alkaline, the pipes underneath your slab structure will gradually start to break down and leak. An easy method to confirm if you have acidic water is to look for green or blue discolorations in your kitchen area or bathroom sink, shower, or toilet.
Deterioration of Copper Pipes
Older houses are more prone to slab leaks because they were built with copper and Orangeburg sewage system pipes. Common causes of corrosion in copper pipes include high levels of salts liquified in the water, acidic water with pH levels below 7.0, high amounts of liquefied oxygen, inaccurate grounding of electrical hardware to copper pipes, and alkaline water with pH levels above 8.5. If the copper pipes below your structure have fractures or holes, a severe slab leak will start to form.
Abrasion Cause by Movement
As the pipes in your foundation distribute water to the devices and sink in your home, the movement of water can cause the pipes to scrape against the concrete slab of your home. In addition, the pipes can brush against other kinds of objects such as gravel, dirt, and other pipes. When a pipeline starts to rub against the concrete structure, the total quantity of friction boosts and triggers damage to the outside of your pipes. If the exterior of your pipe walls becomes too thin, a water leak will form near your slab structure.
High Water Pressure
High water pressure can trigger the pipes listed below your slab structure to crack or collapse. Common signals of high water pressure consist of rattling noises when the water is activated and leaking faucets. To verify if the water pressure in your home is too high, purchase a water pressure gauge. This type of gauge is crafted to determine the pounds per square inch (PSI) in your water lines.
The average water pressure rating differs from 40 to 80 pounds per square inch depending on your city or suburb. If your water pressure is greater or lower, the pipes listed below your floorings can end up being damaged and trigger a slab leak. An easy method to avoid this type of problem in the future is to install a water pressure-reducing valve on your residential or commercial property to safeguard your pipes.
Deforming Orangeburg Pipes
If you see cracks in your ceiling or walls, this is a sign of a slab leak on your property. This kind of leak is commonplace on older properties that were built with Orangeburg sewer pipes. Unlike other types of piping materials, Orangeburg pipes will begin to deteriorate if they are exposed to chemicals such as polymers, family cleaners, oils, and drain cleaners.
Orangeburg pipes are assembled with bitumen cement that does not respond well to chemicals. Chemicals such as drain cleaners and bleach will cause the interior of the Orangeburg pipes to decay. To validate if you have Orangeburg pipes below your floors, call a licensed plumber to carry out an evaluation.
Signs of Slab Leaks
High water bills and low water pressure are both signs of slab leaks, as well as countless other physical signs with your flooring. For a detailed note of the signs please read our blog on "Signs of a Slab Leak".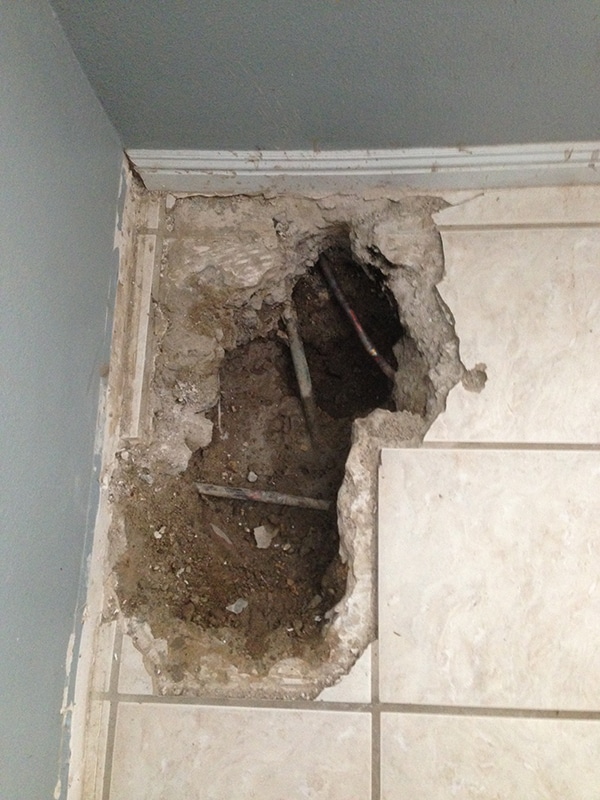 What's Involved With Repairing a Slab Leak?
There is a range of methods that can be utilized to repair a slab leak below the ground. The very best way to fix a water leak will differ depending upon the area of the damaged pipeline. In addition, the overall expense to repair a leak in your foundation will differ from a couple of hundred dollars to a thousand dollars or higher. To help you deal with a leak in your structure, we have described 3 methods to fix a slab leak.
Repiping
The expense of eliminating concrete from your foundation to change a harmed pipe can get very expensive. To prevent removing your beautiful floors, a faster way to repair a slab leak is to reroute a brand new pipe outside the concrete foundation or in the attic of your household. A benefit of setting up a new pipeline instead of changing the damaged pipe in your structure is the ease of accessibility. The brand-new pipe will be easily available in the ground surrounding your foundation or in the attic.
Drilling a Hole to Replace a Section of the Pipeline
If a small portion of a pipe is broken, a typical option to repair this problem is to drill through the concrete slab to replace a brief area of the damaged water pipe. This is not a popular alternative with property owners due to the fact that it needs to eliminate wood or tile floors to gain access to the concrete slab.
In addition, changing a small section of a pipe does not guarantee that you will not encounter a slab leak in the future. If a single location of your pipe is broken, other portions of the pipes are most likely degrading as well. A second portion of your pipe might split in the future and require a second pipe replacement.
Coating With Pipeline Lining
A non-invasive method to fix a water leak listed below your foundation is to insert a thin layer of epoxy finishing in the interior of your galvanized steel or copper pipes. When the epoxy is embedded in your pipe, it will harden to cover the holes and fractures in your existing pipes.
South End Plumbing specializes in all leak repair, so remember, we are just a click away. We also specialize in leak detection – give us a call! South End Plumbing is one of the only companies that will give you a free estimate. Call us at 704-919-1722 or fill out the form online to schedule a visit.