What Causes Your HVAC Lines to Freeze?
South End Plumbing, Heating, & Air Expert Tips

What Causes Your HVAC Lines to Freeze?
So your a/c system instantly stopped blowing cold air, and after a more detailed evaluation, you located ice on your AC unit's line outside? If that's something regular, you should be curious as to what causes this.
Is Your AC Lines Freezing Normally?
Well, ice build-up on your air conditioning system is pretty typical if you live in a sub-50-degree climate. Yet right here in Charlotte NC, where the average hot weather temps are nowhere near that is out of the ordinary, ice anywhere on your a/c is most likely not a good idea.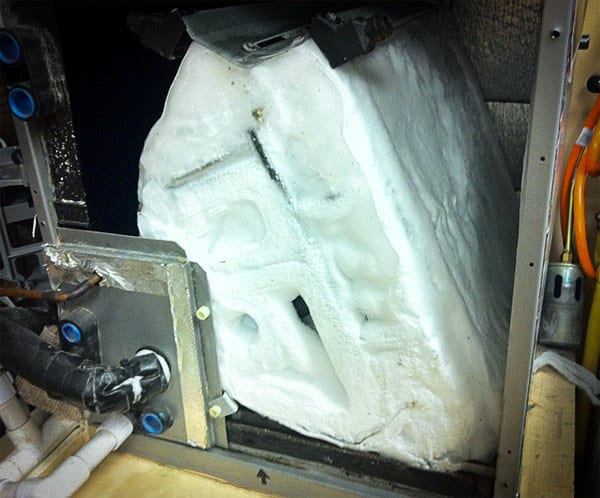 If you have ice built up on your AC cooling line, it may indicate one of these common problems:
Limited airflow over the evaporator coil in your indoor air handler
Low cooling Freon levels
Unsure which trouble you have? Do not worry. In this article, we are going to take a look at both of these problems, as well as explain why they result in an ice accumulation on your air conditioning system as well as what you can do to deal with the issue.
Seeking an Air Conditioning repair technician in Charlotte, North Carolina? Just connect with us, and we will send out a specialist to evaluate as well as repair your a/c unit in a snap.
Limited circulation of air over the evaporator coil
The evaporator coil is the part of your air conditioning system that in fact cools the air. This is located inside the air handler unit that is inside your home.
Here's exactly how it works: The evaporator coil is generally a huge web of refrigerant (liquid/gas) that soaks up the heat from within your house. When the cooling agent absorbs the heat, the (currently) cool air is transferred to your home.
But if there's not enough warm unconditioned air blowing through your AC device's evaporator coils, this can cause the evaporate coil to get too cold. This can wind up creating the refrigerant pipes that link to your outside AC condenser unit to freeze.
So, what limits the flow of air over the evaporator coils in the first place?
Some of the issues that may bring about limited airflow concerns with your ac unit's evaporator coils might consist of:
A stopped-up air filter
Dust on your evaporator coil
Issues with the blower fan
Fallen down or leaking duct
Closed or blocked air vents
How to fix the problem?
Step 1: Switch your thermostat setting from "cool" to "off" quickly.Step 2: Set the thermostat fan setting to "on" and wait at least 3 hrs prior to you set your Air Conditioner device back to "cool." When you change the thermostat setting to "on," the blower regularly absorbs warm air from the inside of your house and also blows it all over those chilly evaporator coils, which ultimately helps thaw the ice on the refrigerant pipelines.Step 3: Take a great take look at your Air Conditioning filter. If it looks filthy, you must change it with a new one instantly.
Step 4: Make sure all return vents (where warm air enters your Air Conditioner system to be cooled) are clean and unblocked by furnishings, drapes, etc. as well as your supply vents (where chilly air enters your house) are open. This will assist enhance air flow into your system.
If you have actually checked for the problems above and also have actually not yet found the reason your A/C is cold, contact our AC experts. We will take a look for your a/c unit to make sure its blower, evaporator coil, ductwork, and other important components are all in good shape.
Low Freon Temp
As your Air Conditioning's cooling agent degrees drop, so does the temperature level of the cooling agent inside the evaporator coils– and that ultimately creates ice to accumulate on the refrigerant pipe.
But right here's the thing: refrigerants inside your ac system circulate in a closed loop (i.e., from your outdoor system to your interior system). If your Air Conditioner system has reduced refrigerant degrees, it is very most likely that the refrigerant has actually leaked causing a drop in volume.
The Most Common Signs You Have A Freon Leak:
You hear noises originating from the refrigerant pipeline.
The air blowing out the vents is warm.
Your power bills are higher than normal.
How do you fix this?
Given that refrigerant is a harmful chemical, if you assume you have a refrigerant leakage based upon the indicators mentioned over, it is better to have an AC Repairman check and recharge your system. So initially,
call up an A/C repair
tech near you ASAP.
If your HVAC lines appear to be frozen or keep freezing, we may can help! Just schedule an visit with one of our technicians to talk about how we can get your HVAC functioning normal again. Would you like to learn more options our techs can help you with? give us a call 704-684-5339