What You Need to Know about Sewer Camera Inspections
South End Plumbing, Heating, & Air Expert Tips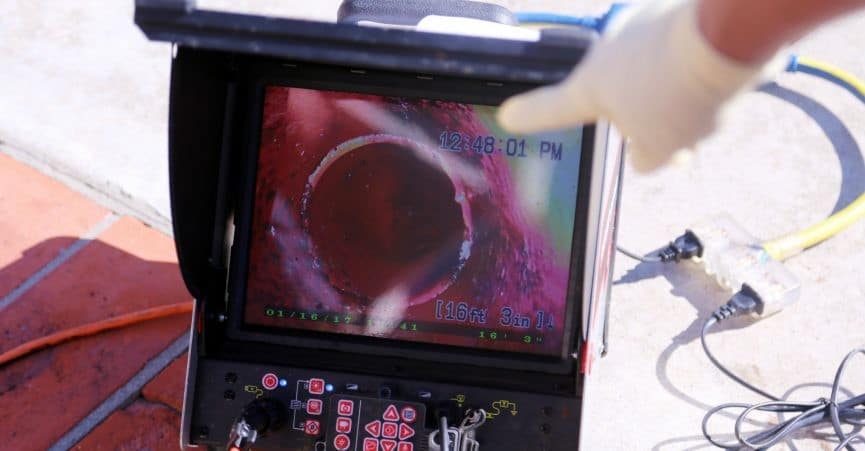 What You Need to Know About Sewer Cameras
A sewer camera is a beneficial tool to help determine if there's an issue with a sewer system. What should you know about sewer camera inspections before having a pro do it or trying to DIY it?
Perhaps you noticed an unpleasant sewage or gas odor. Or perhaps your water isn't draining as fast as it should. Or even worse, you've got an overflowing toilet or backed-up drain.
If you're like many people, you'll call a plumbing professional for help. When the plumber gets to your house, more than likely, the pro will do a camera examination of the sewer line.
Sewer lines naturally deteriorate over the years. Pipes can corrode or become clogged because of a variety of factors. Tree roots can break through a pipe. Broken joints can cause an accumulation of waste.
A sewer backup in your home is horrible. It typically causes property damage and is a possible health hazard. If you have a backup, it needs to be taken care of right away by an expert. Your best line of defense, however, is avoiding a backup from occurring, to begin with. The best way to do that is to have a sewer camera inspection.
Benefits of a Sewer Cam Inspection
Because underground pipes and lines are tough to inspect, years ago plumbers went with their best hunch to figure out where damage or a blockage was located within sewer lines. That usually meant excavating a lot of a homeowner's yard to find the problem.
However, with the advent of the sewer camera, sewage system camera inspections are not destructive. Plumbing professionals can visually inspect the indoor plumbing and sewer lines before excavating. Even more important, this allows a plumber to find a problem before it becomes a big problem, hopefully before any backup or damage occurs.
Sewer cameras can find:
Tree roots
Broken floor tiles
Faulty connections
Inline traps
Bad or degrading sloping
Pipe deterioration
Failing or deteriorating joints
Pipe or line splits
Accumulations of sludge or grease
How to Inspect a Sewage Line
If you notice a repeating issue with a stopped-up drain in your house, it is best to call a professional instead of attempting to fix it yourself. DIY-level sewer cameras are too short to examine more than a few feet deep.
Professional-grade sewer video cameras owned by a plumbing business will give a much better inspection. They have effective lights, are self-righting, are high-resolution, and have recording abilities. Most significantly, these cams have transmitters that help the plumber find everything.
Professional-quality sewer cameras cost as much as $15,000 or even more. Relatively, it costs a very small fraction of that for a technician to do the job. For the very few times, you'd need a camera for a plumbing or sewage problem, it makes far more financial sense for a pro to do it.
What a Sewer Camera Inspection Won't Do
Despite what some people, even pros, may believe, there are limitations to what a camera can do. The main thing a video inspection won't catch is a leak. A sewer camera alone can't determine a leak or find a leak or leaks in your sewer lines. While it often is useful as a second tool in a leakage examination, video on its own can't be used to establish if you have a leak or to find a leak.
Why a Sewer Camera Doesn't Find a Leak
A leak is water leaving the pipe via an opening, break, or fracture. Since the camera is inside the pipe, it can't see outside the pipe.
The plumber is watching a monitor. It takes the plumber to analyze and know what's there. He might think he sees something that appears like a hole or cracks in a pipe. But bear in mind, this is the sewer we're speaking about. This is where waste flushes and runs through. It can be difficult to see and determine what's in there even with the best tech.
Sewage lines are typically a couple of types: cast iron or PVC, both are thick-walled pipes. So something could look like a crack or corrosion. However because the walls of the pipe are thick, it's possible what the plumber sees does not go through the pipe so no water or waste is leaking.
Particularly with cast iron, but this might additionally be true for PVC, as there are years of accumulation on the wall surfaces of the pipe. Calcium, soap residue, oil, particles … a lot more, develop on the surfaces of sewage lines. So any type of splits or holes the technician sees can very well remain in the buildup but not the actual pipe.
What a Sewer Camera Can Do
Fine Lines
Sewage system cameras have location devices that send a signal. Utilizing a signal receiver, a plumber can easily identify where the electronic camera is underground and know where your sewer line is.
Drainage Issues
We call this part of an inspection – now we know the sewer isn't working as it's supposed to. Sewer lines function thanks to gravity. The lines run downhill so when something enters the pipe – waste, debris, water – it moves or drains down via your piping system and ultimately winds up at the waste treatment facility or septic tank, depending upon your system.
Nevertheless, if something is causing your system to not function effectively, in most cases we can use a sewage system video camera to establish what is creating it. Typically in cases like these, we discover blockages, clogs, roots, mud, broken pipeline, and so on.
Finding Connections
With a sewer camera, we can see joints, fittings, and parts. We can additionally use it at the connections to run water. We have the ability to see where the water flows to or from and what happens at certain points.
---
South End Plumbing specializes in leak repairs and water heater installation, so remember, we are just a click away. We also specialize in tankless water heaters – give us a call! South End Plumbing is one of the only companies that will give you a free estimate. Call us at 704-919-1722 or fill out the form online to schedule a visit.