What's the Difference Between a Boiler and a Water Heater?
South End Plumbing, Heating, & Air Expert Tips
What's the Difference Between a Boiler and a Water Heater
Many property owners might not know the difference between a boiler and a water heater. They each do some of the same functions. They are different devices for a home, though. A water heater heats the water. A boiler heats water and can be a heater for your whole home.
What is a Boiler?
First, the basics, a boiler provides hot water and general heating. For a residential home, a boiler can give the hot water for showers, dishwashers, laundry, and more while being the primary heat supply for the whole house.
Normally, the heat comes through either wall or baseboard radiators or heated flooring systems. Though the name "boiler" suggests the water is boiling, many residential boilers do not heat the water to the boiling point.
What is a Water Heater?
Hot water heaters just provide hot water for your home. With a water heater, another system is needed to provide heat.
There are two most common types of water heaters on the market today – a traditional hot water heater with a tank, then on-demand, or tankless water heaters.
Types of Boilers
A standard boiler for a home will have a cold water tank and a hot water tank – a cylindrical tube for the hot water. This configuration has a quite considerable footprint. It works well though for large houses or houses which use an above-average amount of hot water and often with multiple appliances or fixtures using hot water at the same time.
Another option to think about is a combination boiler or "combi-boiler." A combi-boiler heats a home the same as a standard boiler. However, instead of storing hot water for use by the house's fixtures and appliances, it heats water right when it's needed. This boiler doesn't have large storage tanks. It takes up much less space. In some ways, it's similar to a tankless water heater system. A combination boiler still works for heating a home.
High Pressure or Low Pressure
If you're looking into buying boilers for the first time, you may see high-pressure systems and low-pressure systems. What's this difference? When it comes to any residential use, low-pressure boilers are conventional. High-pressure boilers are usually meant for commercial or industrial buildings.
Boiler or Water Heater: Efficiency
Homeowners certainly want to know about the efficiency of each type of heater. Let's start with how boilers and water heaters get power. Boilers may run from a few different fuel sources including gas, propane, and home heating oil. Generally, water heaters run on electricity, gas, propane, or solar power.
Making a definite contrast between boilers and water heaters and their overall efficiency and energy costs is tough. Effectiveness can depend from model to model. Many other variables can make a difference.
Typically, boilers are measured by annual gas usage and energy use efficiency. This tells a user how much of the power a boiler makes directly into heat. Typically, water heaters are measured for their efficacy by how much hot water a system can potentially create in one day given the type of fuel.
With a water heater, it's also good to consider most owners will need an additional heating system. So in many cases, the overall running cost of a boiler should be compared alongside the cost of a water heater plus the overall heating system of a house.
Installation Expenses
Some homeowners likewise want to know, "Is a hot water heater or boiler less expensive to set up?" The expense to set up either of these systems depends on several elements. Yet on average, a boiler purchase and installation is a more expensive investment. When adding up the cost of the device itself and the labor for installation, a new boiler costs from $3,500-$8,000.
When looking at water heaters, installment costs, including the system and the labor, often come out to be somewhere in the neighborhood of $1,000-$3,500. Tankless water heater systems are normally more expensive than other hot water heater options.
Some homeowners question whether they can save some cash by buying the system they decide on, then tackling the installment themselves. Whether you're mounting a boiler or a water heater, you need to employ professional cooling and heating experts to deal with the setup. In many cases, with many companies and units, you might void your warranty by attempting to install your boiler or water heater yourself. When you employ qualified experts to handle the work, you can feel confident they will set up the system securely and according to state as well as regional building regulations.
Maintenance
Last, we should take a bit to consider what maintenance and upkeep you'll need to take care of a boiler or a water heater. Both these systems will require some maintenance. Water heaters, though, tend to be easier in the maintenance category.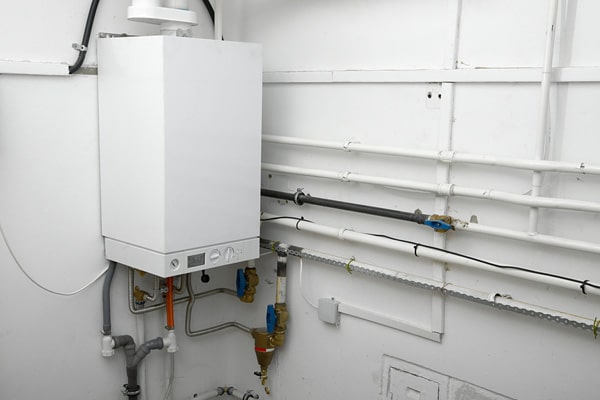 Maintenance tips for boilers:
Check it each year, or more frequently depending on its usage, to make sure water levels are correct and there are no leaks.
Clean any vents as well as flues as often as needed, as well as descale lime buildup as needed.
Fully flush and clean out the system every six months.
Lubricate any type of moving parts every six months.
Maintenance tips for water heaters (with tanks):
Check your water heater for any leaks or various other problems.
With the power off, test your water shutoff valve to make sure it stops the flow as it should.
Drain the storage tank and clean any kind of sediment that has gathered in it.
South End Plumbing specializes in toilets, leaks, and detecting problems, so remember, we are just a click away. We also specialize in leak detection – give us a call! South End Plumbing is one of the only companies that will give you a free estimate. Call us at 704-919-1722 or fill out the form online to schedule a visit.