When is it Wasting Money to Top Off your AC Freon?
South End Plumbing, Heating, & Air Expert Tips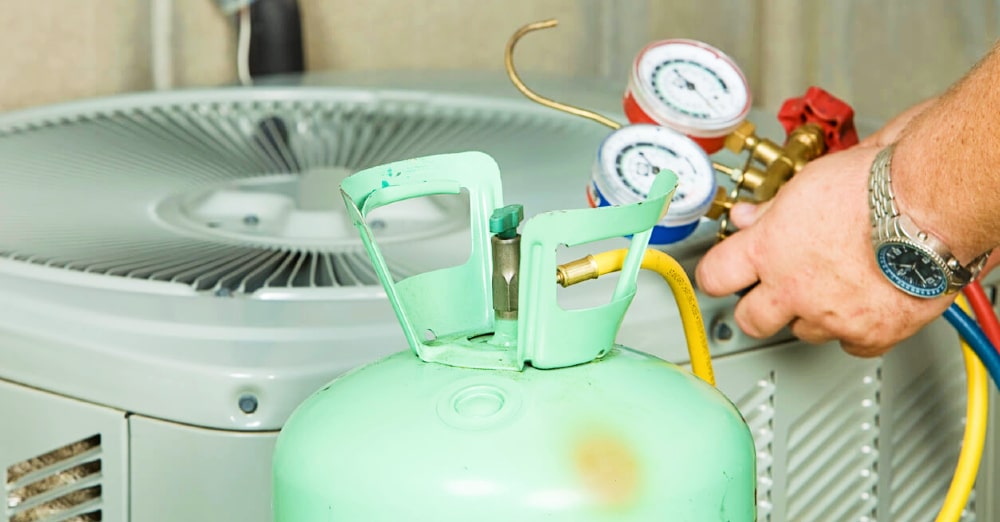 If your cooling system is healthy and well-maintained you shouldn't ever need freon "topped off." Your ac unit runs from an electrical source of power. It doesn't use the cooling agent in the system to power the unit so it shouldn't run out of freon. The only time you'd have to get more freon is due to a leak in your system. If you notice you're losing cooling power as a result of dropping cooling agent levels, call a technician for AC repair work and "topping off" the freon.
What Freon or Refrigerant Should Do
The easy fact is the cooling agent in an AC system doesn't get "consumed" while the AC is running. An air conditioner is made to use the exact same quantity of cooling agent for its entire lifespan. The refrigerant is not a gas source like fuel or electrical power that the AC takes in. It flows in a closed loop evaporating and then condensing, but never running out.
The idea that you normally need to fill up the cooling agent in an AC system like filling up a car's gas tank is mistaken. It would be more like thinking you have to fill up the vehicle's tires with air each time you drive. If someone were to more refrigerant to an ac system than needed, it would stress and damage the overall system. It would lead to many issues such as a failed compressor. Overinflating your tires is a similar example of overcharging your air conditioning system.
Situations for a Refrigerant Recharge
In normal scenarios, even with AC issues, you do not need to put more cooling agents into air conditioning. So what are the unusual circumstances?
To return to the tire example: Leaks!
The copper lines that move cooling agents around the air conditioning system can corrode or leak and start leaking refrigerant. This problem will affect the system's cooling ability, efficiency, power, and other components. There's an additional issue with leaks, which is that splashed cooling agent is damaging the unit and other components.
Here are some warning signs you have refrigerant leaks:
Ice building on or near the evaporator coil
Hearing a hissing sound coming from either the indoor or outdoor parts
There are hot spots in spaces that used to be cool
Why Does AC Need Freon or a Refrigerant?
Without refrigerant, your air conditioning system will be basically just a big fan in your house. The blower would still circulate air and push air out of the vents, but the evaporator coil would be unable to remove heat and humidity from the passing air.
How Often to Check the Refrigerant
If they are effectively installed, to begin with, and serviced over their lifespan, air conditioners are sealed systems. So, once you charge your air conditioner, you should never ever have to worry about low refrigerant levels unless you have a cooling agent leakage or change a part that utilizes it. If you think your air conditioner is short on coolant, you should schedule an appointment with an expert HVAC technician.
Freon is a toxic chemical that can be hazardous if ingested by animals or kids. It can likewise be unsafe if you take a breath near the gas as it can remove oxygen from major organs like your brain, heart, and lungs.
So, if you think you require more freon in your AC, having a certified HVAC system specialist look for leaks is the primary step. This will be the safest thing to do. It will also save money, potential damages, or a poor DIY job gone wrong.
What Will It Cost?
The price of refilling your air conditioning unit depends on the system's dimensions and the type of refrigerant your system requires. If you have an older cooling and heating system, refilling it will likely be a lot more costly. As a result of the U.S. Environmental Protection Agency's new standards, there is a restriction on the manufacturing and importing of R-22 freon. What does that mean if you own an older cooling and heating system?
The restrictions mean you can expect to pay twice or triple what someone with a new system pays to add freon. Usually, you can anticipate spending as high as $80-$120 per pound for R-22 cooling agent, whereas the more recent R-140A coolant costs about $20 per extra pound.
Now, increase the cost per pound times the number of extra pounds your central air conditioner needs to identify the expense of refilling your system. You will additionally, likely, wind up paying the service technician to fix any kind of cooling agent leaks. The ordinary repair cost for refrigerant line leakages ranges a great deal as there are many potential factors, but it is usually from $225 to $1,000.
_______________________________________
At South End Heating and Air, we are Charlotte's affordable AC experts. Call us anytime for a free consult and free estimate. We'll evaluate your system and help make recommendations for optimum value. After all, we want to keep you cool all summer long and warm in the winter. Just schedule a visit with one of our technicians to talk about how we can help. Would you like to learn more options our techs can help you with? Give us a call 704-684-5339.