Where is a Ductless AC System Good?
South End Plumbing, Heating, & Air Expert Tips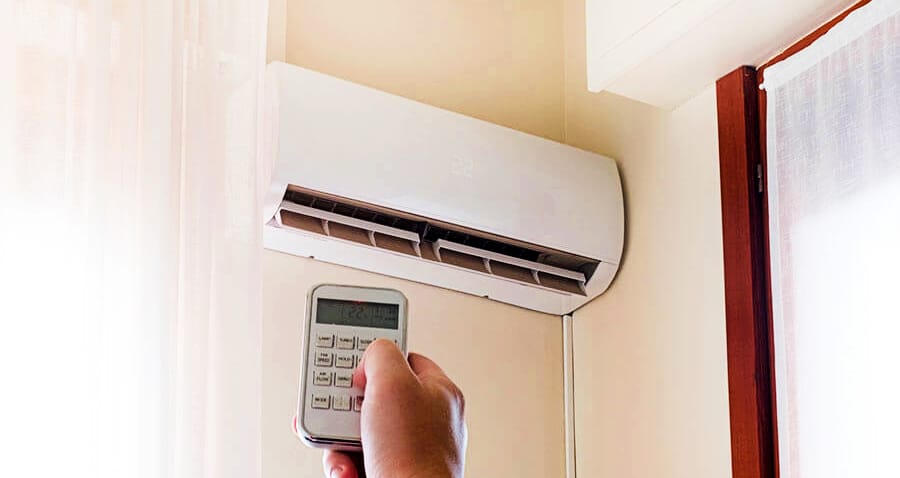 A ductless heat pump or air conditioning unit typically consists of a wall-mounted interior device that goes along with an exterior compressor. It's a system mostly used where, previously, a window AC or baseboard heat would've been used. It can also be a choice for a new addition to a home or building. Overall, where is a ductless AC system a good fit?
Compared to window AC units, ductless systems need less space, need far less drilling or holes in a wall, make less noise, and are safer and more efficient. Ductless heating and air is very energy efficient. With an Energy Star approved system, you can save about 30 percent on energy costs. You may get tax credits and incentive savings.
Improved Air Quality
All indoor split air conditioning systems consist of mesh filters that filter out dust. Yet some systems can work with specialty or upgraded filters. There are filters with added enzymes, to break down allergens such as animal dander and dust mites. There are ceramic and platinum filters that give extra odor protection.
Cooling the Whole House
Ductless systems of the past were small and really only for single rooms. They were meant only as an alternative to where you might have a window unit.
Now, ductless heating and cooling units are powerful enough to supply air throughout a house, to many different zones or rooms. An outdoor unit can send refrigerant to multiple indoor units. Remarkably, each indoor unit in this "multi-split" system can be controlled individually. For customized climate control in a whole house, this ability is great for some.
Heat Pumps Work Year Around
Ductless systems can generate hot and cold air if you get a heat pump for the outside unit. The unit's reversing shutoff controls the direction of the refrigerant to control whether it's heating or cooling.
Installation FAQs
Where should the outside unit go?
It will work best in a spot with shade, or mostly shade, proper airflow, and a safe amount of space. It should also be in a spot that will be easy to maintain. The north side of a house or under a deck are common places. As long as there's enough clearance for airflow and future maintenance.
Where should the interior units go?
Wall-mounted devices are best installed on an outside wall near the outside device. It's more difficult to link the refrigerant lines to units if they're on an interior wall.
How long does installation take?
A new system with one wall-mounted device inside can be installed in about four hours. Each added unit will take about two hours. Ducted and ceiling devices typically take more time.
What are Good Scenarios for a Ductless System?
Depending on your house's build, a ductless air system may be a great fit. It depends on a few variables. It may even be a good option for whole-house heat and AC. There are some circumstances where ductless is a good idea.
Installing air conditioning to a home or building with no previous ductwork. Putting in a new ductless system isn't inexpensive. Yet, if you're starting from scratch, ductless costs less than putting in a new, full HVAC duct system.
Downsizing within your current house. If you're not using whole floors or areas of a home, such as retirees or empty nesters, it might make sense to cut back on climate control in those spaces. Closing HVAC vents isn't a good idea. You'll make your system inefficient and create other problems like mold. It's smarter to go with a ductless system and use the zoned system as it's designed to run.
Additions to a home may need heating and cooling, but shouldn't just be tacked on to the main HVAC. Guest rooms, man caves, garages or basements which have been upgraded and other additions can have their own specific zone units to make them perfect and efficient.
Stop arguing about the temperature. Does the thermostat get changed because everyone in the family wants something different? Ductless AC and heat lets each zone be set to different temperatures.
Extra heating and cooling in areas or rooms that need it. Do you have a kitchen that needs extra cooling? A newly finished basement, garage or attic? You can add a ductless unit to work as a sort of auxiliary system where you need it.
Drawbacks of a Ductless System
There are three strikes versus a ductless system for a lot of homeowners: the initial expense, the maintenance needs and concerns about how it'll look. For those in cold climates, there's a fourth factor to consider. You'll probably need a fuel-based backup system if you have ductless heat. Some more recent models can handle the cold even when the temperature is below zero.
For a single room, ductless devices cost numerous times more than window units or baseboard heating. For a whole house, changing an existing central system with a total ductless system will cost two to three times more than replacing the old system with a new duct system. You'll get lower power bills in return, but the payback duration depends on your environment, your use of the system, as well as your area electric rates.
To preserve your system, you'll need to wash each unit's filter monthly (more frequently if you smoke or have animals). Do not ignore it. Ductless fans can't take care of accumulating particles. If you ignore upkeep and then need professional cleaning, it will be expensive and you could be cutting into the span and efficiency of the system.
At South End Heating and Air we specialize in HVAC and furnace repair, call us for a free consult. We'll evaluate your system and help make recommendations for optimum value. After all, we want to keep you cool all summer long and warm in the winter. Just schedule a visit with one of our technicians to talk about how we can help with your heating needs. Would you like to learn more options our techs can help you with? Give us a call 704-684-5339.