Why are Oil Furnaces Less Popular than they Used to Be?
South End Plumbing, Heating, & Air Expert Tips

Why are Oil Furnaces Less Popular than they Used to Be?
Oil and natural gas are two common energy fuel choices for home heating systems. While both of them have positives and negatives, natural gas has acquired a great deal of appeal over recent years due to the fact that it is more efficient and cost-effective compared to heating with oil furnaces.
If you are thinking about changing your old oil home heating system, then you ought to learn about the differences between oil and gas. See what's preferable for your home and lifestyle. Here are some of the main reasons people are going away from oil furnaces and to natural gas. This ultimately has led to oil furnaces being less popular.
Gas is Easier on Your Budget
Assuming an oil furnace and a gas furnace have the same fuel efficiency, the unit operating with gas will cost 25% less to run. It could be a possibility you'll save much more if you're switching out an obsolete oil furnace for a contemporary energy-efficient gas furnace. This is because gas is widely available, more so than heating oil, making it cheaper and more economical. Although the initial expense of switching over to a gas furnace might be pricey, the general cost savings will be worth it in the long run.
Gas is More Dependable
Furnaces using gas continue to run during emergency conditions as they are provided directly by underline pipes. On the other hand, home heating oil deliveries might be disrupted during terrible weather or emergency situations. Oil requires the manpower of employees and vehicles to make deliveries, including your home.
Because natural gas is plentiful, it is a lot more cost-friendly than heating oil rates which might vary based on scarcity and need. Home heating oil prices continue to rise over recent years and it's making many house owners switch over to gas, as it stays the most cost-effective resource of home heating options.
Safety and Convenience
Gas furnaces are safer and simpler than oil heating furnaces, as they do not need regular cleaning. You won't worry about running out of natural gas considering that it enters your system from an underground pipe. It is important to check your oil levels, especially when cold or bad weather is possible, to ensure your supply is fine. However, with a gas-operated system, there is nothing to bother with. You are not responsible for inspecting your gas level. An oil furnace needs the delivery of oil on a regular basis as well as appropriate care to run at its optimal ability.
Logistics and Maintenance
People and vehicles are needed to supply home heating oil to you at your home. Natural gas has a main distribution system where it is supplied straight to the gas heating systems. To monitor the fuel levels when using oil, somebody has to arrange distributions where and when they are needed. Therefore, oil furnaces have big tanks. The tanks must go through constant maintenance because of the lack of utility services. An oil-fired heater and system needs more in regards to upkeep given that oil puts out particle matter throughout combustion and this may block and clog parts in the system if left neglected.
Natural Gas is Easy to Use
There is much you can do apart from heating your home when picking natural gas. It's easy and efficient to use for water heating, in the kitchen, or a swimming pool. It can function with a gas fireplace. This makes it different than oil. If you can use your gas supply in numerous means, then you are most likely to save money and make household tasks easier and more pleasant. You can save cash across the board by updating from oil to natural gas.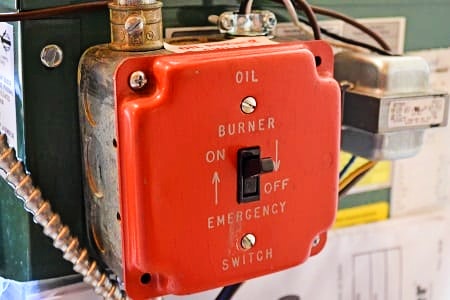 Positives of Heating with Oil
The cleanliness and environmental impact of oil have improved over the last few decades. Oil emissions from a furnace and heating system are the lowest they've ever been. Depending on the area of the country, oil can be easier to find and utilize than natural gas or other sources of energy.
Some advantages to oil furnaces include:
Pound for pound, or BTU for BTU, oil produces more output and more heat than gas. If you're experienced with the maintenance of an oil furnace, they can be maintained great and on your own. Oil furnaces are typically less expensive upfront than gas and other furnaces.
Oil Furnace Maintenance
As a property owner, a great deal of thought goes into your home heating system, your utility bills, and keeping your investment going for as long as possible. If sticking with or choosing a new oil furnace for home heat, knowing as much as possible about your system and maintenance helps in many important ways. Here are maintenance steps and needs to keep in mind:
You should have easy accessibility to the air filter.
Check the duct connections are sealed.
You shouldn't use any duct tape to seal the duct connections.
The system must be mounted on rubber pads
Oil furnaces in a basement must be set on blocks a safe distance above the floor.
If you install a new furnace, install a brand-new thermostat at the same time.
Learn where the shutoff valve is alongside the furnace, then make sure nothing blocks access to the shutoff valve.
All vent pipes should be well secured.
---
At South End Heating & Air we specialize in gas connection and fireplace installation for a free consult. We'll evaluate your system and help make recommendations for optimum value. After all, we want to keep you cool all summer long and warm in the winter. Just schedule a visit with one of our technicians to talk about how we can help with your thermostat settings. Would you like to learn more options our techs can help you with? give us a call 704-684-5339. Check out South End Plumbing for all your plumbing needs.