Hydro Jetting in Charlotte
If you have a clog in the sewer line at your home or office, it can cause severe water damage due to backup. When sewage or contaminated water enters the home or business property, it can also cause health risks and result in mold growth. At our company, we offer sewer jetting services for every location. During this process, our team of experienced technicians will use a high volume of water pressure to push clogs through the pipe and allow water to flow freely. Water provides a natural way to clear clogs, instead of using heavy-duty chemicals or machinery that could cause damage to the inside of the pipes.
Got stubborn clogs in your pipes? No worries! If you're in Charlotte, NC, South End Plumbing, Heating, and Air has your back. Our experienced plumbers are just a call away, ready to tackle those clogs head-on. With hydro jetting, we'll have your pipes cleaned up in no time, so you can get back to hassle-free plumbing.
Book Online
Book Online
Why Choose South End for Your Charlotte Sewer & Drain Needs?
South End Plumbing, Heating, and Air has over 25 Years of Experience
Licensed Bonded & Insured
100% Satisfaction Guaranteed
Up-Front Pricing, 24/7 Emergency Service
BBB member
Free Estimates.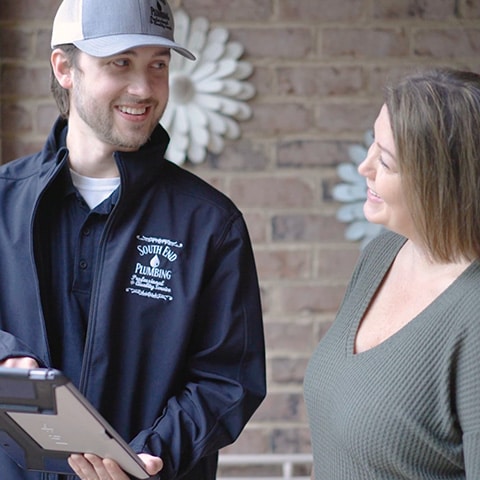 Your 24-Hour Sewer & Drain Services in Charlotte, NC
In most cases, you only think of calling for sewer and drain services when you've had it up to your neck with a drain backup or clogging, you may need a drain rooter service. While we can definitely help with those problems, we also specialize in other sewer and drain services in Charlotte, NC, including:
Backflow Services

Drain Cleaning

Sewer Camera Video Inspections

Hydro Jetting

Sewer Repair & Replacement
One important reason you should call for professional sewer and drain service rather than relying on your own expertise is that your sewer and drain system connects to other systems within and outside your household. For example, your septic system is directly tied to your plumbing lines, making it easy to damage one or both systems if not well-cared for.
Any time you have a septic system backup, there is a good chance it's related to a former or ongoing plumbing problem that has not been addressed. Dealing with a sewer and drain concern in a timely manner is one of the best ways to ensure that your sewer and drains remain in great condition. Calling on us for Charlotte sewer and drain services will give you peace of mind that this is less likely to ever be an issue for your home.
Free Estimates And No Trip Fees
You'll never pay for a trip fee like other companies charge you. We offer an every day FREE Estimate, even on weekends. Your comfort in your home is our priority and it's one of the reasons our customers keep coming back again and again.
What Is Hydro-Jetting?
Hydro jetting is like a power wash for your pipes. We use a high-pressure stream of water to blast away clogs, including tough ones like tree roots. It's not just about clearing the blockage; it also leaves your pipes looking as good as new. Our skilled plumbers control the direction and pressure of the spray, ensuring no harm comes to your pipes during your drain or sewer cleaning in Charlotte, NC.
Book Online
Book Online
How Does Hydro-Jetting in Charlotte Work?
Hydro jetting is a gentle yet effective method to achieve your drain cleaning in Charlotte, NC. Forget about pouring harsh chemicals down your drains or undergoing invasive pipe cleaning procedures. We access your pipes from inside your house or through the hatch in your yard, then use water to eliminate those stubborn clogs.
Benefits of Hydro-Jetting
Hydro jetting offers a bunch of perks, such as:
Swiftly clears clogs, getting your plumbing back on track
Cost-effective alternative to digging up your sewer line
Leaves your pipes pristine, like they're fresh off the shelf
Environmentally friendly and gentle on your plumbing system
Get Hydro Jetting for Your Home Today!
Don't let those clogs ruin your day. Give South End Plumbing, Heating, and Air a call, and we'll schedule your Charlotte, NC hydro jetting right away! Our team will be there in a jiffy, ready to work their magic and get your plumbing back in tip-top shape. Book your appointment now!
Signs You Need Charlotte, NC Hydro-Jetting in Charlotte
Hydro jetting is the go-to solution for deep clogs in your plumbing system. You might need it if you experience:
Odd backup patterns, like your bathtub filling up when your washing machine drains
Recurring clogs that just won't go away
Multiple drains clogging up at the same time
And not just for clogs! Charlotte, NC hydro jetting also helps keep your pipes clean, ensuring they work efficiently for you.
Book Online
Book Online