NO TRIP FEE MEANS WE EARN YOUR BUSINESS
Sewer Camera Video Inspections
Charlotte Sewer Line Video Inspection
When your drains are no longer draining as quickly as they once did, solve the issue as soon as possible with service from South End Plumbing, Heating, and Air, LLC. Our options for Sewer camera inspection services in Charlotte, NC, include services for homes and businesses throughout the area. We perform work with a drain camera to identify the source of the problem without delay. Speak with us today to schedule service for your location.
Book Online
Book Online
Why Choose South End for Your Charlotte Sewer & Drain Needs?
South End Plumbing, Heating, and Air has over 25 Years of Experience
Licensed Bonded & Insured
100% Satisfaction Guaranteed
Up-Front Pricing, 24/7 Emergency Service
BBB member
Free Estimates.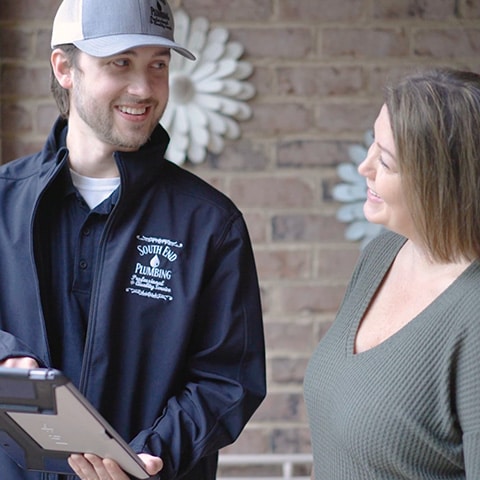 Your 24-Hour Sewer & Drain Services in Charlotte, NC
In most cases, you only think of calling for sewer and drain services when you've had it up to your neck with a drain backup or clogging, you may need a drain rooter service. While we can definitely help with those problems, we also specialize in other sewer and drain services in Charlotte, NC, including:
Backflow Services

Drain Cleaning

Sewer Camera Video Inspections

Hydro Jetting

Sewer Repair & Replacement
One important reason you should call for professional sewer and drain service rather than relying on your own expertise is that your sewer and drain system connects to other systems within and outside your household. For example, your septic system is directly tied to your plumbing lines, making it easy to damage one or both systems if not well-cared for.
Any time you have a septic system backup, there is a good chance it's related to a former or ongoing plumbing problem that has not been addressed. Dealing with a sewer and drain concern in a timely manner is one of the best ways to ensure that your sewer and drains remain in great condition. Calling on us for Charlotte sewer and drain services will give you peace of mind that this is less likely to ever be an issue for your home.
Free Estimates And No Trip Fees
You'll never pay for a trip fee like other companies charge you. We offer an every day FREE Estimate, even on weekends. Your comfort in your home is our priority and it's one of the reasons our customers keep coming back again and again.
Clearing Your Clogs
Dealing with standing water in your shower or sink can be stressful. When you have a clogged drain in your home or office, it is tough to know exactly what to do next. Many people use chemical drain treatments, but these can be hard on pipes, causing corrosion and other problems that can lead to leaks and water damage. Instead of using harsh chemicals in your pipes, give us a call to request our plumbing services.
We can easily locate and clear clogs in all types of drains, including sinks, showers, floor drains, and toilets. We also offer sewer camera inspection services in Charlotte, NC, which is a key benefit that other plumbers may not provide. When we use our plumbing camera and other video equipment, we can see deep into the pipes without having to dig anything up or cause damage to landscaping or plumbing.
Another benefit of performing a video drain inspection is that it is a much more cost-effective option. Less time spent by us in finding and fixing the problem will ultimately save you money. When we use our cameras to determine the source and exact location of the clog, it becomes much easier to make a fast and efficient plan to remove the clog. Plumbers who don't use video drain inspections usually must take more time to use snakes of varying lengths in an attempt to find the clog and move it through the pipes.
Our plumbers offer video drain inspections to customers in and around the area. If you notice that your drains are moving slowly or not at all, give us a call, and we will come to your property right away.
Book Online
Book Online
Other Uses for Sewer Camera Inspection Services in Charlotte, NC
Are you dealing with a clogged sewer line? With help from South End Plumbing, Heating, and Air, LLC, you will identify the source of the problem before it can lead to severe damage at your location. Our plumbing services include a full sewer line video inspection in Charlotte, NC, for homes and businesses. By using our sewer camera, we are able to locate the issue and perform a full fix. Speak with us today for a solution for your clogged sewer lines.
Many homeowners' associations require video evidence before they will start repairing public property. If your property has an HOA, we are happy to provide you with videos of the issue so that management takes responsibility and pays to fix the problem as soon as possible.
Contact us at South End Plumbing, Heating, and Air for these and other Charlotte water and sewer problems and ask for a full video inspection for your sewer clogs. We offer top services for home and business owners throughout the area.
Identifying Clogs & Other Issues
If you have a clog in the main water line that connects your plumbing to the sewer lines, you may notice that your toilets, showers, and sinks are slow to drain or are backing up. However, since these pipes run far below the ground, it is nearly impossible to know exactly where the clog lies without calling in an experienced plumber to perform a video sewer line inspection. This is a great option for both commercial and residential properties with clogged sewer lines, since the pip camera sits on the end of a long snake, which can go through the pipes and determine where the clog is and what is causing it.
Book Online
Book Online