NO TRIP FEE MEANS WE EARN YOUR BUSINESS
Tankless Water Heaters
Charlotte Tankless Water Heaters
Hey there! Ever heard about tankless water heaters in Charlotte, NC? Wondering if one of these bad boys could solve your hot water issues? Well, you're in luck! At South End Plumbing, Heating, and Air, we've got you covered. We'll help you choose the perfect tankless water heater for your needs and install it for you hassle-free. You'll be swimming in hot water before you know it!
Book Online
Book Online
Why Choose South End for Your Charlotte Water Heaters Needs?
South End Plumbing, Heating, and Air has over 25 Years of Experience
Licensed Bonded & Insured
100% Satisfaction Guaranteed
Up-Front Pricing, 24/7 Emergency Service
BBB member
Free Estimates.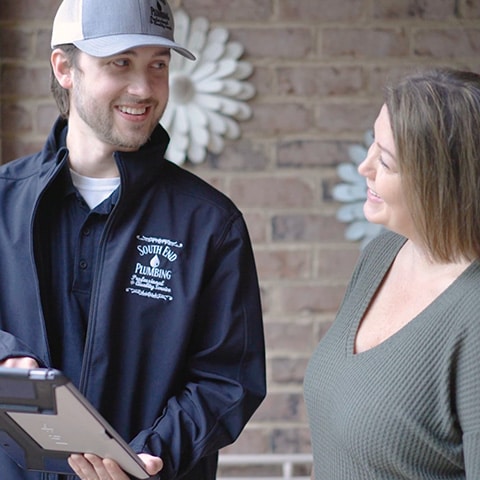 Your 24-Hour Water Heater Services in Charlotte, NC
In most cases, you only think of calling for water heater services when you've had it up to your with neck with high utility bills, you may need a water heater replacement. While we can definitely help with those problems, we also specialize in other water heater services in Charlotte, NC, including:
Water Heater Repair

Water Heater Installation

Tankless Water Heaters
You will be able to save on your utility bills while enjoying the use of hot water whenever you need it by upgrading your tank less water heater with South End Plumbing, Heating, and Air. We install and repair all the major brands such as Rinnai Tankless Water Heaters, A.O. Smith, Rheem, General Electric, Whirlpool, Bradford White, American Standard, Kenmore, Ecosmart, State Water Heaters, and including 50 gallon electric water heater.
Calling on us for Charlotte water heater services will give you peace of mind that this is less likely to ever be an issue for your home.
Free Estimates And No Trip Fees
You'll never pay for a trip fee like other companies charge you. We offer an every day FREE Estimate, even on weekends. Your comfort in your home is our priority and it's one of the reasons our customers keep coming back again and again.
Tankless Water Heater Repair Made Easy
Tankless water heater in Charlotte acting up? Don't sweat it! When you call our team of expert plumbers, we'll provide the best help you can find. We know these tankless wonders inside out, and we're confident we can fix yours in a jiffy. We'll track down the issue and get it repaired fast so you can ditch the anxiety.
Book Online
Book Online
Tankless Water Heater Replacement & Installation
Need a shiny new tankless water heater installation in Charlotte, or thinking of getting one for the first time? We've got your back! Our plumbers will work their magic to make sure your plumbing system plays nice with the new addition. We'll install your tankless water heater and give it a thorough test run to ensure it's working like a charm.
Our team will also help you pick the perfect tankless water heater installation in Charlotte that suits your needs, ensuring your family always has an abundance of hot water.
Tankless Water Heater Maintenance
Tankless water heaters need a little TLC, just like the traditional ones, but the process is different. Don't fret, though! Our plumbers will swing by and test every part of your tankless water heater in Charlotte, so you can sit back and relax. If we spot any issues, we'll fix them ASAP, because nobody likes a tankless water heater that's not pulling its weight.
Get Tankless Water Heater Help Today
Ready to level up your hot water game? Give our tankless water heater pros at South End Plumbing, Heating, and Air a call today! We'll race over and tackle all your water heater problems head-on. Whatever it takes, we'll get your tankless water heater in Charlotte up and running in no time, so you can thrive. Don't wait—call now to book an appointment with one of our plumbers ASAP!
Benefits of Choosing Tankless Water Heaters
Sure, tankless water heaters in Charlotte might have a higher upfront cost, but trust us, the perks outweigh that initial price tag. Here's why people love them:
They take up less space
On-demand hot water, baby!
Energy-efficient, saving you money
Heat water only when you need it
Typically last longer than tanked water heaters
Book Online
Book Online