Can Your Drive a Truck Over a Septic Tank?
South End Plumbing, Heating, & Air Expert Tips
Can You Drive a Truck Over a Septic Tank?
Can you drive a truck or vehicle over a septic tank? The answer is you technically can, but you shouldn't, and you should familiarize yourself with the risks in doing so.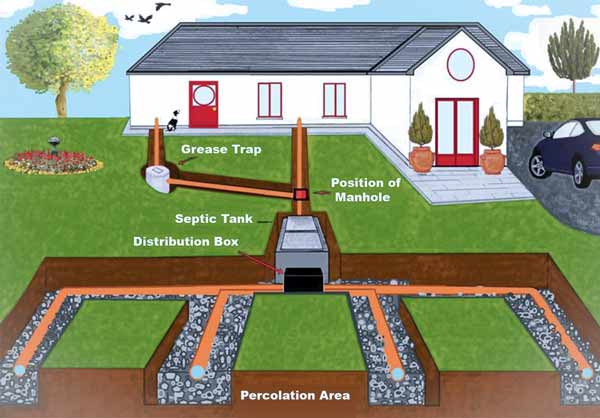 There is no definite numerical figure published regarding the weight that an underground septic tank can endure. Nonetheless, you need to understand that everybody is suggested to stay clear of driving and also parking automobiles or heavy machinery over a septic system area. Subjecting your septic tank to heavy weight from vehicles, cars, or tractors, and so on, especially over an extensive period of time, dangers damaging the tank. Driving, car parking, or building infrastructure over sewage-disposal tanks risks damaging your septic tank lid, possibly bring about a collapse. With it, a whole host of expensive septic system problems.
Also lightweight automobiles such as, compact cars can be heavy enough to cause plenty of damages to a septic system. ATV's, golf carts, as well as other similar-sized vehicles or equipment can trigger unnecessary stress on your septic tank because some some golf carts especially loaded with passengers can be several hundred pounds.
Driving over your septic tank, septic piping, or drain field threats costly damage to the septic system, not to mention it is unsafe. Unless your septic tank is fitted with unique arrangements such as sturdy drain piping and also a vehicle-rated septic tank cover, you need to always remember never to drive automobiles or operate heavy machinery over septic tank piping or your septic system.
Should You Park On A Septic Tank?
It is possible to set up septic tank covers that have actually been ranked for enduring hefty lots such as cars, but generic "as-installed" property septic tank covers are generally not constructed for holding up against such weight, less so continuous traffic.
Sewage-disposal tanks need to never ever be built underneath garages or driveways. Your septic system is ideally situated underneath a soft area of land and far from constant heavy traffic. If at all possible, mark off the area under which your septic tank is put. This is so you can be sure not to drive over it as well as, more importantly, never to park on top of it. Indeed, parking or driving over a septic tank must be prevented, and also even more so during wet climate problems. It's when your septic tank system is at its most prone to disturbance and damage.
What If You Built Structures or Have Existing Structures Built On Your Septic Tank?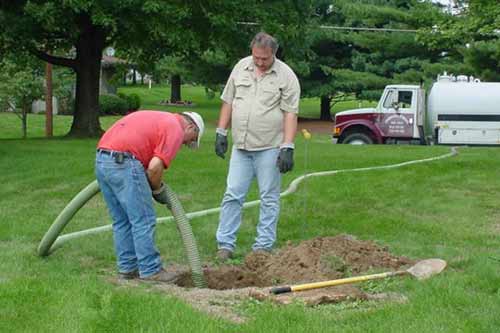 It is never a good idea to build a structure over any type of part of your septic tank. The most typical problem doing so presents is that septic maintenance (like regular pumping) or fixing becomes a bother as a result of stopped access to the septic tank. A great deal of house or business owners have their sewage-disposal tanks located under wood decks, pool patios, driveways, or other structure annexes. A lot of the time, this is so because the property owner is generally not aware of his/her sewage-disposal tank place and/or have fallen short to prepare accordingly for septic upkeep or repair down the line.
A remedy to building over your septic tank is to set up detachable boards or trap doors in order to keep practical accessibility to the septic tank. No permanent frameworks need to be developed over any type of part of your septic system, but with detachable boards, you can at the very least still pump out your septic tank frequently.
Your drain field, on the other hand, makes use of the soil around it to refine the flow from the septic tank. Building in addition to your drain field will seriously impair this performance. This is not yet discussing the truth that you would be developing over a whole location that contains sewage water, which is extremely unhygienic.
It is not suggested to build over your septic tank or drain field. Keep convenient accessibility to the tank as this is necessary for routine assessment as well as upkeep, and also emergency repairs. Bear in mind that anything built over the tank would have to be removed when your septic tank requires upkeep or fixings. It's not practical and also just pricey. The severe weight of a structure built over a septic tank can harm the system. Harmful gases that might get away from the septic tank are extremely dangerous to individuals as well as animals' health. Worst case scenarios might likewise include eruptive damage to the structure as a result of the aeriform matter. Building over your drain field condenses the soils as well as can harm the below ground device leading to septic tank failing.
Can You Drive on a Septic Drain Field?
No, driving over your septic drain field is similarly never ever recommended. As much as you are able to help it, prevent cars or heavy equipment (such as oil delivery trucks, swimming pool water trucks, cement mixers, and also the like) to drive straight over the field. Driving over your septic leach field when need to not create any type of long-term damage. If what you have is a rock and pipe system, especially. If you were to drive over it constantly, this will likely small the fill over the system and also jeopardize the system's air flow. This could at some point cause purposeless microorganisms growth as well as obstructing.
As a safety rule-of-thumb, remember that driving or auto parking on a drain field can hinder its functions because of compaction of the soil as well as the loss of adequate air flow with the surface area. This is likewise to prevent septic problems brought on by crushed damaged piping.
South End Plumbing does not install, maintain, or pump septic tanks, we do however repair sump pumps and sewer/septic lines that may be clogged. So remember, we are just a click away. We also specialize in leak detection – give us a call! South End Plumbing is one of the only companies that will give you a free estimate. Call us at 704-919-1722 or fill out the form online to schedule a visit.