Can You Install Plumbing in an Exterior Wall?
South End Plumbing, Heating, & Air Expert Tips
Can You Install Plumbing Faucets in an Exterior Wall?
We understand that pipes can freeze anywhere, specifically here in Charlotte, NC during our cold and unpredictable winters. Often there is no place else for pipes to go but an outside wall. While there is plumbing code specific to where you are, and your regional professional plumbers will understand that code, you may find that you have pipes in an exterior wall or require to put some there. This may leave you wondering, can plumbing be installed in an exterior wall, and should it be?
Generally you can follow this guideline
Having a water line in a chilly outside wall is generally a plan for disaster. It likely does not matter how well the pipeline is insulated; on the coldest days it will freeze. Unfortunately, when it comes to installing pipes, in some cases the only location to put it remains in an exterior wall, especially in older homes. It is also recommended not to have pipes in unconditioned attics in colder environments, like we have in Charlotte.
It is advised to avoid having water related plumbing situated in exterior walls or through unheated attics. It is best to have pipes fixtures in interior walls. If plumbing remains in outside walls, the pipelines must be well insulated. To even more protect the pipelines from heat loss, the wall cavity consisting of the pipes must be air-sealed by caulking or foaming all seams between the back wall of the cavity and the framing, and by sealing any holes through the framing for the piping. Cavity insulation should also be installed behind the pipes and in between the pipes and the exterior wall. Anything that can be done to keep the pipes warm and from freezing, need to be.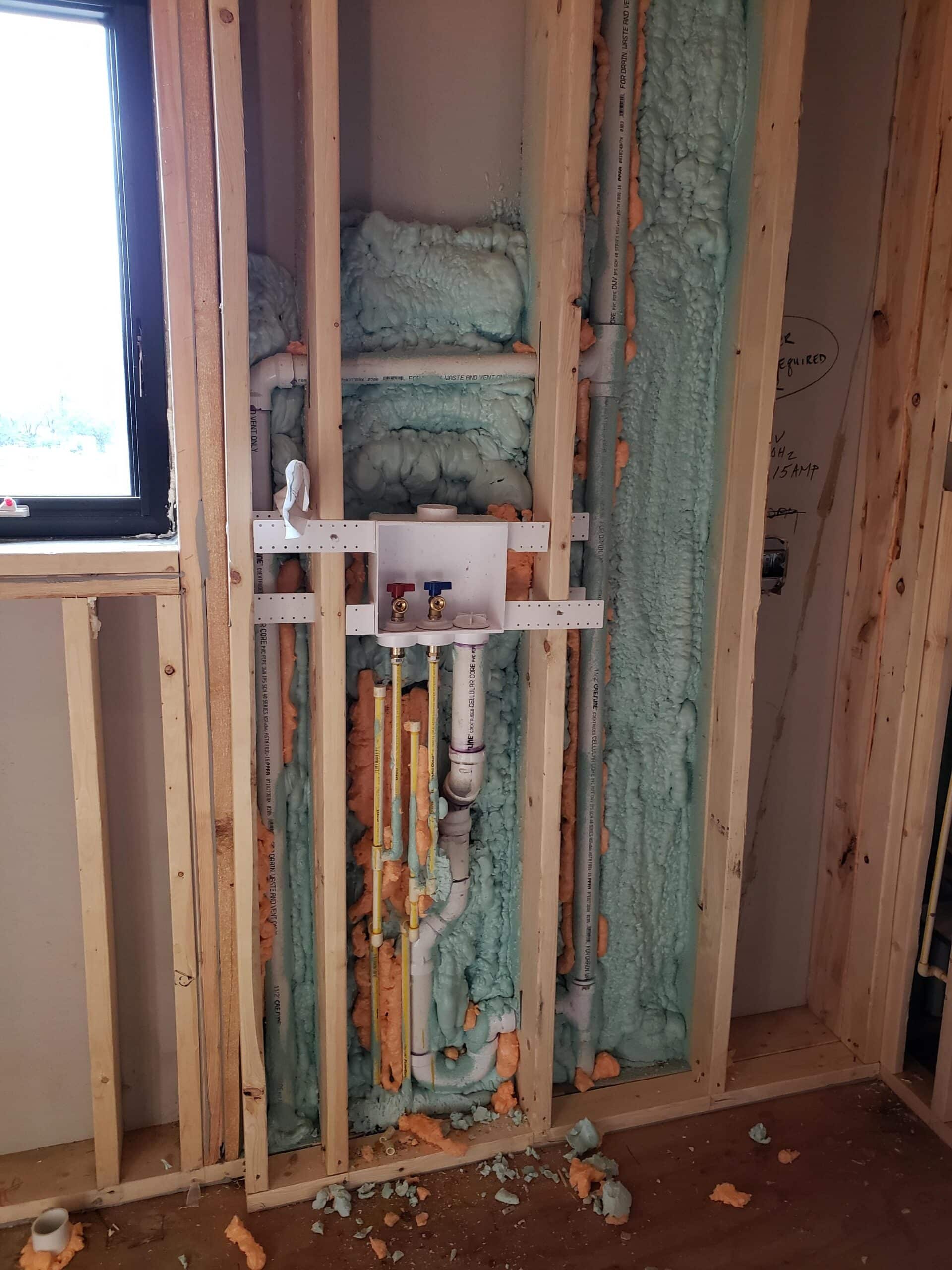 Typical Places in a House for Pipes to be Set Up in an Outside Wall
Exterior pipes is typically found in locations of the house where there is no where else for the pipes to go. While every home is various, some common places in a home to have pipes on an outside wall are:
Attics
Basement bathrooms
Shower heads in a ceiling
Laundry box
Kitchen sinks that face a window
Insulating Pipes Installed in an Exterior Wall
Insulating water pipes can save energy by decreasing heat loss through the pipes. Pipe insulation can safeguard the pipes from freezing and splitting in the cold; this is really crucial for pipes situated in an outside wall. Research studies by the Department of Energy (DOE's) Structure America program have shown that circulation heat loss in non-insulated hot water pipelines can vary from 16% to 23%, depending on the climate. Including 3/4-inch pipe insulation can cut overall water heating energy usage by 4% to 5% every year.
If your Charlotte, NC home has actually pipes set up in an exterior wall, you need to be positive it is well insulated. There are several types of pipes insulation you can select from. Knowing what is finest for your home and your plumbing, based on the environment, is essential. Insulation for your pipes is not the exact same insulation you use for all your home's insulation; plumbing insulation is in addition to standard home insulation.
Plumbing insulation is readily available in different kinds: tubular pipe sleeves, spiral insulation wrap, and fiberglass batts. This insulation must be added around pipes, specifically in exterior walls, to provide an additional level of protection.
In Conclusion
Having plumbing set up in an outside wall should be prevented. If pipes has no place else to go but inside an exterior wall, as a property owner, you ought to make sure that the pipes are well insulated and that lots of cavity insulation is installed behind the pipelines and in between the outside wall. Having plumbing in an outside wall can increase your danger of having a pipe freeze and burst.
South End Plumbing specializes in all plumbing services, so remember, we are just a click away. We also specialize in leak detection – give us a call! South End Plumbing is one of the only companies that will give you a free estimate. Call us at 704-919-1722 or fill out the form online to schedule a visit.