Knowing the "Hot Water Demand" for Your Home
South End Plumbing, Heating, & Air Expert Tips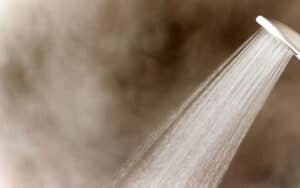 Knowing the "Hot Water Demand" for Your Home
When thinking about a new water heater for your home, one main factor is the unit's capacity, or how much water it holds. Sometimes, people just think about getting the same capacity as the old one. Sometimes, it's just the biggest one they can afford. Boiled down though, it depends on the "hot water demand" of everyone in the house. Basically, knowing the hot water demand is taking the number of people, the maximum hot water usage and the recovery ability of the water heater.
Hot water is usually the second largest energy user for residential and commercial buildings. The HVAC systems are the largest energy user on average. Despite being a major energy, and cost, user, people rarely think of having an efficient hot water system which supplies all the hot water needed but doesn't waste energy and water.
As a result, many buildings are built with poor performing and expensive hot water. It takes longer to deliver hot water to the point of use which is annoying and adds up to higher bills. The key to a proper water system design is to have an accurate measurement of the quantity, temperature and time characteristics of hot water for the specific home or building. The goal is to reduce hot water wait time to 10 seconds or less. A wait time of 11-30 seconds is considered borderline. A wait time of 30 seconds or more is unacceptable.
The Basics of Hot Water Demand
It's a general rule to have 10-15 gallons of hot water per person in your household. You'll need to look at the water heater's capacity, the First Hour Rating (FHR) and the Peak Hour Demand (PHD) calculations. A general estimated water heater size is:
A family of 2 will need a 30-gallon water heater
3 people will need 30-40 gallons
4 will need 40-50 gallons
5 will need 50-60 gallons
6 or more people will need 60-80 gallons
These numbers are only estimates and vary greatly based on how much hot water everyone in the home uses in the busiest hour. The Peak Hour Demand calculation is the amount of hot water your home uses in its busiest one-hour period. The First Hour Rating is the amount of hot water the heater can produce in one hour. It helps to also think about the fuel source and its physical size.
Figuring Your Family's Hot Water Demand
Tank water heaters range in capacity from 30-80 gallons. For most homes and families, 40-60 gallons is the norm. It might well pay to consider your real hot water demand, though. Here are some ideas and examples – and only a little math – to help you out.
A three-person family, for instance, might find a 40-gallon hot water heater isn't enough to fulfill their needs, while the same tank capacity might be fine for a five-person household. Some people take longer showers than others. Some families have a lot of appliances and fixtures using hot water.
To determine your regular peak use, start with these tips:
The number of individuals showering and the times they shower.
If major appliances are running at the same time as people showering.
The fill capacity of the major appliances.
Are you planning to renovate your bathroom or kitchen soon? If so, will you using more water then?
Since a water heater will last as much as 15 years, are you planning on having a larger family or household in that span?
For large homes with many bathrooms, consider installing one hot water heater for every two bathrooms or one water heater per floor.
Knowing Peak Hour Demand and First Hour Rating
What's Peak Hour Demand? The peak hour demand is the quantity of hot water used during the busiest hour of use in a building. It determines the maximum amount of hot water needed.
Your peak hour may be 8 p.m. with kids getting ready for bed. It could be about 5 p.m. when everyone gets home, appliances are running and the kitchen is in use. It could be 6 a.m. when everyone gets up and does everything before work or school.
What's First Hour Rating? The First Hour Rating is the amount of hot water the system can put out in one hour. Keep in mind this is not necessarily the same thing as tank capacity. The FHR depends on the fuel source, tank size and the size of the burner. You can find the FHR information on the Energy Guide Label of the heater.
You can get a good estimate of your peak hour usage. Keep in mind the peak hour demand should be a little lower than your heater's first-hour rating.
Hair shampooing (per person): 4 gallons
Dishwashing by hand: 4 gallons
Face/hand washing (per person): 4 gallons
Shaving: 2 gallons
Showering (per person): 10-15 gallons
Automatic dishwasher: 14 gallons
Automatic washing machine: 5-45 gallons
For example, for a family of four, if every morning, three people shower, four people wash their hands and you run the dishwasher, up to about 75 gallons is the average hot water used.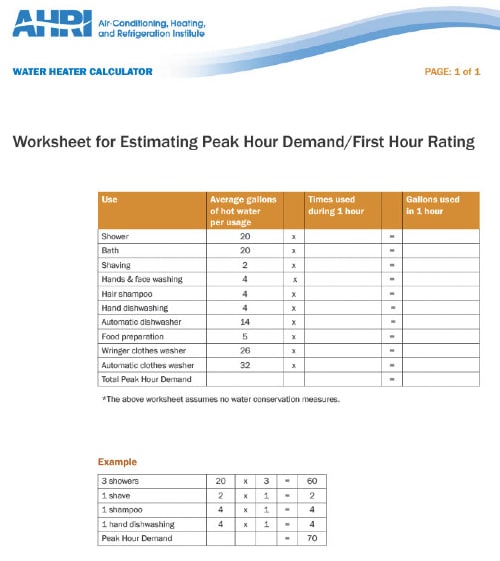 What About Going With a Tankless Water Heater?
Tankless water heaters are becoming more common in homes. They reduce energy costs by about a quarter. Tankless units don't store water so you don't need to think about capacity. Instead, flow rate and temperature rise are important facts to know.
To find the best tankless water heater for your home, you'll want to know the water flow rate and the temperature change. Flow rate is measured in gallons per minute (GPM).
Here's estimated flow rates for common fixtures and appliances:
Running shower: 2.5 GPM
Sink faucet: 1.5 GPM
Dishwasher: 1.5 GPM
Washing maching: 2 GPM
You need to add up all the possible usage. For example, if your household could run two showers, two sinks and a washing machine at the same time, the tankless heater will need to handle a flow rate of 10 GPM.
South End Plumbing specializes in tankless water heaters and all water heater installations, so remember, we are just a click away. We also specialize in leak detection – give us a call! South End Plumbing is one of the only companies that will give you a free estimate. Call us at 704-919-1722 or fill out the form online to schedule a visit.