Navien Tankless Water Heater Comparison Guide
South End Plumbing, Heating, & Air Expert Tips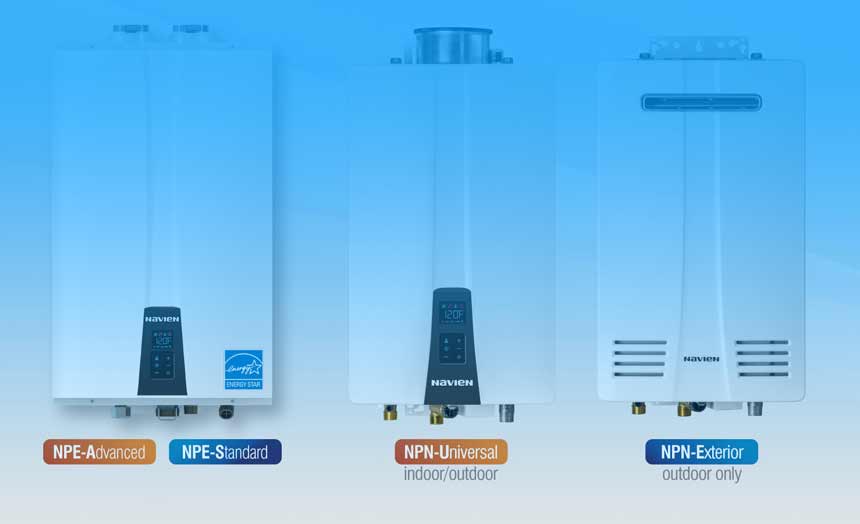 Navien Gas Tankless Water Heater Feature Comparison Guide 2021
This Navien tankless water heater guide provides accurate, comprehensive information you can use to research the Navien Brand, one of the best-selling in the industry. For every model, we've included complete specifications with key features of each to help you make your decision.
About Navien Tankless Water Heaters
The company Navien was started in 1978 in Korea as a producer of boilers and water heaters. It has been an innovator in condensing gas units. Navien opened operations in the United States in 2006 and instantly became one of the top-selling brands for tankless water heaters and related products boilers and combination boiler/water heaters.
All Navien tankless water heater models are gas-fired and designed as whole-home water heaters. They come equipped with natural gas (NG), but the valve is easily replaced to burn propane (LP). This chart includes all current Navien tankless models and their specifications.
Navien Tankless Comparison Chart
Series/Models
BTU
UEF
Max. GPM
Circulating
Condensing
WiFi
Warranty
Indoor/
Outdoor
NPE-Standard
NPE-240S
199k
0.97
11.2
Optional
Yes
Optional
15 years
Either
NPE-210S
180k
0.97
10.1
Optional
Yes
Optional
15 years
Either
NPE-180S
150k
0.98
8.4
Optional
Yes
Optional
15 years
Either
NPE150S
120k
0.98
6.8
Optional
Yes
Optional
15 years
Either
NPE-Advanced
NPE-240A
199k
0.96
11.2
Built-in
Yes
Optional
15 years
Either
NPE-210A
180k
0.96
10.1
Built-in
Yes
Optional
15 years
Either
NPE-180A
150k
0.97
8.4
Built-in
Yes
Optional
15 years
Either
Notable Features:
All Models above support Natural Gas (NG) and Propane (LP).
EF/UEF: Water heater efficiency is listed as UEF (Uniform Energy Factor) or EF (Energy Factor). EF is an outdated measure and is typically 2-3 percent higher than the UEF, which was implemented in 2017 by the US Department of Energy to produce more consistent ratings across the industry.
Residential Warranty: The warranties listed in the table are for the heat exchangers and apply to controlled circulation via an internal pump (Advanced models) or when an external pump is used (optional with Standard models). When uncontrolled/constant circulation is used, the heat exchanger warranty is 5 years. All other parts are covered by a 5-year warranty with labor covered for 1 year.
Low-NOx: All Navien models meet standards where reduced noxious emissions are required.
Energy Star Compliance: All Navien tankless water heaters are Energy Star compliant.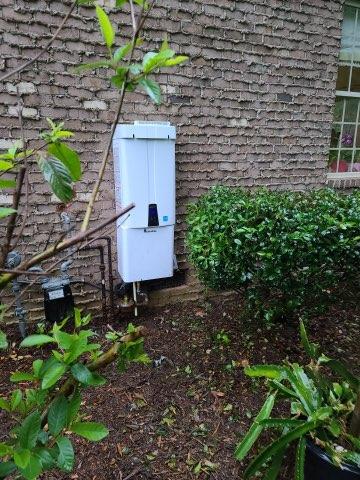 Navien Tankless Water Heater Features Details
These are premium tankless water heaters with performance features.
Most importantly, all Navien water heaters have dual stainless steel heat exchangers to combat corrosion from their condensing performance.
The Navien's NaviLink is an add-on module for all models that enables WiFi for remote monitoring and control of the water heater. The WiFi control costs $200-$225 from various sellers. Brands like Rheem and Rinnai make some models with built-in WiFi.
NPE-Advanced models include a recirculation pump functionality and buffer tank, technology called ComfortFlow. It includes a timer, so that the pump isn't recirculating and reheating water when there's no demand. The system maintains a small amount of heated water in the tankless unit and pipe in your home leading to designated faucets/outlets. This greatly reduces time and wasted water when waiting for hot water. Keep in mind, though, that heating and recirculating water uses additional energy. It's a trade off between paying for metered water that's wasted and paying for gas to fire the water heater.
All Navien models feature cascading technology. This means up to 16 units can be linked together, 8 when using a common vent, to serve larger homes and/or commercial applications where a large volume of hot water would be in high demand.
Navien Advanced Series units offer space heating with the H2Air Kit option. With this option hot water is circulated to a radiator-like heat exchange located in a furnace or air handler. The unit's blower fan pulls air over the heat exchanger. The heated air is distributed through the ductwork. While innovative, this method of heating is not as cost-effective as either a furnace or heat pump.
The Navien Hot Button is an optional accessory that mounts remotely, near a bathroom for example. The button will activate internal recirculation from the unit to a faucet such as a shower using a return line, so hot water is instantly available.
Navien Advanced Series water heaters also have an optional handheld remote that allows you to monitor and control all features including water temperature and the recirculation timer.
Navien Compared to Other Tankless Brands
Navien does make fewer models than the leading competitors like Rinnai, Takagi and Noritz, but the range of sizes and premium build provides most homeowners with a model to meet their hot water demand.
Note the T-H3 with its ultra-high efficiency and 199K BTU heater produces up to 11.2 GPM. This is one of the largest-capacity models on the market. Navien is considered a premium tankless water heater brand because all its models are condensing gas heaters with high energy efficiency.
Navien Tankless Water Heater Installation Factors and Cost
The cost to install a tankless water heater is a wide range. The scope of your project will help you estimate what installation of your water heater will cost.
Factors that push Navien water heater installation cost toward the higher end of the spectrum given above are:
Having to install a new gas line
Venting the unit, rather than outdoor installation where no vent pipes are necessary
Adding a recirculation water line to any water location
We recommended that you hire a licensed installer with experience installing Navien products. South End Pluming is a Certified Navien Installer. Improper installation might reduce performance and efficiency, create the risk of gas or carbon monoxide leaks and could void your warranty.
If you would like a Free Estimate for a Navien Tankless water heater give us a call or request a quote via our form.