Places You Can Install a Tankless Water Heater
South End Plumbing, Heating, & Air Expert Tips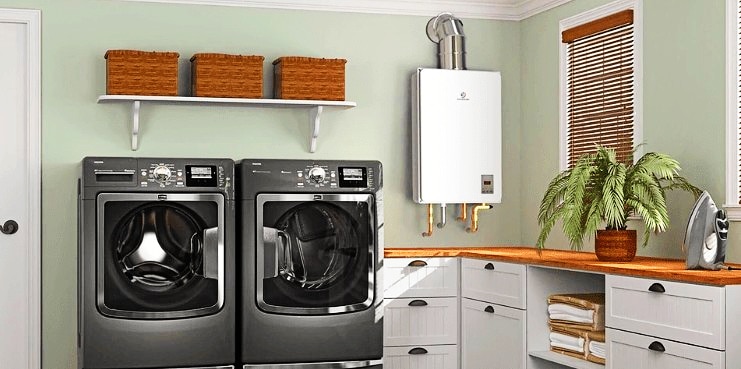 Locations You Can Install a Tankless Water Heater
If you're interested in switching to a tankless water heater, you'll have to consider where you want it installed. You have more places you can install a tankless water heater than a traditional unit. At the same time, it's important to know the location and set-up of a tankless water heater impact efficiency, consistency and safety. Proper installation and location ensure your water will be warm even through the coldest weather. There is a direct effect between the heater's performance and where it's located. One good example is placing it closer to the demand source means less wasted water.
Possible Areas of Installation
You have some flexibility, but some important factors to know, about where to install a tankless water heater. Get information from experts, especially first-hand, in your house, to get a good assessment. Take your time and ask plenty of questions. Where the heater is located will effect the system's efficiency for the whole time you have it.
A tankless water heater is much smaller than a tank water heater. This is a clear positive. It can be put in small rooms or even small spaces, such as under-stair spaces, storage rooms, closets, pantries, or under a sink. Make sure to consider a convenient, easy place to work on and around the appliance.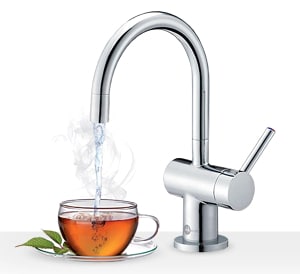 The location and set-up of a tankless water heater impact efficiency for future maintenance.
Some tankless water heaters are meant for indoor locations only. If you install one outside, you need an appropriate outdoor model. Design features of outdoor models protect them from water, precipitation, bugs, animals, being too hot or too cold, and debris.
If water freezes inside a tankless water heater, it can cause major and permanent damage. This damage may or may not be covered by a guarantee or warranty.
Choosing the Best Location
Knowing the best location for a new tankless water heater can seem complicated. Good planning and good help up front will go a long way for the whole life of the system. Proper set-up will give you the best water temperatures, water flow, future maintenance, and constant results for your home and family.
It's often best to install a tankless heater where the old water heater was. This can usually be done with a few changes. It'll save some money because the water lines and gas are there already.
If this won't work or you're picking another route, you and a technician should think about the plumbing set-up of the whole house or property. You don't want major plumbing changes or work on top of this project.
You should want a location with close, easy access to the main electric panel. It'll probably be easier for you if it's close, or with easy access to, the kitchen, laundry, and most-used bathrooms – where it'll be efficient for the hot water to get to. This will be convenient for you as well as a money and energy saver.
The new unit will need a dedicated gas line. When a furnace and a water heater are in the same room, both can run on the same gas line. This may create a problem or inefficient results if both are in use, but the gas output isn't enough for two major appliances. This may be an issue you're able to resolve with a tankless water heater.
Bringing in an expert plumbing professional could be the best course to take. It could be best for knowing if the installation goes right and is best for the lifespan of the new system.
More Factors to Know
Ensure that kids can't get reach any pipes, which could be boiling hot, and electric equipment or the temperature controls. You don't want any danger or accidental changes to the heater.
Away from Flammable Material
Make sure the heating unit or outlet pipes don't touch or are near flammable materials. Keep a range of two feet in between anything combustible, the water heater, and any hot water lines or pipes.
For safety, the tankless water heater should not touch or be too close to any HVAC equipment or pipes which could drip, steam, or have condensation. Don't put the heater above an electrical box. Water leaking from the heater could start a fire.
Tankless water heaters have specific venting needs. They put out more exhaust than a traditional water heater. Read the manufacturer's manual before deciding on a location for a new heater. You'll usually need to locate a spot three feet or more from windows, while also being the right distance close to a vent termination.
If water freezes in a tankless water heater, the entire unit and system might be damaged or broken. You and a technician can find a suitably warm and consistent place as far as temperature.
Close to the Busiest Areas
The closer your tankless water heater is to the appliance or taps that need hot water, the better it will function. If you're looking for better hot water for your shower, try to find a spot as close as possible to the shower. Installing the water heater across the house or two floors away will hamper its effectiveness.
You may also consider installing two water heaters so you can have a zone-like system for hot water.
Along with everything else, you need to follow the law. You might have state or local building codes or other restrictions to follow with a tankless water heater and the adjoining system. You or a plumber should also follow the guidelines from the National Fuel Gas Code.
---
South End Plumbing specializes in leak repairs and water heater installation, so remember, we are just a click away. We also specialize in tankless water heaters – give us a call! South End Plumbing is one of the only companies that will give you a free estimate. Call us at 704-919-1722 or fill out the form online to schedule a visit.