What are the Advantages of a Pull-Down Kitchen Sink Sprayer?
South End Plumbing, Heating, & Air Expert Tips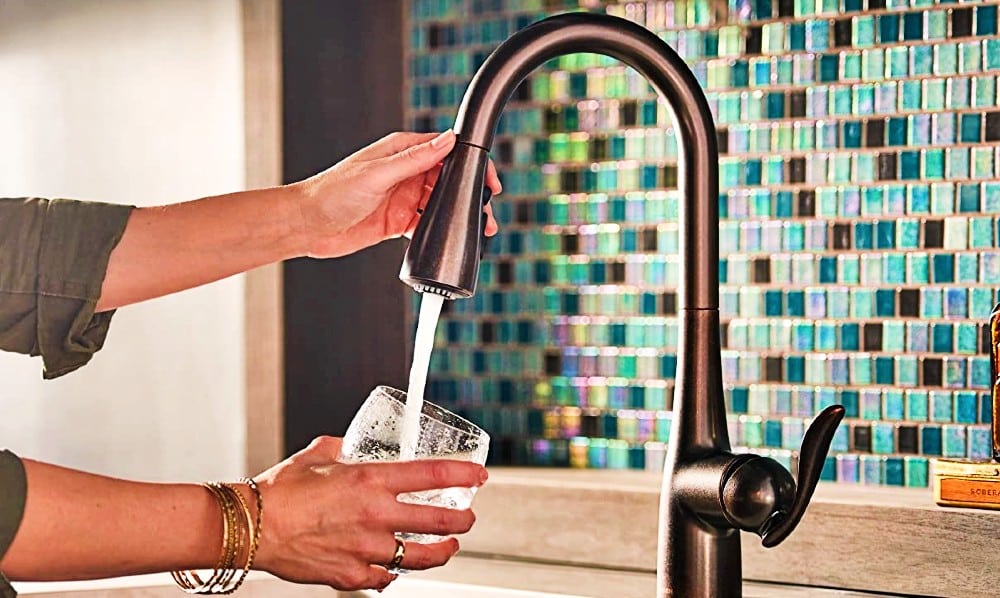 Why Would You Want A Pull Down Kitchen Sink Sprayer?
A kitchen is a place you have family and friends over for good food and a good time. It's likewise a place where dishes and a mess can accumulate if it's busy and you're prepping food or just using the kitchen all the time. While there is a vast range of kitchen faucet designs readily available consisting of many shapes and styles, the pull-down design is one of the most flexible and helpful if you spend a lot of time in the kitchen.
What is a Pull Down Kitchen Faucet?
This style of fixture has a built-in tube that allows you to bring the sprayer close or at the angle, you need it to rinse and wash with more precision. Typically, pull-down kitchen faucets are identified by a high gooseneck arc which provides a modern, aesthetic look. They additionally have a counterweight in the neck of the faucet which assists the sprayer to withdraw back into fixture once it's no longer required.
Reasons a Pull Down Kitchen Faucet is a Good Idea
Comfort
A spring pull-down kitchen faucet offers the most hassle-free way to clean up the kitchen and do the meals. Due to the adaptability of the goose-neck style of the faucet, you can position it at different angles allowing you to clean tough-to-reach areas or difficult messes in the sink. This ability produces a simple yet complete cleaning.
The high arc of a pull-down kitchen faucet neck additionally offers users an easier time filling kettles, pots, and various other containers. The head of the spring pull-down kitchen tap is positioned higher than typical kitchen fixed faucets. It supplies kitchen users with the benefit of filling up pots and pots or cleaning without wedging. With a springtime pull-down kitchen faucet, you no longer need to bring every object right into the sink when you would prefer not to.
Better Maintenance
While the spring pull-down kitchen faucet sounds like one of the most innovative fixtures in the kitchen, it has unbelievably low maintenance demands.
Spring pull-down kitchen faucets are very easy to care for with a fast clean-down on a daily basis. Since a lot of kitchen dishes have oil, the pull-down kitchen faucets can be cleaned with warm, soapy water weekly or as needed to break down grease and grime that may have gotten on the fixture.
Pipes are normally affected by mineral buildup as a result of different mineral elements in the water. For that reason, the piping of the spring pull-down kitchen tap might be affected by contents in a water source. To remove the buildup or deposits, using vinegar and water is effective.
Style and Design
Pull-down kitchen faucets are available in a wonderful selection that supplies alternatives for kitchen owners and designers. With a lot of finish alternatives, kitchen owners or designers have something appealing that they will enjoy.
The style of the spring pull-down faucet is a critical component of what makes it preferred. While the style makes the tap so hassle-free, it is stunning for any style in a kitchen. Therefore, homeowners can think about the springtime pull-down kitchen faucet in any finish depending on their preferences.
Fit More Into the Sink
With the spring pull-down kitchen faucet, not having a dishwasher is not a problem. Due to its elastic neck, the spring pull-down kitchen faucet can be drawn and angled into a pot or large dish even if it cannot fit in the sink. Consequently, the hard-to-wash dishes that are difficult to wedge into the sink under regular faucets are not trouble with a pull-down faucet. No matter the size of the dishes, with or without a dishwasher, the pull-down kitchen tap allows you to clean properly without breaking a sweat, saving you energy and hassle.
The design of a spring pull-down faucet makes it ideal for smaller kitchens, such as in condos, and in larger kitchens in multi-family houses. A pull-down kitchen faucet, consequently, is the best remedy for all types of homes, including those without dishwashers as well as those that can't fit dishwashing machines.
No More Splashing
The spring pull-down kitchen tap is designed with a great balance of the nozzle, which stops the splashing of water. Even when the faucet is opened all the way, you won't find yourself showering and spraying water all over due to its efficient design and functional capability.
The spring pull-down kitchen faucet has a 360-degree swivel capability, thus giving full-range cleaning access for any type of kitchen sink. The tap likewise features a dual-function sprayer, which improves the cleaning experience with a powerful and smooth stream of water that protects against spills. Engineered with cartridges, the pull-down kitchen faucet guarantees sleek and precise control of the water stream.
How to Clean a Pull-Down Kitchen Faucet
Hard water deposits normally form after years of use yet the good news is, it's relatively very easy to cleanse the spray head. We can eliminate rust and mineral deposits which will improve the flow from your faucet. These steps are good for many pull-down faucets.
Twist the adapter counterclockwise, and unthread the tap head from the holes.
Place the rubber O-ring on the counter and use air duct tape to safeguard the pipe to the spout so you don't need to vibrate it back if it slides down.
Take a metal tool choice to remove the plastic display from the tap.
Place the faucet head and plastic screen in a mixture of water and a rust/water deposit cleaner of your choice, for a few minutes.
Using gloves and a scrub brush with bristles, cleanse the external end of the tap head.
Wash the faucet head.
Reinsert the display, change the rubber O-ring, and thread the tap head by twisting the adapter back on clockwise.
Install the faucet back into the area.
Turn on the faucet to check for problems with water circulation.
---
South End Plumbing specializes in leak repairs and water heater installation, so remember, we are just a click away. We also specialize in tankless water heaters – give us a call! South End Plumbing is one of the only companies that will give you a free estimate. Call us at 704-919-1722 or fill out the form online to schedule a visit.