What Causes Toilet Tank Bolts To Rust?
South End Plumbing, Heating, & Air Expert Tips
What Can Cause Toilet Tank Bolts to Rust?
If you have a toilet you may have looked into the tank to clean or fix issues. That being said, if the toilet is more than a few years old you might have noticed the tank bolts are rusty. This can cause alarm because you know if the bolts rust out you're going to have a massive leak. Rusting toilet tank bolts can easily be prevented by using solid brass bolts. Manufacturers of toilets due to saving every dime on cheap parts have been including zinc plated steel bolts (which are prone to rust) with toilets for years now, and they just don't last forever.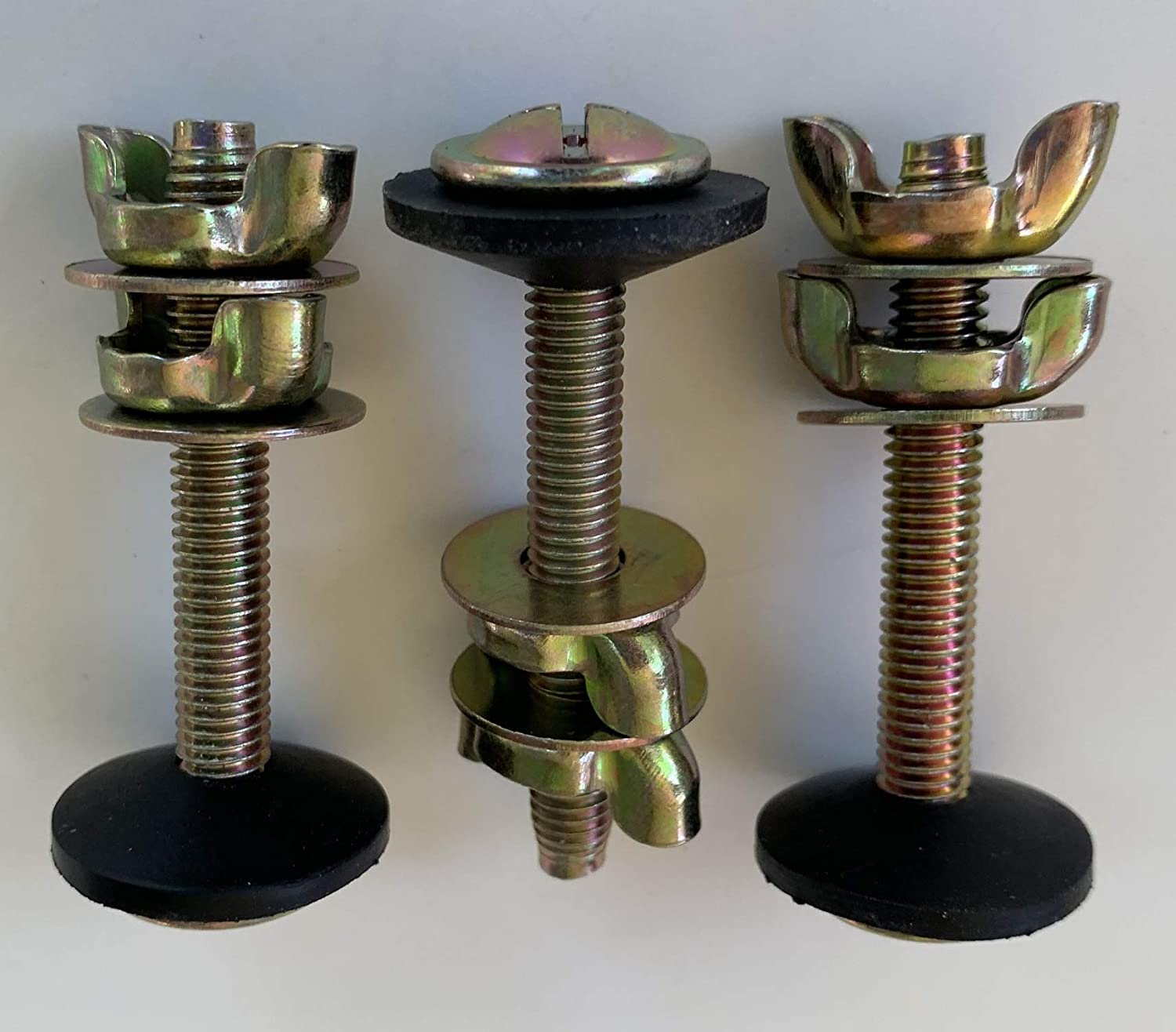 All Metal is Not Created Equal
You may not be aware that all metal is not created equal. There is a wide range of strength, price, weight, and corrosion resistance. Manufacturers have known this for many years and so it becomes common to have certain components made out of different metal types for cosmetic and durability reasons. The pushback to this is that manufacturers are also trying to reduce the costs of their products every way possible. Your silverware is no longer made of Sterling Silver, it's made of Stainless Steel, an alloy of other metals that is bright and does not tarnish or rust. Your oil rubbed bronze fixtures and door hardware is not made of bronze, it's steel that has been coated to be dark in color. This manufacture process of using a cheaper metal (usually steel), with a protective or cosmetic coating is so common place now that it has made it's way into plumbing products.
Now the most common tank bolts included with your builder grade and big box store toilets have steel tank bolts that are zinc plated. This zinc coating has a yellow hue that does resist rust to a certain degree, but over time it is prone to fail and the bolts will rust. Brass bolts are superior to steel because they will not rust like steel does. Because of brass being a softer metal it also tends to not seize over time when loosening and tightening bolts like steel does. This gives the added benefit of being able to be removed without being prone to breakage. This anti-seize and softness also allows it to conform in fittings so there are many applications where you'll only see brass being used. Brass does cost more and this is the main reason you don't see brass bolts in the common kits.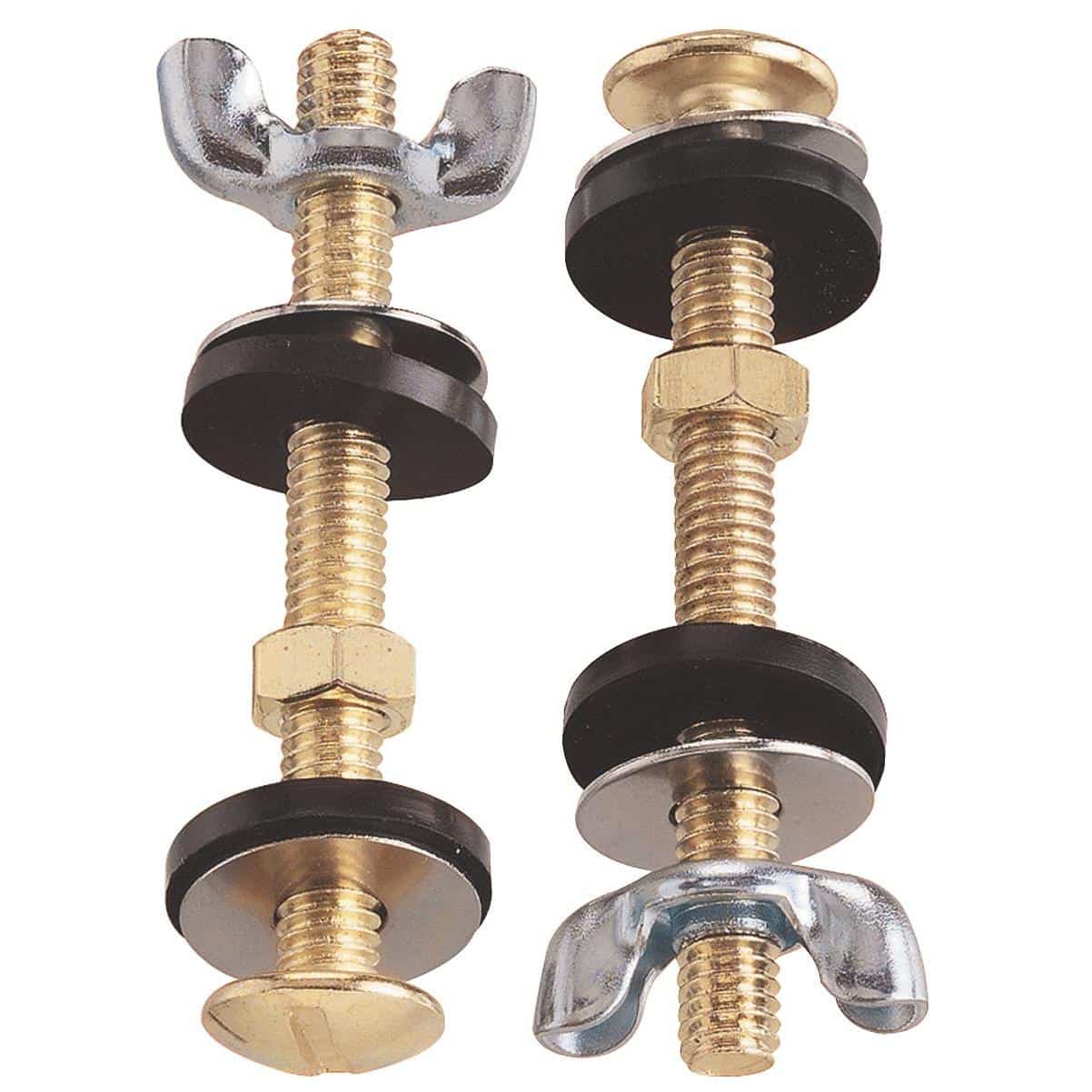 So Where Can You Buy Brass Bolts?
You won't find brass bolts in the big box stores like Lowes or Home Depot. The reason they don't carry these in stock is for most customers buying them it doesn't bring a value that commands the price. Only the knowledgeable plumbers and home owners that plans on living in the same house for over 10 years would desire such a bolt that doesn't rust. In fact most people will plan on replacing a whole toilet when components in the toilet start to fail in 10-20 years. It's a losing battle economically to replace individual items in a toilet if you're not a DIY'er. The float, the flapper, the tank seals, all start breaking down and are more prone to failure as they age. That's why many will find it makes more sense economically to just replace a whole toilet.
Things That Accelerate Tank Bolts Rusting
We all know the tank bolts are submerged in water constantly. But did you know that city water is treated with Chlorine? This additive is combined with drinking water to make it safer to drink by protecting against water born microbes and disease. Chlorine however has a serious side effect to steel, it actually accelerates rust and can greatly reduce the lifespan of steel components. This is one of the reasons it's also not recommended to wash sharp knives in a dishwasher as the chlorine in most dishwasher detergent can cause rapid oxidation to the knifes edge and cause them to dull.
South End Plumbing specializes toilet repair so remember, we are just a click away. We also specialize in leak detection – give us a call! South End Plumbing is one of the only companies that will give you a free estimate. Call us at 704-919-1722 or fill out the form online to schedule a visit.