What You Should Do If You Smell Natural Gas Around Your Home?
South End Plumbing, Heating, & Air Expert Tips

What Should You Do If You Smell Natural Gas Around Your Home?
If you have natural gas service to your home there's a chance you could have gas leaks at not know it. Because some outdoor leaks present no prompt issue, gas companies are aware of thousands of leakages that go unrepaired.
Those non-threatening leaks are outdoors and far away from buildings and homes. Indoor gas leaks, despite exactly how tiny they do preset a serious risk. For this reason, all gas leaks should be reported to the gas company so they can come out and turn off the gas service line to your home at the meter.
Regarding The Low Risk Gas Leaks
Natural gas utilities lines are all across America and are part of it's aging infrastructure. Many cities have old copper and also, in some places cast-iron. Those old gas lines wear away from the destructive impacts of the gas as well as water and minerals in the dirt. Leaked gas accumulates in voids in the ground and eventually makes it's way to the surface.
Knowing that there are different risk levels, the federal government and gas companies grade gas leaks in terms of seriousness and threat as Grade 1, Grade 2 or Grade 3. These definitions are similar from one state to another.
Common Signs of Gas Leaks?
If you do smell gas outside and away from your home a distance of 15 feet or more, you will want to immediately notify the gas company. To get a better idea of the location of the leak, you may be able to walk around and smell where the gas odor is the strongest. Also some good visual cues are dead or dying plantings or a circular brown patch in your grass.
You as a home owner should not attempt patch or dig to fix the leakage. That's a job for either the gas company or a licensed plumbing/HVAC professional, depending upon the area of the leak and also the placement of your gas meter (see info under "Gas riser" and "Gas regulator").
Another symptom is that you or your family members may exhibit symptoms that might have resulted from exposure to gas. These consist of nausea, headaches, tiredness, lightheadedness, sleepiness, and breathing issues. These could indicate a gas leak near or inside your residence.
Different Types of Gas Leaks
Gas might leak out throughout the lines where it comes onto your property, specifically around valves and also fittings. Some locations have confirmed a lot more problematic than others. Right here are the ones we see frequently: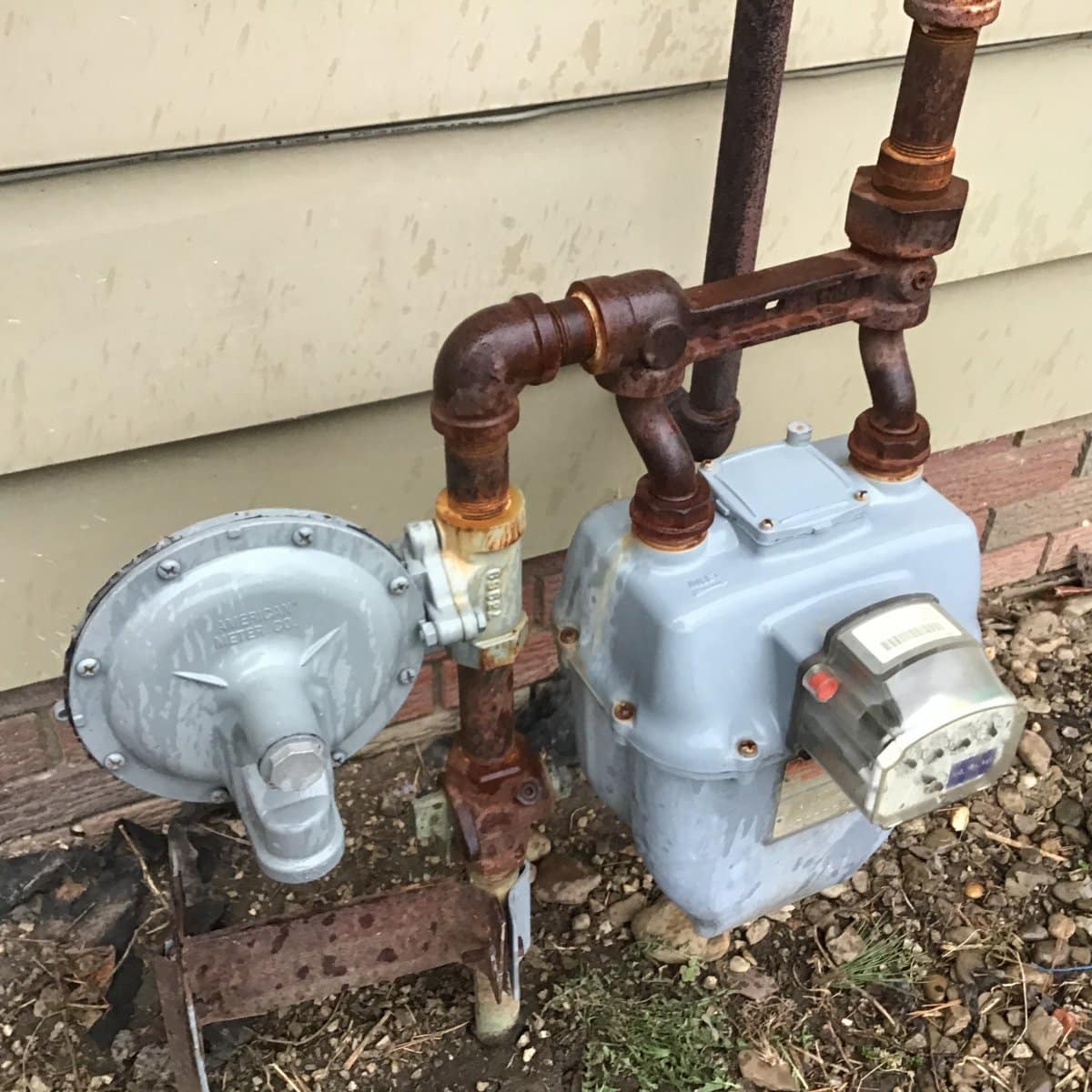 1. Gas pressure regulator – Leaks likewise create around gas pressure regulators. Leaks develop at joints of all types as a result of devices or individuals bumping the pipes, or maybe faulty setup. Occasionally a diaphragm in the pressure regulator can leak since it is defective or foreign matter might have gotten in the gas line to foul it. That stated, it is not unusual to smell gas around the regulator because it will certainly vent gas sometimes to manage the pressure.
---
2. Gas riser – The gas riser is the pipeline that arises from the ground to connect the gas supply to your gas meter. Considering that the very early 2000's gas risers have actually been made from non-corrodible plastic products. Before that the majority of were steel, as seen in this example from a house constructed in the 1992.
In time, steel in the ground corrodes and develops slim spots that can create openings where gas leaks out. In most cases, the gas company is responsible for maintaining the meter and all the gas pipe originating from the street to the meter.
Property owners are in charge of the gas lines and connections that come after the meter into their home. Gas meters generally lie at the back or on the side of a single-family residence, within inches of the outer wall surface.
You can use this method to check for small leaks around your meter using the bubble test. Mix a couple tablespoons of dishwashing liquid in a quart of water and spray the combination around the meter and joints. If you see bubbles around the meter it's a job for the gas company. It is your obligation as the house owner if the leakage is on the house side of the side or the meter where the gas supply goes into the meter. You will want to hire a certified plumber to complete the repair. If in between the road and also the meter, it is the gas company's responsibility.
Swimming pool heating units might have their own gas pressure regulator, as well. Home owners are accountable for maintenance and repair work to them, as the gas is likely tapped off the main the gas meter for the home before it gets to the pool heating unit.
---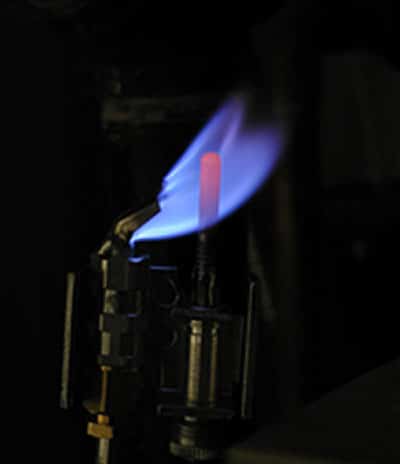 3. Pilot Lights – Gas appliances call for a way to fire up the gas to get the burners going for heating, cooking, etc. Newer designed standing pilot lights have a thermocouple security device that cut off the gas supply if the flame happens to go out. Some older gas appliances do not have this safety and security feature: if the pilot light gets blown out the gas can accumulate in the space and also pose the risk of explosion from sparks.
Pilot lights have actually mainly been replaced by electronic igniters that fire a spark directly into the gas at the burner or guides the gas over a radiance rod that ignites it. Due to the fact that gas moves only when someone turns it on, this system is much more effective. There is no pilot light to go out as well as cause a possibly hazardous circumstance.
---
4. Fireplace valve – The valves that manage gas circulation to gas fire places frequently create leakages. Valves, like any mechanical device, can wear out with usage. The task of fixing usually depends on where the fire place gas valve is located. If the valve is under the floor where there's a basement or crawl space, the valve can be repaired.
---
5. Fittings/joints – Any kind of joint in a gas line not sufficiently tightened up or secured can establish a gas leak. Gas heaters, stoves, range-tops, clothes driers, hot water heater, and other gas appliances normally are connected with a union type fitting for the ability to connect and disconnect quickly.
Plumbing technicians wrap thread seal tape on the threads on the male connector. When tightened up, the tape is pressed to fill out any type of voids. A gas leakage can occur if the tape was not applied properly when it was first installed.
As with any kind of presumed gas leakage, this is not a Do It Yourself work. Get a certified plumber. The most effective method to make sure you don't have a gas leakage is to a plumbing technician to do an annual inspection of your home's gas system.
Here's what to do right away if you smell gas:
Turn off any kind of oven or oven burners that are on; open home windows and doors if inside.
Leave the home; most likely go to the home of a close friend or next-door neighbor.
Call a plumber, your gas company, or 911 to report the smell (initial responders frequently get here prior to gas firm service technicians).
Do not turn any type of electric switches on or off. (this can recreate a spark)
Do not utilize any kind of kind of telephone, garage door opener, doorbell or even a flashlight.
Do not smoke, light a match or lighter.
Do not stop or start a nearby car or piece of equipment.
Do not attempt to turn off the natural gas valve.
Summary
If you do smell natural gas or have any reason to believe you might have a gas leakage in or around your home you'll want to priorities it quickly. If the smell is strong, leave the location promptly. If it is faint, you may try to locate the source by smell and also a bubble examination. Do not attempt to fix the leak yourself.
The 5 Most Common Gas Leak Locations
Gas regulator — a disc-shaped gadget near your gas meter that regulates gas pressure entering into your house.
Gas riser — The gas riser is the pipe that emerges from the ground to attach the gas supply to your gas meter.
Pilot lights — these fire up the gas to produce a flame when you intend to prepare, warm your residence or fume water.
Fireplace valve — the valve you turn with a key to switch on and off the flow of gas to a gas fire place.
Joints and also fittings — any kind of visible joint or fitting that might not be sufficiently tightened.
---
If you ever have gas leaks or need a gas connection to new appliances, including grills and fireplaces, we are just a click away. Also if you would like have a gas inspection – give us a call! South End Plumbing is one of the only companies that will give you a free estimate. Call us at 704-919-1722 or fill out the form online to schedule a visit.