Charlotte Commercial Plumbing
For top-notch Charlotte commercial plumbing services, look no further than our skilled team at South End Plumbing, Heating, and Air. Having worked with businesses of all kinds, we're confident in our ability to assist with yours. Don't hesitate to call now and swiftly resolve your plumbing issues, allowing you to resume your regular operations without delay.
Our commercial plumbers in Charlotte understand the needs of our clients in the city, and our commitment to excellence ensures that we will:
Work around your schedule, enabling you to continue business as usual while we handle your plumbing concerns.
Leave the premises spotless when we're done, sparing your tenants, customers, or clients from any inconvenience.
Offer valuable insights into various plumbing decisions, helping you weigh the pros and cons to make the best choices for your commercial enterprise.
Book Online
Book Online
Why Choose South End for Your Charlotte Plumbing Needs?
South End Plumbing, Heating, and Air has over 25 Years of Experience
Licensed Bonded & Insured
100% Satisfaction Guaranteed
Up-Front Pricing, 24/7 Emergency Service
BBB member
Free Estimates.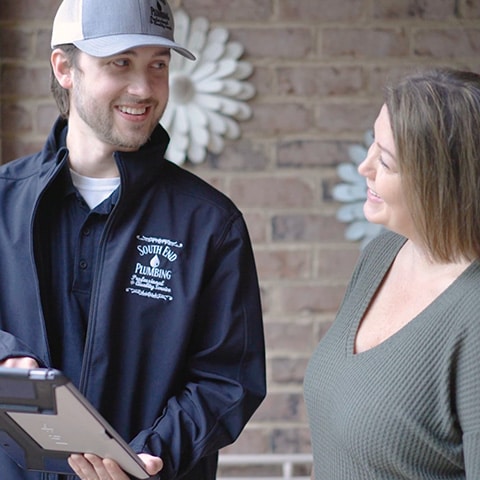 Your 24-Hour Plumber in Charlotte, NC
In most cases, you only think of calling for plumbing services when you've had it up to your neck with a toilet or sink backup or clogging, you may need a drain rooter service. While we can definitely help with those problems, we also specialize in other plumbing services and plumbing repairs in Charlotte, NC, including:
Water Heater Installation and Repairs
Sump Pumps
Gas Piping
Drain Cleaning
Drain Line Stoppages
Leak Detection And Repairs
Copper Repiping
Pressure Regulators
Drain Rooter Services
Backflow Prevention Services
One important reason you should call for professional plumbing service rather than relying on your own expertise is that your plumbing system connects to other systems within and outside your household. For example, your septic system is directly tied to your plumbing lines, making it easy to damage one or both systems if not well-cared for.
Any time you have a septic system backup, there is a good chance it's related to a former or ongoing plumbing problem that has not been addressed. Dealing with a plumbing concern in a timely manner is one of the best ways to ensure that your plumbing remains in great condition and that you can protect your septic system from any residual damage or backups due to plumbing concerns. Calling on us for Charlotte plumbing services will give you peace of mind that this is less likely to ever be an issue for your home.
Free Estimates And No Trip Fees
You'll never pay for a trip fee like other companies charge you. We offer an every day FREE Estimate, even on weekends. Your comfort in your home is our priority and it's one of the reasons our customers keep coming back again and again.
Commercial Plumbing Repairs
Whether it's leaks, clogs, or any other plumbing problem, our expert commercial plumbers in Charlotte are at your service. Swiftly diagnosing and repairing commercial plumbing issues, we minimize downtime, allowing your business to operate seamlessly.
Our approach revolves around understanding your specific needs and those of anyone impacted by our work. Armed with this knowledge, we proceed with utmost consideration for your business day.
Book Online
Book Online
Commercial Plumbing Maintenance
Preventive maintenance is the key to preserving the seamless functioning of your plumbing while avoiding costly repairs in the future. Our comprehensive commercial plumbing maintenance services in Charlotte, NC are tailored to keep your plumbing in optimal condition.
Analyzing your requirements, we craft a specific plan to suit your needs. Our diligent team diligently identifies potential plumbing issues before they escalate, ensuring your peace of mind.
Drain Cleaning
When you need drain cleaning or commercial sewer repair in Charlotte, you can rely on our team. We will get there fast, unclog your drain, and get everything working again as soon as we can, and we'll do it all without interfering in your business. Call our commercial plumber in Charlotte now to get your drains cleared fast.
Repiping
We can also handle your repiping needs. If your commercial building needs new pipes in all or part of it, give us a call ASAP. We'll design the plumbing system that will work for you, then install it and make sure everything is working before we leave.
Backflow Testing and Prevention
If you rely on a backflow device, call our team as your commercial plumbing contractors in Charlotte today. We'll get to you fast, test, install, or repair your device, and ensure it is fully functional before we leave again.
Call for Help with Commercial Plumbing in Charlotte, NC Today!
For top-notch assistance from your commercial plumbing contractors in Charlotte, don't hesitate to call our experts at South End Plumbing, Heating, and Air. We're dedicated to ensuring your business runs seamlessly and efficiently. Reach out now, and we'll be on our way to assist you in no time.
Commercial Plumbing Installations
Be it a new construction or an upgrade to an existing property, our expert plumbing installation services cater to diverse commercial enterprises. From sizable projects to smaller installations, we possess the expertise and experience to ensure flawless outcomes.
Understanding your project inside out, we collaborate with you to devise an installation plan that aligns perfectly with your business goals. Reach out to us today, and let's kickstart your installation journey.
Book Online
Book Online