Are Sharkbite Fittings as Good As Glued or Soldered?
South End Plumbing, Heating, & Air Expert Tips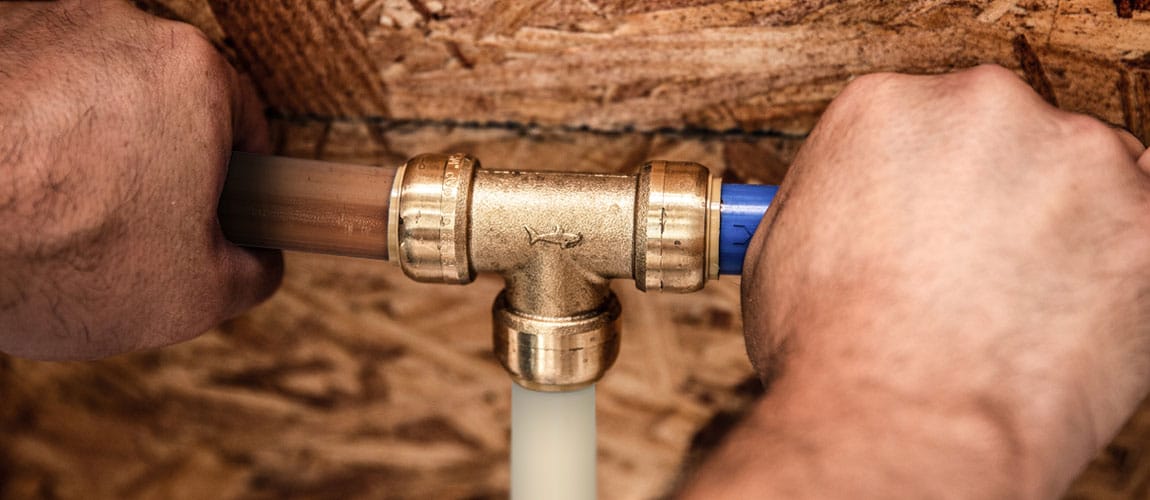 Are SharkBite Fittings as Good as Glued or Solder?
SharkBite fittings, a type of push-fit fittings, are very convenient tools. They enable you to connect two separate pipes without soldering them together. They're easy, fast, and will conserve you a great deal of time. Nevertheless, numerous plumbers feel that there are times when you need to use them, and after that there are times when you shouldn't. Prior to we start, it is necessary to have a mutual understanding of how they work.
SharkBite fittings are composed of three parts, a collet, an O-ring, and a locking mechanism. The collet has a ring of metal teeth that strongly grab the pipe, the O-rings create a waterproof seal, and the locking system keeps all elements together. SharkBite fittings work well with PEX, CPVC, and copper. If you're utilizing SharkBite fitting with hard drawn copper, ensure the copper is a K, L, or M type.
To utilize SharkBite fittings, you simply have to press them into the ends of both pipes that you want to connect. It's that easy. There are no tools needed, and linking them takes seconds. This is much faster than soldering your pipes together.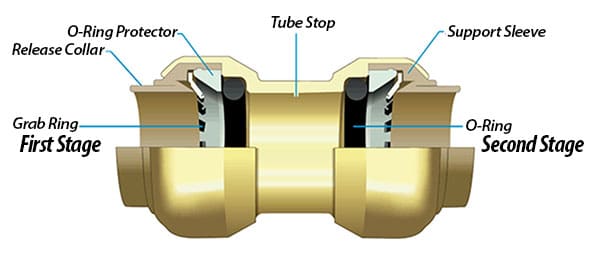 When Sharkbite is and isn't a good option
Many professional plumbing technicians think that SharkBite fittings and other sort of push-fit fittings need to only be utilized as an emergency situation, temporary repair, and not for any enclosed or permanent plumbing system. There is a growing group of DIYers who would disagree. These groups of home owners feel SharkBite fittings are just as strong as soldering.
A few of the criticisms of SharkBite and other push-fit fittings consist of; initially, push-fit fittings do not have the trustworthiness that soldering has. Soldering has actually been around much longer than push-fit fittings.
The length of time have SharkBite fittings been around? SharkBite fittings are a name brand that was created in the mid-2000s, however push-fit fittings were developed about thirty years ago. Over the years, different brand names appeared, consisting of SharkBite fittings, John Guest fittings, and more.
Another downside to using SharkBite fittings is that lots of plumbers feel that these fittings merely aren't strong enough to create a hard, durable connection. There's no proof to back that up, they simply trust soldering for their irreversible plumbing jobs. Trying to hire a company that will use push-fit fittings can be difficult often.
When should you utilize SharkBite or another push-fit fitting? A lot of experts state that unless you just need a fast, emergency repair, use soldering. There are rather a couple of people who feel push-fit fittings are simply as strong as soldering and can be utilized in all locations of a plumbing system. It really comes down to your choice.
Copper vs. PEX
SharkBites are just one kind of push-fit fitting sold on the marketplace. There's numerous, however whether you're using copper or PEX, you may have to use a different type of fitting.
When it comes to copper pipes, the only kind of fittings you can utilize are copper and SharkBite. PEX piping, on the other hand, requires crimp, secure, or SharkBite fittings. SharkBites are the only kind of fittings that work with both copper and PEX pipes.
Useful suggestions when installing SharkBite fittings
Make sure you take your time when inserting your SharkBite or other fittings into the end of the pipes. Jamming them in too quickly could trigger damage to the O-ring leading to a leaky pipe.
If you have any burrs on the end of the pipe, you might possibly damage the O-ring. In this case, a great tool you must pick up is a deburring and gauge tool. This tool does an excellent job of smoothing the end of the pipe. The gauge is used to mark the depth to insert the pipeline into the fitting.
When cutting pipe, never ever utilize a hacksaw. What you'll want to utilize is a pipe/tubing cutter. You need a clean, smooth cut when utilizing SharkBite or another sort of push-fit fittings in order to make the pipeline leak-free.
You do not have to wait up until your pipes are totally dry to start utilizing push-fit fittings. If you're in a hurry, rapidly turn off the water, drain as much water as you can, and start linking your pipes.
Ensure you place your SharkBite or another type of fittings all the way. Read the producer's instructions, so you know specifically how far to stick them into the pipe.
If your push-fit fittings include "twist and lock" technology, notice the nuts situated at the ends. These nuts need to be tightened approximately ensure the fitting is totally secure. The "twist and lock" technology prevailed on the John Guest fittings. It is essential to keep in mind that SharkBite fittings don't have this technology.
If your pipes are PEX, then you'll need to use an unique insert. This insert keeps the pipeline from ending up being collapsed. The good news is that if you're using SharkBite, the insert is already developed into the fittings itself.
If you insert your push-fit fitting into completion of the pipeline, and then you decide that you require to remove it, you can't just pull it out. To get rid of these fittings, you'll need to press down securely on the fitting's release collar or collet. If you're utilizing a SharkBite fitting, search for a tiny, plastic ring poking out of the fitting end.
Lastly, to make your push-fit fitting more secure, you can use optional locking clips. These little gadgets clip between the fitting body and the collet.
As soon as you use SharkBite or another type of push-fit fittings, you'll understand why their popularity is increasing with plumbers increasingly more each day. Give them a shot. You'll be glad you did.
South End Plumbing specializes in repiping, so remember, we are just a click away. We also specialize in leak detection – give us a call! South End Plumbing is one of the only companies that will give you a free estimate. Call us at 704-919-1722 or fill out the form online to schedule a visit.