Can Plumbing Leaks Fix Themselves?
South End Plumbing, Heating, & Air Expert Tips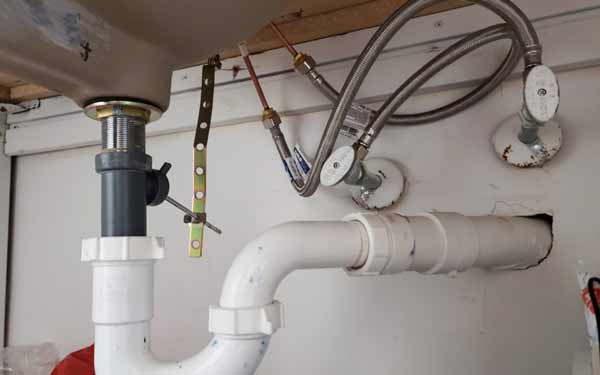 Can Plumbing Leaks Fix Themselves?
We all know that anything that holds fluid can leak. You may see radiator leaks in your car or a leak under your sink. You may also have seen leaks coming from a washing machine or dishwasher in the past. Even if you have an old lawnmower you might see oil  leaks.  And if you've ever gone camping or own a camper you may have small leaks when it rains or smell mildew in the camper which is another sure sign of a leak.  In most cases these leaks can get worse and cause extensive damage. That being said, whenever we see a leak it becomes a high priority to get it fixed, especially if what is below the leak can be destroyed easily. This is often the case with much of the structure of your home.
But the question is, are there ever any leaks that fix themselves? The answer to that is yes and here's a few reasons why.
Some fittings can swell under pressure
Calcium build can help to seal 
Oxidation of metal causes micro expansion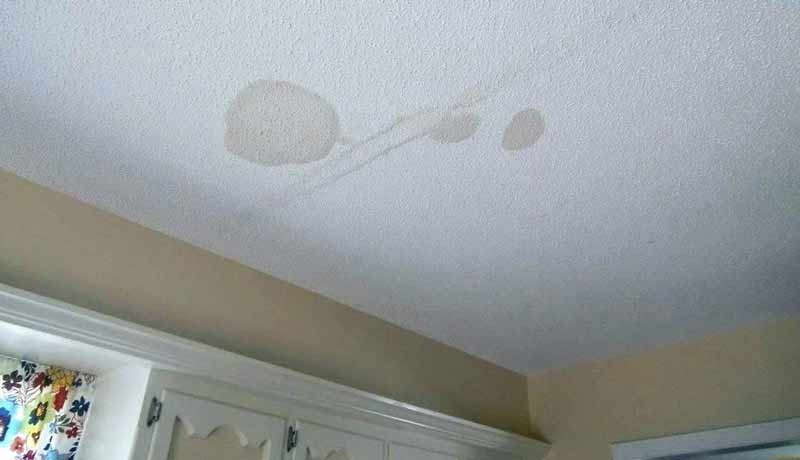 From this point on, consider we are referring to plumbing leaks. The subject at hand is previous signs of leak damage that appear to no longer be leaking. A little investigation can sometimes give you the answer. 
Investigating
Intermittent

Water Leaks

Perhaps you bought an older home where there appears to be previous leak damage but it's no longer leaking. You have to ask yourself this question, did the leak fix itself or did the homeowner pay someone to fix the leak? For many of these leaks there are many different factors that contribute to the leak.  Presents small leaks stains that you may see on the ceiling could be from a bathroom fixture that isn't used often, perhaps a guest bath tub drain that only leaks when in use and it hasn't been used in months. In cases like this it could be wise to really keep an eye on the leak or to have a professional remove the drywall and investigate. These type of leaks are ones where water isn't under constant pressure, so the source of the leak doesn't have a constant supply of water to be pushed through. This by nature makes the leak intermittent and unless you are familiar with how plumbing works you can have a challenge in diagnosing.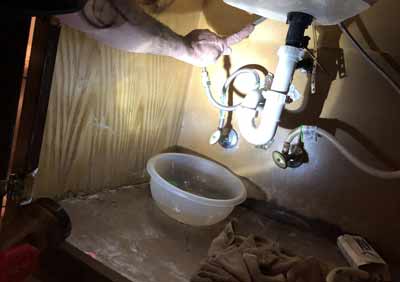 Monitoring Visible Potential Leaks
Thankfully by design there are many areas in your home where plumbing is visually accessible. Most of the fixtures on your sinks as well as the supply and drain pipes can be witnessed by easily opening up a cabinet door or looking underneath. These are the type of potential leak spots that can be easily monitored if you suspect they are actively leaking. You may notice underneath a vanity for example where some of the wood in the base of the cabinet has swollen previously from a leak. If you see this and want to be proactive you can place something under it to catch the water and use the faucet all while watching if you see any drips it is common for leaks to appear in these instances and due to calcium deposits and grime that are inside the pipes the leak sometimes we will seal itself. For the most part though a knowledgeable homeowner or professional plumber can more quickly identify if the leak is still active and then resolve the issue by simply tightening compression joints or resoldering fittings.
Is the Risk of Watching Out For a Potential Leak Worth The Wait?
Most homeowners that choose to wait it out and monitor leaks are doing this for a few reasons. One of the main reasons is that they did not want to spend the money or spend the time figuring out what the issue is. You may have heard the phrase "a stitch in time saves nine". This means that being proactive with problems often saves you the least hassle with home ownership and that includes one of the most problematic systems in your home, your plumbing system.
Another thing to consider is that leaks sometimes will get worse really fast, and often when you are not watching the leak or when you are away from the home. Perhaps you are at work or on vacation or just visiting family, but if a major leak breaks free you could have gallons of water dumped into your home causing hundreds or even thousands in damage. A leak that quickly breaks free in an upstairs room can start leaking down into the insulation and ceiling. You can think of any insulation or drywall in your ceiling as a sponge and once it absorbs so much water the drywall can no longer hold the weight and cause a large area to break free. Depending on what is underneath this area where the ceiling gives way, there could be huge consequences. 
In Conclusion
You can see that there are some instances where some small drips may have fixed themselves in the past. In reality though you don't want to bank on this as an excuse do not investigate if you see any signs of concern of previous leaks. Even if you are getting ready to sell your home, any inspector will notice the sign of leaks and in the report recommend that the leak be investigated or fixed. This will cause alarm to any buyer, being proactive on any signs of leaks will surely resolve the problem before the inspection even happens. And the greatest benefit of all if you are still living in the home you have peace of mind for your investment. 
If you ever have a major or minor leak, we are just a click away. We also specialize in leak detection – give us a call! South End Plumbing is one of the only companies that will give you a free estimate. Call us at 704-919-1722 or fill out the form online to schedule a visit.