Commercial Drain Cleaning
NO TRIP FEE MEANS WE EARN YOUR BUSINESS
Commercial Drain Cleaning Charlotte, NC
Commercial sink and floor drains take a lot of abuse, since they typically have higher volumes of water and waste being flushed down them on a daily basis. In large office buildings and other commercial properties, the drains can become clogged often, so the best option is to schedule routine commercial drain cleaning to proactively protect drains. If the drains in your office building back up, you could have a serious problem on your hands. Since most offices contain valuable assets and other equipment, they simply can't afford to have flood damage without losing important data and machinery.
Book Online
Book Online
Why Choose South End for Your Charlotte Sewer & Drain Needs?
South End Plumbing, Heating, and Air has over 25 Years of Experience
Licensed Bonded & Insured
100% Satisfaction Guaranteed
Up-Front Pricing, 24/7 Emergency Service
BBB member
Free Estimates.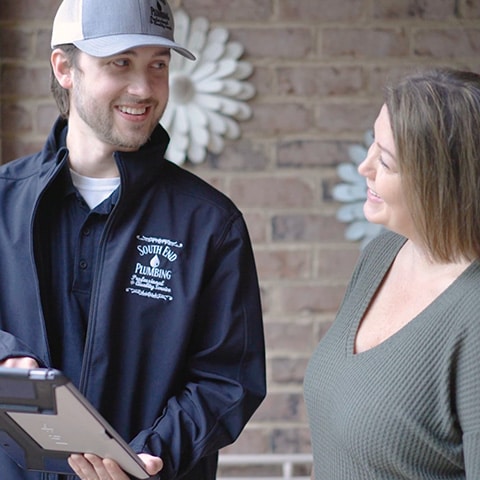 Your 24-Hour Sewer & Drain Services in Charlotte, NC
In most cases, you only think of calling for sewer and drain services when you've had it up to your neck with a drain backup or clogging, you may need a drain rooter service. While we can definitely help with those problems, we also specialize in other sewer and drain services in Charlotte, NC, including:
Backflow Services

Drain Cleaning

Sewer Camera Video Inspections

Hydro Jetting

Sewer Repair & Replacement
One important reason you should call for professional sewer and drain service rather than relying on your own expertise is that your sewer and drain system connects to other systems within and outside your household. For example, your septic system is directly tied to your plumbing lines, making it easy to damage one or both systems if not well-cared for.
Any time you have a septic system backup, there is a good chance it's related to a former or ongoing plumbing problem that has not been addressed. Dealing with a sewer and drain concern in a timely manner is one of the best ways to ensure that your sewer and drains remain in great condition. Calling on us for Charlotte sewer and drain services will give you peace of mind that this is less likely to ever be an issue for your home.
Free Estimate And Trip Fees
You'll never pay for a trip fee like other companies charge you. We offer an every day FREE Estimate, even on weekends. Your comfort in your home is our priority and it's one of the reasons our customers keep coming back again and again.
Do You Need a Commercial Drain Cleaning?
At South End Commercial Plumbing, we provide commercial drain cleaning services to those in Charlotte, NC. Since staff members and employees in the building might flush foreign objects down your drains, you can't really control clogs. We will bring in our video equipment to determine if there are any existing clogs, and if there are objects causing a blockage, we will figure out exactly where they are in the drain pipes. We can also remove objects and replace damaged pipes. If you don't have any clogged drains, we can use a hydro jetter to clean out the pipes and reduce the risk for clogging and water backup in the future.
Book Online
Book Online
Don't Delay, Call for Commercial Drain Cleaning in Charlotte, NC Today!
Our team at South End Commercial Plumbing has a lot of experience with commercial drain cleaning and many other plumbing services. We have been providing our services to those in the Charlotte area for 25 years, and we have many satisfied clients who continue to call us when something new arises.
Don't Hesitate To Contact South End Plumbing, Heating, and Air For Your Plumbing Services
We will assess your situation and give you a free estimate before we begin the work, so you can rest easy that the final bill will be something you are comfortable with, with no hidden costs or fees. Our plumbing services are 100% guaranteed, and customer satisfaction is our top priority.
Contact us in Charlotte, North Carolina, to request our plumbing services around the clock. We are available 24 hours a day to take on your repairs and Charlotte plumbing installations.
Book Online
Book Online