NO TRIP FEE MEANS WE EARN YOUR BUSINESS
Water Heater Installation
Water Heater Installation in Charlotte, NC
Enjoy a hot shower at any hour when you request a water heater installation in Charlotte, NC. At South End Plumbing, Heating, and Air, LLC, our experienced technicians offer a series of plumbing services for homes and businesses throughout the area. Speak with us today to count on us for your tankless water heater installation and other services.
Book Online
Book Online
Why Choose South End for Your Charlotte Water Heaters Needs?
South End Plumbing, Heating, and Air has over 25 Years of Experience
Licensed Bonded & Insured
100% Satisfaction Guaranteed
Up-Front Pricing, 24/7 Emergency Service
BBB member
Free Estimates.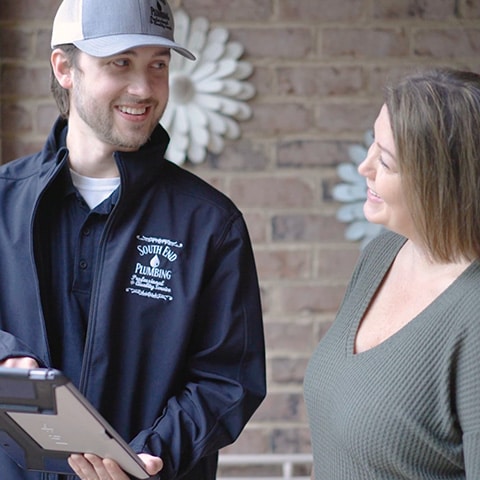 Your 24-Hour Water Heater Services in Charlotte, NC
In most cases, you only think of calling for water heater services when you've had it up to your with neck with high utility bills, you may need a water heater replacement. While we can definitely help with those problems, we also specialize in other water heater services in Charlotte, NC, including:
Water Heater Repair

Water Heater Installation

Tankless Water Heaters
You will be able to save on your utility bills while enjoying the use of hot water whenever you need it by upgrading your tank less water heater with South End Plumbing, Heating, and Air. We install and repair all the major brands such as Rinnai Tankless Water Heaters, A.O. Smith, Rheem, General Electric, Whirlpool, Bradford White, American Standard, Kenmore, Ecosmart, State Water Heaters, and including 50 gallon electric water heater.
Calling on us for Charlotte water heater services will give you peace of mind that this is less likely to ever be an issue for your home.
Free Estimates And No Trip Fees
You'll never pay for a trip fee like other companies charge you. We offer an every day FREE Estimate, even on weekends. Your comfort in your home is our priority and it's one of the reasons our customers keep coming back again and again.
Using the Right Water Heater
When you have a problem with your water heater, it can cause a lot of problems. We rely heavily on the warm water in our homes for bathing and cooking, so when you don't have any, you may feel like you want to go stay in a hotel until it is repaired. At our company, we offer water heater repair and replacement options in and around the area.
If you suspect you may need water heater repairs, you can listen for any strange sounds coming from your water heater, such as a cracking or popping noises. These sounds could be a result of mineral deposits breaking off and causing damage to the water heater. Depending on the extent of the damage, water heater repairs might be an option to save some money, instead of buying a new water heater. However, if the repairs and parts will cost more than simply replacing the unit, it will be in your best interest to have our team install a new system, in your home.
Book Online
Book Online
Extending the Lifespan of Your Water Heater
Most water heaters only last for 10 to 15 years. However, there are still things you can do to put off water heater repairs and extend the life of this appliance for as long as possible:
Drain your water heater semi-annually to eliminate sediment that can corrode the tank. Doing this can also increase your system's efficiency.
Test your water heater's pressure relief valve by lifting its handle and letting it snap back in place. If it doesn't go back in place easily, you should install a new valve.
Prevent overheating by setting the temperature on your water heater's thermostat at 120 degrees Fahrenheit.
Contact us in Charlotte, North Carolina, to speak with us about your water heater options. We offer installations and repairs throughout the area.
How Many Types of Water Heaters are There?
As you get ready to move forward with the water heater installation process, you should familiarize yourself with the different types of water heaters you can pick from for your home. We offer options for the following:
Conventional: These water heaters come with a tank that stores hot water ready for use.
Tankless: Tankless water heaters do not have a tank and heat water for a home on-demand.
Heat Pump: Instead of generating heat specifically for warming up water, heat pump water heaters move energy from one place to another.
Solar: These water heaters use the energy of the sun to heat up water for residential use.
When we perform a water heater installation, we start by carefully measuring the space to make sure the new unit fits nicely into the area. We also take into account how much hot water your family needs, based on the size of your home and how many people live there. Our team is happy to remove your old unit before starting service.
Book Online
Book Online