Residential Heating Repair & Maintenance
Maintenance Plans
Join our HVAC annual maintenance plan to receive trouble-free scheduled system checkups on your heating and air system. You'll get two included system checks for a low price which will allow your heating and air conditioning systems to run at maximum efficiency. A check-up allows you to be proactive with repairs and safety concerns which can save you lots of repair costs in the future.
Book Online
Book Online
Why Choose South End for Your Charlotte HVAC Needs?
South End Plumbing, Heating, and Air has over 25 Years of Experience
Licensed Bonded & Insured
100% Satisfaction Guaranteed
Up-Front Pricing, 24/7 Emergency Service
BBB member
Free Estimates.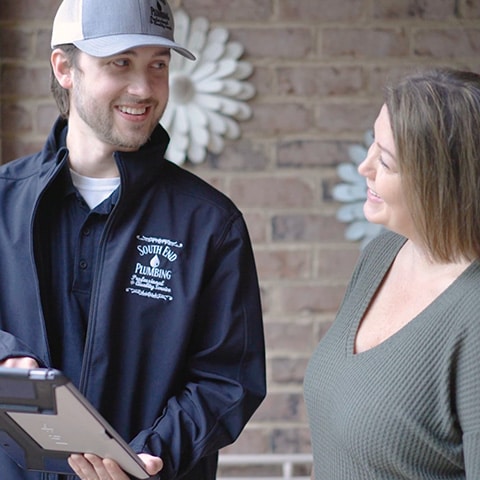 Your 24-Hour HVAC Services in Charlotte, NC
In most cases, you only think of calling for HVAC services when you've had it up to your with neck with intense heat waves and cold fronts, you may need a heating and air conditioning installation. While we can definitely help with those problems, we also specialize in other HVAC services in Charlotte, NC, including:
Charlotte Air Conditioning

Emergency AC Repair Charlotte

Air Conditioning Repair Charlotte

Charlotte Air Conditioning Installation & Replacement

Charlotte Air Conditioning Maintenance

Heating Charlotte

Emergency Heating Repair Charlotte

Heating Repair Charlotte

Charlotte Heating Installation & Replacement

Charlotte Heating Maintenance

Charlotte Indoor Air Quality Services
Our HVAC experts will make sure your heating and cooling are on point, so you can relax and enjoy your comfy home. From repairs and installations to maintenance, we've got you covered with top-notch services. We can work on a wide variety of HVAC systems, including Carrier, Lennox, Rheem, Amana, Goodman, Trane, York, and Coleman.
Calling on us for Charlotte HVAC services will give you peace of mind that this is less likely to ever be an issue for your home.
Free Estimates And No Trip Fees
You'll never pay for a trip fee like other companies charge you. We offer an every day FREE Estimate, even on weekends. Your comfort in your home is our priority and it's one of the reasons our customers keep coming back again and again.
Heating System Tune-ups
If it's been a while since you've had your heating system looked at then now might be the time. Charlotte's winter seasons still call for many cold nights for several months out of the year. With a tune you can have your heat pump or furnace running at maximum efficiency, saving you hundreds of dollars a year. You'll also gain the added benefit of more even comfort in your home.
Book Online
Book Online
HVAC Heating Installations
If you know you're in need of a heating installation then you've probably already made the considerations over just repairing your old system. It could be that you're interested in installing a new heating system for a renovation or investment property. That's great because new heating systems offer the most return on investment for any property not only in comfort to the homeowner but also in energy cost savings. Trust our expert installation team to provide trouble-free installs for your warranted heating system.
Heating Repairs
If you're a homeowner in the Charlotte area then it's likely at some time or another you will have to have a repair performed to your HVAC, Heat Pump, or Furnace. There's sometimes little warning for when a heating and air system can stop working. We are here to help, we don't charge trip or travel fees and we give free estimates. Not many HVAC repair companies can give that without somewhat "locking you in" with a travel fee. That's how South End Plumbing, Heating, and Air can offer reasonable prices on heating repairs.
Emergency Heating Repair
If the temps drop outside and your heat's not working, it's no longer an issue of comfort-it's an emergency. We offer emergency heat repair 7 days a week 24 hours a day. We also are one of the only heating repair companies that do not charge extra for service on nights and weekends. Not only is this above and beyond many other HVAC contractors, but we do all of this while still offering a truly FREE estimate!
Replacement / Installations for Heaters, Heat Pumps, Furnaces
Unfortunately, heating systems do not last forever. There are components deep inside your units that fair after a number of years. A list of these components includes a furnace heat exchanger, blower motors, igniters, sensors, coils, mainboards, etc. Once a system gets into the 10-12+ year range it's time to start considering a replacement rather than small incremental fixes. We will guide you through the process and help you make the decision that's best for you. We also service and install heating units from a wide range of manufacturers, and offer warranties on our work.
Book Online
Book Online