Charlotte Gas Line Services
Discover the lesser-known fact that plumbers are adept at handling gas lines too! For all your gas line concerns, including Charlotte gas leaks, don't hesitate to enlist the services of South End Plumbing, Heating, and Air. Rest assured, we'll promptly attend to your needs, resolving the issue with efficiency, so you can bid farewell to worry!
Book Online
Book Online
Why Choose South End for Your Charlotte Plumbing Needs?
South End Plumbing, Heating, and Air has over 25 Years of Experience
Licensed Bonded & Insured
100% Satisfaction Guaranteed
Up-Front Pricing, 24/7 Emergency Service
BBB member
Free Estimates.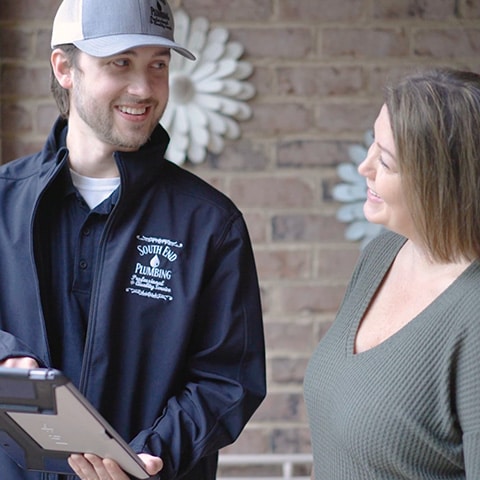 Your 24-Hour Plumber in Charlotte, NC
In most cases, you only think of calling for plumbing services when you've had it up to your neck with a toilet or sink backup or clogging, you may need a drain rooter service. While we can definitely help with those problems, we also specialize in other plumbing services and plumbing repairs in Charlotte, NC, including:
Water Heater Installation and Repairs
Sump Pumps
Gas Piping
Drain Cleaning
Drain Line Stoppages
Leak Detection And Repairs
Copper Repiping
Pressure Regulators
Drain Rooter Services
Backflow Prevention Services
One important reason you should call for professional plumbing service rather than relying on your own expertise is that your plumbing system connects to other systems within and outside your household. For example, your septic system is directly tied to your plumbing lines, making it easy to damage one or both systems if not well-cared for.
Any time you have a septic system backup, there is a good chance it's related to a former or ongoing plumbing problem that has not been addressed. Dealing with a plumbing concern in a timely manner is one of the best ways to ensure that your plumbing remains in great condition and that you can protect your septic system from any residual damage or backups due to plumbing concerns. Calling on us for Charlotte plumbing services will give you peace of mind that this is less likely to ever be an issue for your home.
Free Estimates And No Trip Fees
You'll never pay for a trip fee like other companies charge you. We offer an every day FREE Estimate, even on weekends. Your comfort in your home is our priority and it's one of the reasons our customers keep coming back again and again.
Gas Line Repairs
If you spot an aging or problematic gas line, make no delay in contacting our team. Ignoring a gas line issue can pave the way for major complications down the line. Instead, reach out to us immediately, and we'll be on the scene shortly to assess the situation and complete your gas line repair in Charlotte ASAP.
Book Online
Book Online
Gas Line Installations
Seeking a new gas line installation in Charlotte, NC? Count on us to ensure convenient access to natural gas wherever you require it. Whether you're setting up a spa or relocating your gas stove, our expertise lies in strategically placing gas lines for ease of accessibility. We'll also make sure everything is safe before we go, so you can live well in your home for years.
Gas Line Inspections
To avert any potential gas line crises, it's wise to conduct regular checks on your gas lines in Charlotte, NC. We'll conduct comprehensive gas line inspections to provide you with an accurate status report and suggest any essential remedies. Call us now, and you'll have your peace back soon because you'll know your gas lines are in good shape and working well.
Gas Line Services in Charlotte, NC – Available Now
Don't hesitate to reach out to our esteemed Charlotte gas line experts at South End Plumbing, Heating, and Air today! We're here to assist you with all your gas line needs, ensuring your home and family's safety remains uncompromised. Reach out without delay, and our skilled plumbers will be at your service in the blink of an eye, offering the peace of mind you seek!
Gas Line Emergencies
In the event of a suspected busted gas line in Charlotte, NC, prioritize your safety by promptly evacuating your home and calling the fire department. Indications such as hissing gas lines or a telltale rotten egg odor warrant immediate action. After ensuring your safety, get in touch with us. We'll collaborate with local authorities to ensure the safety of your home without delay. Ensure your family's safety by acting fast on any gas line emergency that comes up.
Book Online
Book Online