Water Heater Repair in Charlotte
When your water heater decides to take a break in Charlotte, NC, don't panic! Just give South End Plumbing, Heating, and Air a call, and we'll get things back on track for you in no time. Our team has the skills and experience to fix your water heater in a jiffy. We'll track down the issue and make sure the repair is done right the first time. We specialize in A.O. Smith and Rheem water heaters in Charlotte!
Book Online
Book Online
Why Choose South End for Your Charlotte Water Heaters Needs?
South End Plumbing, Heating, and Air has over 25 Years of Experience
Licensed Bonded & Insured
100% Satisfaction Guaranteed
Up-Front Pricing, 24/7 Emergency Service
BBB member
Free Estimates.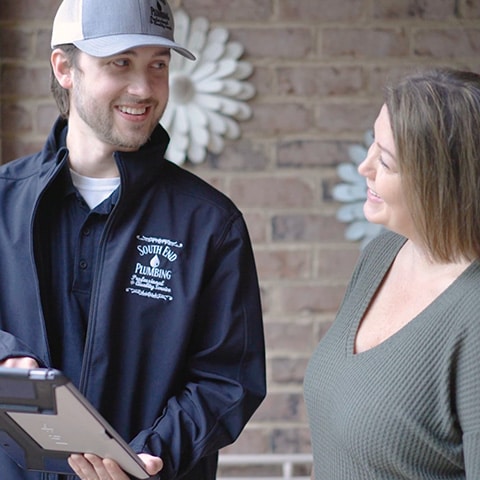 Your 24-Hour Water Heater Services in Charlotte, NC
In most cases, you only think of calling for water heater services when you've had it up to your with neck with high utility bills, you may need a water heater replacement. While we can definitely help with those problems, we also specialize in other water heater services in Charlotte, NC, including:
Water Heater Repair

Water Heater Installation

Tankless Water Heaters
You will be able to save on your utility bills while enjoying the use of hot water whenever you need it by upgrading your tank less water heater with South End Plumbing, Heating, and Air. We install and repair all the major brands such as Rinnai Tankless Water Heaters, A.O. Smith, Rheem, General Electric, Whirlpool, Bradford White, American Standard, Kenmore, Ecosmart, State Water Heaters, and including 50 gallon electric water heater.
Calling on us for Charlotte water heater services will give you peace of mind that this is less likely to ever be an issue for your home.
Free Estimates And No Trip Fees
You'll never pay for a trip fee like other companies charge you. We offer an every day FREE Estimate, even on weekends. Your comfort in your home is our priority and it's one of the reasons our customers keep coming back again and again.
Act Fast to Avoid Major Water Heater Hassles
As soon as you notice something's off with your water heater, don't delay! Call us right away, and we'll handle it before it turns into a major headache or disrupts your daily routine.
Book Online
Book Online
When Do You Need Charlotte Water Heater Repair
Not sure if your water heater problems are a big deal? Don't worry, we've got you covered. You should definitely reach out for water heater repair in Charlotte, NC when:
You're left shivering because your water heater won't produce hot water
Your showers are cut short because there's not enough hot water
Your hot water just isn't as hot as it used to be
Strange noises are coming from your water heater
Your water heater is leaking
Common Charlotte Water Heater Repair Problems
We often get calls about leaky water heaters and those that are either underperforming or not working at all. Many of these issues can be prevented with regular water heater maintenance. Investing in maintenance visits can save you from potential emergencies down the line.
Dealing with a Leaking Water Heater
Many of us enjoy taking a warm and pleasant shower to start out the day. However, if you have a leaking water heater, you may turn on the faucet and find that only cold water is coming out of the tap. You may want to check other sinks and other faucets in your home to make sure that you aren't dealing with a faulty faucet. If the water coming through is cold in every room, it is probably a problem with your water heater. Turn to us to diagnose your hot water system leaking and perform a full fix.
You can also check some other things to determine whether your Charlotte water heater is having a problem. Gas water heaters might give off a strong rotten egg odor when the aluminum rod is going out. Another sign of a problem is to turn on faucets in various rooms of the home and watch for sudden bursts or sputtering water, which means that the pressure is varying. You can also check near the bottom of the water heater and the floor, since any wet spots or mildew are both signs of a leaking water heater.
If the problem isn't too severe, we may be able to repair your Charlotte water heater. This can be a slightly more economical option. When our team comes into your home, we will diagnose the cause of the issue, and then give you repair or replacement options. Since newer water heaters are often more energy efficient than older models are, you may qualify for a federal tax rebate or credit when you install a new water heater. We offer a series of plumbing services, including leaking water heater repair, to properties throughout the area.
Our Water Heater Repair Process
When you call us for Charlotte water heater repair, we'll schedule a visit at a time that works for you. Our plumbers will arrive punctually and get straight to work. They'll pinpoint the issue, fix it efficiently, and test everything before they leave. We won't leave until you have hot water again!
We can also work on your tankless water heater in Charlotte. Our team will get your hot water back on ASAP regardless of the type of heater you have.
Call for Water Heater Help Today
Don't put up with cold showers any longer! Give South End Plumbing, Heating, and Air a call today, and we'll be there in a flash to fix your hot water heater in Charlotte. Our team will work swiftly, so you can get back to enjoying hot showers ASAP. Schedule your appointment now!
Water Heater Repair vs. Replacement
Sometimes, a brand-new water heater is the way to go. While the final decision is yours, we usually recommend replacement when:
Your water heater keeps breaking down
Your old water heater is likely to need more repairs soon
The repair cost is over half the price of a new water heater
Your want to install a tankless water heater in Charlotte
No matter what you decide, we'll get the job done quickly, so you can enjoy hot water again.
Book Online
Book Online