Charlotte Drain Cleaning
Keep backups to a minimum when you use the services from South End Plumbing, Heating, and Air, LLC. Our local company offers a number of options to help with clogged drain repair in Charlotte, NC, and surrounding areas. We use the top tools available to unclog your drain in your home or business. Work with us today for a fast and effective fix.
Book Online
Book Online
Why Choose South End for Your Charlotte Sewer & Drain Needs?
South End Plumbing, Heating, and Air has over 25 Years of Experience
Licensed Bonded & Insured
100% Satisfaction Guaranteed
Up-Front Pricing, 24/7 Emergency Service
BBB member
Free Estimates.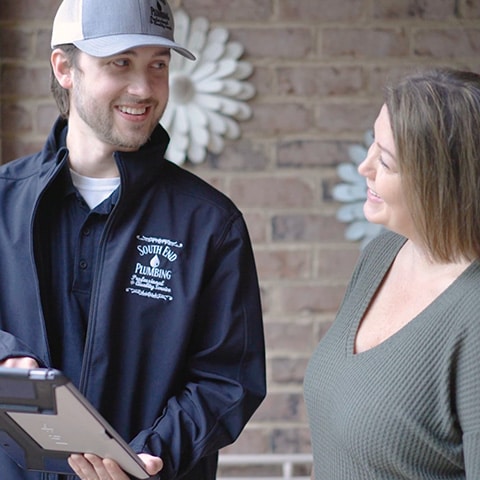 Your 24-Hour Sewer & Drain Services in Charlotte, NC
In most cases, you only think of calling for sewer and drain services when you've had it up to your neck with a drain backup or clogging, you may need a drain rooter service. While we can definitely help with those problems, we also specialize in other sewer and drain services in Charlotte, NC, including:
Backflow Services

Drain Cleaning

Sewer Camera Video Inspections

Hydro Jetting

Sewer Repair & Replacement
One important reason you should call for professional sewer and drain service rather than relying on your own expertise is that your sewer and drain system connects to other systems within and outside your household. For example, your septic system is directly tied to your plumbing lines, making it easy to damage one or both systems if not well-cared for.
Any time you have a septic system backup, there is a good chance it's related to a former or ongoing plumbing problem that has not been addressed. Dealing with a sewer and drain concern in a timely manner is one of the best ways to ensure that your sewer and drains remain in great condition. Calling on us for Charlotte sewer and drain services will give you peace of mind that this is less likely to ever be an issue for your home.
Free Estimates And No Trip Fees
You'll never pay for a trip fee like other companies charge you. We offer an every day FREE Estimate, even on weekends. Your comfort in your home is our priority and it's one of the reasons our customers keep coming back again and again.
Easy & Effective Unclogging for Your Drains
One area of specialty for our plumbers and technicians is drain cleaning in Charlotte, NC. Whether you are new to your home or have been living there for a while, if you don't know the date of your last drain cleaning service, you may want to schedule an appointment with us as soon as possible.
Charlotte drain cleaning is just as easy to neglect as an oil change and tune-up from your mechanic or a routine check-up by your doctor, but it is equally as important. And that grateful feeling you have when your mechanic or doctor helps you avoid a breakdown in your car or illness in your body will be just as satisfying when you utilize our plumbing services to prevent blocked drains. We recommend regular and frequent drain cleaning to keep your clogs and backups to a minimum.
Book Online
Book Online
Do You Need a Drain Cleaning?
You may already be noticing signs that Charlotte drain repair is necessary. If you are experiencing backups, smell a foul odor from your drains, hear a bubbling or gurgling noise when you turn your water off, or think it is taking your drains an exceptionally long time to drain water, you may already be in need of drain cleaning and should contact us today for our plumbing services.
While you may be tempted to go out and pick up the latest at-home drain unblocker, it is important to note that over-the-counter drain cleaners may not always do the best job. The harsh chemicals they contain may lead to more damage than good. Because it's so important to keep your plumbing in good shape, having our team complete your drain cleaning in Charlotte, NC is a crucial step.
Not only will we make sure to provide expert Charlotte drain cleaning solutions, but we'll also check your current plumbing fixtures and pipes, provide important recommendations for keeping your plumbing in good shape, and leave you feeling confident that your home's plumbing is ready for regular use. We are also happy to provide routine servicing of your drains and other plumbing fixtures and equipment, so it stays in top condition for the long term.
Choose South End Plumbing, Heating, and Air For Your Drain Cleaning Services
Our work is 100% customer satisfaction guaranteed, and we offer 24-hour emergency services if you need us immediately, as well as timely appointments if your drain problems can wait till regular working hours. No matter when you call us, the cost of service is always the same. We can also offer you some tips of things to avoid and steps to take to keep your drains working properly before your next Charlotte drain repair scheduled.
Contact us for clogged drain repair in Charlotte, NC, to learn more about our drain cleaner services. We offer options in homes and businesses throughout the area.
Book Online
Book Online