NO TRIP FEE MEANS WE EARN YOUR BUSINESS
Sewer & Drain Services
Charlotte Sewer & Drain Services
In need of assistance with your Charlotte water or sewer? Rest assured, our expert team at South End Plumbing, Heating, and Air is here to provide you with the solutions you seek. Reach out to us without delay, and we'll swiftly diagnose your sewer issues, identify the best course of action, and eliminate those concerns, allowing you to bid adieu to worries.
Book Online
Book Online
Why Choose South End for Your Charlotte Sewer & Drain Needs?
South End Plumbing, Heating, and Air has over 25 Years of Experience
Licensed Bonded & Insured
100% Satisfaction Guaranteed
Up-Front Pricing, 24/7 Emergency Service
BBB member
Free Estimates.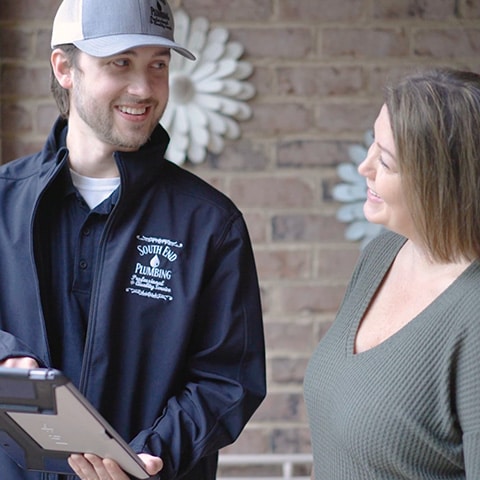 Your 24-Hour Sewer & Drain Services in Charlotte, NC
In most cases, you only think of calling for sewer and drain services when you've had it up to your neck with a drain backup or clogging, you may need a drain rooter service. While we can definitely help with those problems, we also specialize in other sewer and drain services in Charlotte, NC, including:
Backflow Services

Drain Cleaning

Sewer Camera Video Inspections

Hydro Jetting

Sewer Repair & Replacement
One important reason you should call for professional sewer and drain service rather than relying on your own expertise is that your sewer and drain system connects to other systems within and outside your household. For example, your septic system is directly tied to your plumbing lines, making it easy to damage one or both systems if not well-cared for.
Any time you have a septic system backup, there is a good chance it's related to a former or ongoing plumbing problem that has not been addressed. Dealing with a sewer and drain concern in a timely manner is one of the best ways to ensure that your sewer and drains remain in great condition. Calling on us for Charlotte sewer and drain services will give you peace of mind that this is less likely to ever be an issue for your home.
Free Estimates And No Trip Fees
You'll never pay for a trip fee like other companies charge you. We offer an every day FREE Estimate, even on weekends. Your comfort in your home is our priority and it's one of the reasons our customers keep coming back again and again.
Sewer Line Repair & Replacement
Should your sewer be experiencing malfunctions, rest assured we're well-equipped to handle the task. Be it repairs, partial replacements, or complete overhauls, our sewer experts are at your service. Waste no time; give us a call, and we'll promptly arrive to address your sewer problems before they escalate.
Our team for sewer repair in Charlotte and Charlotte sewer line replacement is top notch. They'll get to you fast, evaluate your needs, and help you get the solutions you need installed fast.
We offer trenchless sewer repair in Charlotte whenever that is the best option for your home. These techniques allow us to fix or replace your sewer line without creating chaos by having to dig up your yard. Instead, we use technology and the access hatch in your yard or basement to fix your sewer line.
Book Online
Book Online
Drain & Sewer Cleaning
Clogged sewers can lead to major disruptions! Not only do they hinder the use of your plumbing system, but they can also lead to unsanitary backups in your home. Our team will swiftly locate and rectify the clog, sparing you the anxiety it may cause. Don't hesitate; reach out now to have your Charlotte drain cleaning or sewer cleaning in Charlotte completed ASAP.
Call us today to start your clogged drain repair in Charlotte, NC today. We'll complete your Charlotte drain repair fast so you can get your home working the way you need it to again soon.
Sewer Inspections
Whether you're facing issues or merely seeking peace of mind before making a property purchase, our team is here to assist with sewer camera inspection services in Charlotte, NC. No matter the reason, we'll conduct a thorough inspection to identify any underlying issues and determine the necessary remedies.
Backflow Prevention & Testing
In need of certified backflow testers in Charlotte, NC? Look no further! We'll swiftly perform your backflow testing and provide the necessary certification or assistance. Our dedicated team won't rest until your backflow prevention device is in top-notch working order. If you require a new backflow device, we can handle the installation too.
Get Help With Your Sewer in Charlotte, NC Now!
Don't delay; reach out now to receive the prompt assistance you need with your sewer. Our specialized team in sewer services, including sewer line repair, in Charlotte, NC will be at your side shortly, implementing solutions efficiently to restore your sewer to normalcy in no time. Schedule your appointment today!
Hydro-Jetting
For stubborn clogs, hydro-jetting comes to the rescue. Employing a highly-pressurized stream of water, this technique effectively breaks up clogs, even those caused by tree roots. It is a powerful and efficient method to restore your pipes to their pristine condition and complete your drain cleaning in Charlotte, NC fast.
Hydro-jetting is great for sewer maintenance in Charlotte, too. It allows us to clean off your pipes so that nothing is sticking to them that could cause a clog later. If you want to make sure that clogs won't bother you, schedule your hydro-jetting today.
Book Online
Book Online