NO TRIP FEE MEANS WE EARN YOUR BUSINESS
Repiping Charlotte, NC
Call us today for a free estimate on repiping services  in Charlotte, NC.
Repiping in Charlotte – The pipes in an office building or residential property are vital in basic functions of life. If your plumbing is damaged or has other problems, you may start to deal with leaks and issues that often result in damage to the structure and possessions within the building. One of the key areas during a home inspection is the state of the plumbing, and if the pipes are not in good condition, a buyer may change his or her mind about buying the home at all. You may not think that repiping is in your family or company budget. However, here at South End Plumbing, Heating, and Air, we provide great prices on repiping services. Additionally, homeowners should know that replacing the plumbing will drastically increase the home's value.
Book Online
Book Online
Why Choose South End for Your Charlotte Plumbing Needs?
South End Plumbing, Heating, and Air has over 25 Years of Experience
Licensed Bonded & Insured
100% Satisfaction Guaranteed
Up-Front Pricing, 24/7 Emergency Service
BBB member
Free Estimates.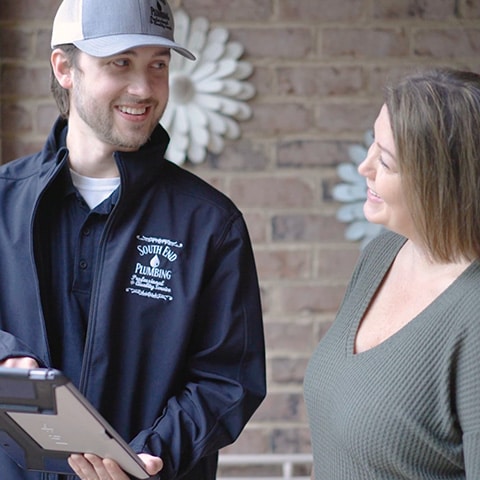 Your 24-Hour Plumber in Charlotte, NC
In most cases, you only think of calling for plumbing services when you've had it up to your neck with a toilet or sink backup or clogging, you may need a drain rooter service. While we can definitely help with those problems, we also specialize in other plumbing services and plumbing repairs in Charlotte, NC, including:
Water Heater Installation and Repairs
Sump Pumps
Gas Piping
Drain Cleaning
Drain Line Stoppages
Leak Detection And Repairs
Copper Repiping
Pressure Regulators
Drain Rooter Services
Backflow Prevention Services
One important reason you should call for professional plumbing service rather than relying on your own expertise is that your plumbing system connects to other systems within and outside your household. For example, your septic system is directly tied to your plumbing lines, making it easy to damage one or both systems if not well-cared for.
Any time you have a septic system backup, there is a good chance it's related to a former or ongoing plumbing problem that has not been addressed. Dealing with a plumbing concern in a timely manner is one of the best ways to ensure that your plumbing remains in great condition and that you can protect your septic system from any residual damage or backups due to plumbing concerns. Calling on us for Charlotte plumbing services will give you peace of mind that this is less likely to ever be an issue for your home.
Free Estimates And No Trip Fees
You'll never pay for a trip fee like other companies charge you. We offer an every day FREE Estimate, even on weekends. Your comfort in your home is our priority and it's one of the reasons our customers keep coming back again and again.
Repiping services on your Charlotte, NC property.
Many homeowners or business owners in Charlotte, North Carolina believe that repiping means they will have to vacate the property for a while, but we will work around your schedule to make the transition as easy as possible.
When it comes to removing and replacing any type of plumbing, this is a big task. We strongly discourage you from attempting to perform repiping services on your own, since this could cause more severe problems, such as sewer backup and leakage into the outside ground. You can watch for signs that your plumbing might need to be replaced, such as slow drainage or wet spots in your home or on the ground outside. Call us today for a free estimate on repiping services on your Charlotte property.
Book Online
Book Online
DON'T DELAY, CALL FOR Repipping Services IN CHARLOTTE, NC TODAY!
When it comes to repipping services in Charlotte, NC, procrastination is ill-advised! Instead, entrust our skilled professionals from South End Plumbing, Heating, and Air to tackle the issue with swiftness and diligence. We'll be at your service in no time, working tirelessly to restore your plumbing system to its optimal functionality as quickly as possible.
DON'T HESITATE TO CONTACT SOUTH END PLUMBING, HEATING, AND AIR FOR YOUR Repipping SERVICES
We will assess your situation and give you a free estimate before we begin the work, so you can rest easy that the final bill will be something you are comfortable with, with no hidden costs or fees. Our plumbing services are 100% guaranteed, and customer satisfaction is our top priority.
Contact us in Charlotte, North Carolina, to request our plumbing services around the clock. We are available 24 hours a day to take on your repairs and Charlotte plumbing installations.
Book Online
Book Online