Charlotte Plumbing Repair
In search of top-notch plumbing repair services in the charming city of Charlotte, NC? Look no further! South End Plumbing, Heating, and Air's team of seasoned professionals is ready and waiting to assist you. Simply give us a call, and we'll be en route to your location in no time!
Book Online
Book Online
Why Choose South End for Your Charlotte Plumbing Needs?
South End Plumbing, Heating, and Air has over 25 Years of Experience
Licensed Bonded & Insured
100% Satisfaction Guaranteed
Up-Front Pricing, 24/7 Emergency Service
BBB member
Free Estimates.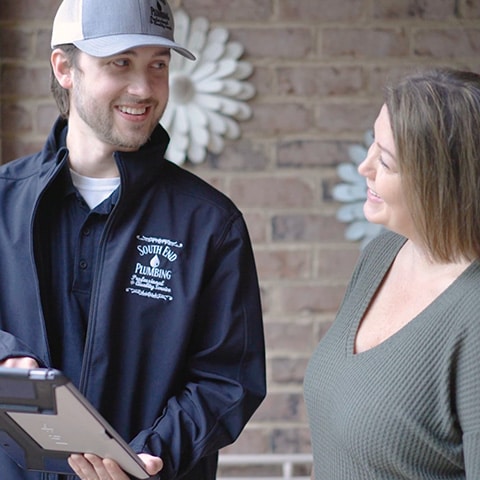 Your 24-Hour Plumber in Charlotte, NC
In most cases, you only think of calling for plumbing services when you've had it up to your neck with a toilet or sink backup or clogging, you may need a drain rooter service. While we can definitely help with those problems, we also specialize in other plumbing services and plumbing repairs in Charlotte, NC, including:
Water Heater Installation and Repairs
Sump Pumps
Gas Piping
Drain Cleaning
Drain Line Stoppages
Leak Detection And Repairs
Copper Repiping
Pressure Regulators
Drain Rooter Services
Backflow Prevention Services
One important reason you should call for professional plumbing service rather than relying on your own expertise is that your plumbing system connects to other systems within and outside your household. For example, your septic system is directly tied to your plumbing lines, making it easy to damage one or both systems if not well-cared for.
Any time you have a septic system backup, there is a good chance it's related to a former or ongoing plumbing problem that has not been addressed. Dealing with a plumbing concern in a timely manner is one of the best ways to ensure that your plumbing remains in great condition and that you can protect your septic system from any residual damage or backups due to plumbing concerns. Calling on us for Charlotte plumbing services will give you peace of mind that this is less likely to ever be an issue for your home.
Free Estimates And No Trip Fees
You'll never pay for a trip fee like other companies charge you. We offer an every day FREE Estimate, even on weekends. Your comfort in your home is our priority and it's one of the reasons our customers keep coming back again and again.
Indications You May Require Plumbing Repair in Charlotte, NC
Feel the need to summon a skilled plumber for plumbing repair in Charlotte, NC when:
You lack the expertise to address your plumbing issue effectively.
Your daily routine is being disrupted due to a troublesome plumbing problem.
Your attempts at fixing the issue have been unsuccessful.
Your precious home is suffering damage due to the plumbing predicament.
Your ability to use all or a portion of your plumbing system is hindered by the problem.
Book Online
Book Online
Emergency Plumbing Repair in Charlotte, NC
In dire situations where your plumbing issue is wreaking major havoc and cannot be contained, don't hesitate to reach out for emergency plumbing repair in Charlotte, NC. If you find yourself in this predicament, place a call to us, and we'll respond swiftly. Our commitment to providing 24/7/365 plumbing repair services stems from the understanding that certain issues just cannot wait!
Leaky Pipe Repair in Charlotte, NC
Neglecting a leaky pipe in Charlotte, NC can lead to significant financial losses! Even the smallest drips can accumulate and escalate more rapidly than you might imagine. Waste no time and give us a call the moment you spot a leak to have your plumbing swiftly fixed.
Don't Delay, Call for Plumbing Repair in Charlotte, NC Today!
When it comes to plumbing repairs in Charlotte, NC, procrastination is ill-advised! Instead, entrust our skilled professionals from South End Plumbing, Heating, and Air to tackle the issue with swiftness and diligence. We'll be at your service in no time, working tirelessly to restore your plumbing system to its optimal functionality as quickly as possible.
Toilet Repair in Charlotte, NC
Facing toilet troubles or dealing with a bothersome leak that's causing your water bill to soar? Waste no time and call us immediately. We'll promptly diagnose the issue with your toilet, fix it with efficiency, and ensure everything is in proper working order before we depart. Reach out now to have your toilet back or other Charlotte plumbing working again fast.
Plumbing Fixture Repair in Charlotte, NC
Experiencing issues with faucets, sinks, tubs, showers, or toilets in Charlotte, NC? Just give us a call, and our team will arrive promptly to identify the problem and perform the necessary repairs with utmost proficiency. Settling for a home that doesn't meet your plumbing needs is not an option!
Book Online
Book Online