NO TRIP FEE MEANS WE EARN YOUR BUSINESS
Sewer Repair & Replacement
Charlotte Sewer Repair & Replacement
Got sewer problems in Charlotte, NC? Don't wait for the mess to get worse! Give South End Plumbing, Heating, and Air a call right away. Our team is always ready to help you out of a tight spot. We'll work with you to get the solutions you need, and fast, so you can get back to your regular routine in no time. Get your sewer repair or Charlotte sewer line replacement finished fast!
Book Online
Book Online
Why Choose South End for Your Charlotte Sewer & Drain Needs?
South End Plumbing, Heating, and Air has over 25 Years of Experience
Licensed Bonded & Insured
100% Satisfaction Guaranteed
Up-Front Pricing, 24/7 Emergency Service
BBB member
Free Estimates.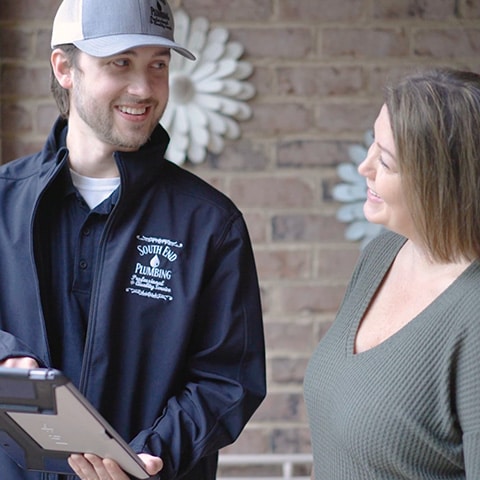 Your 24-Hour Sewer & Drain Services in Charlotte, NC
In most cases, you only think of calling for sewer and drain services when you've had it up to your neck with a drain backup or clogging, you may need a drain rooter service. While we can definitely help with those problems, we also specialize in other sewer and drain services in Charlotte, NC, including:
Backflow Services

Drain Cleaning

Sewer Camera Video Inspections

Hydro Jetting

Sewer Repair & Replacement
One important reason you should call for professional sewer and drain service rather than relying on your own expertise is that your sewer and drain system connects to other systems within and outside your household. For example, your septic system is directly tied to your plumbing lines, making it easy to damage one or both systems if not well-cared for.
Any time you have a septic system backup, there is a good chance it's related to a former or ongoing plumbing problem that has not been addressed. Dealing with a sewer and drain concern in a timely manner is one of the best ways to ensure that your sewer and drains remain in great condition. Calling on us for Charlotte sewer and drain services will give you peace of mind that this is less likely to ever be an issue for your home.
Free Estimates And No Trip Fees
You'll never pay for a trip fee like other companies charge you. We offer an every day FREE Estimate, even on weekends. Your comfort in your home is our priority and it's one of the reasons our customers keep coming back again and again.
What Causes Sewer Line Problems in Charlotte?
Sewer lines in Charlotte can have various issues. House settling or shifting can lead to cracks or breaks in your sewer line. Storms can cause issues too, especially if they wash a ton of dirt around your lines in a flash.
Another pesky problem is tree roots. These little invaders can grow far and wide, making it hard to keep them away from your sewer lines. They're drawn to the water and waste, leading them straight to your pipes.
Book Online
Book Online
Our Charlotte Sewer Line Repair & Replacement Process
We'll start by checking out your sewer and, if needed, send a camera down there to find the root of the problem (pun intended!).
Once we figure out what's up, we'll come up with a plan and run it by you. If you give it a thumbs up, we'll get to work right away. Our team will work diligently and ensure your sewer is flowing like a charm before we call it a day.
Trenchless Sewer Repair in Charlotte
No, we won't tear up your whole yard! When possible, we'll use trenchless sewer repair techniques. This means we'll access and fix or replace your sewer through the hatch in your home or yard, saving you from major excavation.
If we think trenchless sewer repair in Charlotte is the way to go, we'll let you know and get started once you give the green light.
Get Your Charlotte Sewer Working Well Again Today!
Next time you need help with Charlotte water and sewer problems, don't hesitate to call South End Plumbing, Heating, and Air. We'll be there pronto, making sure everything is flowing the way it should. Make your appointment now, and we'll handle the rest!
Signs You Need Sewer Line Repair in Charlotte
You may need sewer repair in Charlotte if:
The downstairs tub fills up every time the washer drains
Soggy and overgrown areas in your yard
Nasty sewer odors wafting through your home or yard
Gurgle, gurgle! Frequent pipe noises
Sewage showing up where it doesn't belong (yikes!)
Book Online
Book Online