NO TRIP FEE MEANS WE EARN YOUR BUSINESS
Accessible Plumbing Design
Charlotte Accessible Plumbing Design
Most bathrooms are not set up for wheelchair and other accessibility needs. If you can't use your bathroom the way you need to, give us a call. At South End Plumbing, Heating, and Air, we truly believe that we are your best provider for accessible solutions. Call us today and learn why we're the trusted accessible solution in Charlotte!
Book Online
Book Online
Why Choose South End for Your Charlotte Plumbing Needs?
South End Plumbing, Heating, and Air has over 25 Years of Experience
Licensed Bonded & Insured
100% Satisfaction Guaranteed
Up-Front Pricing, 24/7 Emergency Service
BBB member
Free Estimates.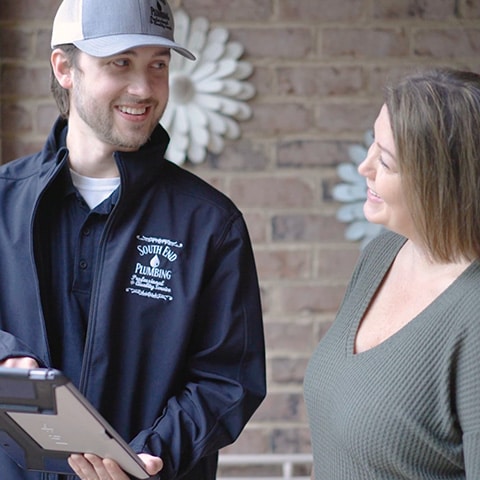 Your 24-Hour Plumber in Charlotte, NC
In most cases, you only think of calling for plumbing services when you've had it up to your neck with a toilet or sink backup or clogging, you may need a drain rooter service. While we can definitely help with those problems, we also specialize in other plumbing services and plumbing repairs in Charlotte, NC, including:
Water Heater Installation and Repairs
Sump Pumps
Gas Piping
Drain Cleaning
Drain Line Stoppages
Leak Detection And Repairs
Copper Repiping
Pressure Regulators
Drain Rooter Services
Backflow Prevention Services
One important reason you should call for professional plumbing service rather than relying on your own expertise is that your plumbing system connects to other systems within and outside your household. For example, your septic system is directly tied to your plumbing lines, making it easy to damage one or both systems if not well-cared for.
Any time you have a septic system backup, there is a good chance it's related to a former or ongoing plumbing problem that has not been addressed. Dealing with a plumbing concern in a timely manner is one of the best ways to ensure that your plumbing remains in great condition and that you can protect your septic system from any residual damage or backups due to plumbing concerns. Calling on us for Charlotte plumbing services will give you peace of mind that this is less likely to ever be an issue for your home.
Free Estimates And No Trip Fees
You'll never pay for a trip fee like other companies charge you. We offer an every day FREE Estimate, even on weekends. Your comfort in your home is our priority and it's one of the reasons our customers keep coming back again and again.
Accessible Spaces and Doors
Wheelchairs take up more space than people standing and walking do. The Americans with Disabilities Act (ADA) states that accessible bathrooms need to be at least 30"x48" and straight doorways should be at least 32" wide. If the bathroom requires a side entry, the door should be 36" wide so wheelchairs can easily turn into the room.
If you need to be able to turn a chair in a bathroom, you'll need at least a 60" diameter space in the bathroom in order to do so. Our team can help you find the solutions you need. We can help you make sure your bathroom is fully accessible today!
Book Online
Book Online
Accessible Lighting & Grab Bars
We'll make sure that all lights are easy for everyone to operate, no matter their accessibility needs, and that they look good in your home, too. We can also install grab bars to make transitioning easier or to add to stability while standing and transferring to and from a wheelchair.
Get the Bathroom Accessibility You Need Today!
Call us at South End Plumbing, Heating, and Air now to make your bathroom more accessible soon. Our team will handle your whole Charlotte plumbing installation so you won't have to worry about anything. In fact, our Charlotte plumber won't leave until you are completely satisfied with the work they've done. Get the accessible plumbing you need when you
Accessible Sinks, Toilets, Showers, & Tubs
Our Charlotte plumbing team is here to help with the specific accessibility issues you need to deal with in your bathroom. If you need open space under the sink for easy access, we have options that will get you this and more. If you need higher or lower toilets or wall-mounted units, we will help you find exactly what you're looking for for your space.
We can make your tubs and showers accessible, too. Our team can eliminate any lip so wheelchairs can roll in and access the shower with ease. We can also create shower doors that are plenty wide to make that access straightforward. If you need shower chairs, seats, or other accessibility options, our plumber in Charlotte, NC can help with that, too.
Book Online
Book Online