NO TRIP FEE MEANS WE EARN YOUR BUSINESS
Indoor Air Quality Services
Charlotte IAQ Services
Are you finding yourself concerned about the state of the air you're breathing within your Charlotte home and its neighboring areas? Does the thought of potential air pollutants weigh on your mind? Maybe allergies or asthma have you yearning for cleaner indoor air that leaves you feeling refreshed and revitalized.
If any of these scenarios resonate with you, or if you simply seek guidance on enhancing your Charlotte air quality, don't hesitate to reach out to South End.
Our skilled HVAC professionals in Charlotte are here to assist. We'll assess your indoor air quality and provide insights into the solutions that can make a difference. With a clear understanding of your needs, we'll walk you through the various options to help you pick out the one that best suits you and your family. Don't wait – take the first step towards improved indoor air quality today by giving us a call!
Book Online
Book Online
Why Choose South End for Your Charlotte HVAC Needs?
South End Plumbing, Heating, and Air has over 25 Years of Experience
Licensed Bonded & Insured
100% Satisfaction Guaranteed
Up-Front Pricing, 24/7 Emergency Service
BBB member
Free Estimates.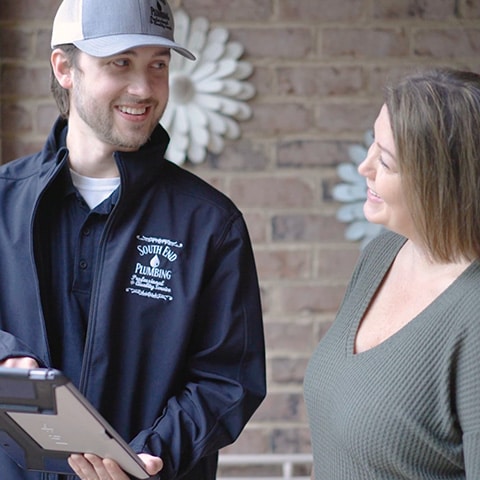 Your 24-Hour HVAC Services in Charlotte, NC
In most cases, you only think of calling for HVAC services when you've had it up to your with neck with intense heat waves and cold fronts, you may need a heating and air conditioning installation. While we can definitely help with those problems, we also specialize in other HVAC services in Charlotte, NC, including:
Charlotte Air Conditioning

Emergency AC Repair Charlotte

Air Conditioning Repair Charlotte

Charlotte Air Conditioning Installation & Replacement

Charlotte Air Conditioning Maintenance

Heating Charlotte

Emergency Heating Repair Charlotte

Heating Repair Charlotte

Charlotte Heating Installation & Replacement

Charlotte Heating Maintenance

Charlotte Indoor Air Quality Services
Our HVAC experts will make sure your heating and cooling are on point, so you can relax and enjoy your comfy home. From repairs and installations to maintenance, we've got you covered with top-notch services. We can work on a wide variety of HVAC systems, including Carrier, Lennox, Rheem, Amana, Goodman, Trane, York, and Coleman.
Calling on us for Charlotte HVAC services will give you peace of mind that this is less likely to ever be an issue for your home.
Free Estimates And No Trip Fees
You'll never pay for a trip fee like other companies charge you. We offer an every day FREE Estimate, even on weekends. Your comfort in your home is our priority and it's one of the reasons our customers keep coming back again and again.
Comprehensive Services for Your Indoor Air Quality in Charlotte
At South End, we're committed to elevating your indoor air quality in Charlotte, NC, regardless of its current state. Our experts will carefully evaluate your situation and implement a solution designed to make breathing easier in your home. Our suite of solutions includes:
Air Filtration: With various levels of filtration available, we'll help you choose a high-efficiency furnace air filter that removes dust and particles without straining your system. Additionally, we offer whole-home filtration options tailored to your requirements.
Air Purification: Customized to your indoor air quality needs, our air purification solutions encompass HEPA filters, activated carbon, UV light, ozone generation, and ionization. We'll analyze your situation and suggest the best approach to enhancing your air quality.
Dehumidifiers & Humidifiers: Achieving the right humidity balance in your home can significantly impact the quality of the air you breathe. Our Charlotte, NC experts can install whole-home dehumidifiers or humidifiers to ensure your indoor air quality is optimal.
Indoor Air Quality Testing in Charlotte, NC: If you're worried about your home's air quality but you're not sure what is going on, we can test it for you. Call today to schedule your test soon.
Book Online
Book Online
Recognizing Indoor Air Quality Concerns
Certain signs can indicate that it's time to address your indoor air quality:
Humidity Imbalances: Mold growth, mildew, or wood deterioration could be indicators of humidity-related issues.
Worsening Allergies or Asthma: If these issues intensify at home, your indoor air quality might be to blame.
Accumulation of Dust: Excessive dust settling on furniture can signify subpar air quality.
Stale Odors: Unpleasant smells that persist indoors could indicate air quality problems.
Construction Activity: Nearby construction or even ongoing work within your home can affect indoor air quality.
If any of these scenarios sound familiar, don't hesitate to contact us promptly. We're here to assist you in addressing your indoor air quality concerns in Charlotte, NC and its surrounding areas.
Take the Leap to Improved Air Quality: Call South End Today!
Ready to experience the benefits of cleaner indoor air? Reach out to South End today and take the first step towards improving your indoor air quality or to request indoor air quality testing in Charlotte, NC. Our seasoned experts are dedicated to helping you breathe easier, one breath at a time. Don't wait – call us now to schedule your indoor air quality evaluation and pave the way for a healthier, more comfortable home environment.
The Benefits of Breathing Better Indoor Air
The perks of improved indoor air quality in Charlotte are plentiful, benefiting both your health and home. Customers who have invested in enhancing their air quality have reported:
Enhanced Respiratory Health: Breathing cleaner air can lead to improved respiratory well-being.
Extended HVAC Lifespan: A well-maintained HVAC system can enjoy a longer life span.
Lower Energy Bills: Efficient systems translate to lower energy consumption and subsequently, more economical bills.
Reduced Allergy Symptoms: Many have experienced relief from allergy symptoms or even their complete elimination.
Less Dust and Dirt: Improved air quality translates to reduced dust accumulation within your home.
Book Online
Book Online