Commercial Backflow Services
NO TRIP FEE MEANS WE EARN YOUR BUSINESS
Backflow Preventors in Charlotte, NC
Keep your system running smoothly when you work with the team at South End Commercial Plumbing, LLC for your backflow prevention in Charlotte, NC. At our company, we feature backflow services for customers throughout the area. Request our plumbing services to avoid the need for repairs in the future.
Book Online
Book Online
Why Choose South End for Your Charlotte Sewer & Drain Needs?
South End Plumbing, Heating, and Air has over 25 Years of Experience
Licensed Bonded & Insured
100% Satisfaction Guaranteed
Up-Front Pricing, 24/7 Emergency Service
BBB member
Free Estimates.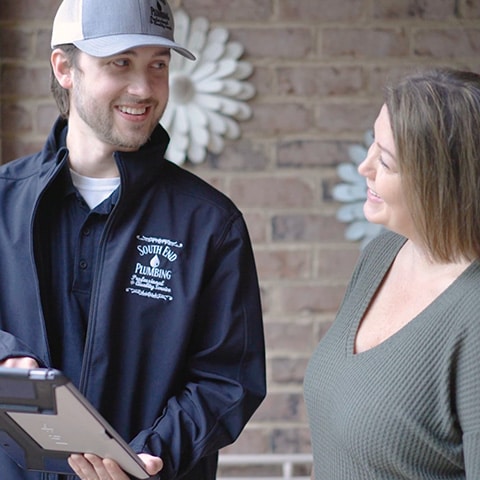 Your 24-Hour Sewer & Drain Services in Charlotte, NC
In most cases, you only think of calling for sewer and drain services when you've had it up to your neck with a drain backup or clogging, you may need a drain rooter service. While we can definitely help with those problems, we also specialize in other sewer and drain services in Charlotte, NC, including:
Backflow Services

Drain Cleaning

Sewer Camera Video Inspections

Hydro Jetting

Sewer Repair & Replacement
One important reason you should call for professional sewer and drain service rather than relying on your own expertise is that your sewer and drain system connects to other systems within and outside your household. For example, your septic system is directly tied to your plumbing lines, making it easy to damage one or both systems if not well-cared for.
Any time you have a septic system backup, there is a good chance it's related to a former or ongoing plumbing problem that has not been addressed. Dealing with a sewer and drain concern in a timely manner is one of the best ways to ensure that your sewer and drains remain in great condition. Calling on us for Charlotte sewer and drain services will give you peace of mind that this is less likely to ever be an issue for your home.
Free Estimate And Trip Fees
You'll never pay for a trip fee like other companies charge you. We offer an every day FREE Estimate, even on weekends. Your comfort in your home is our priority and it's one of the reasons our customers keep coming back again and again.
Your Source for Backflow Prevention Services
Backflow services are important for a properly working system, while preventative maintenance and backflow testing may help you avoid costly damages. Our backflow services may include preventative maintenance, inspection, and repair of Backflow Valves. If your system has been neglected or you suspect it is not working as it should, contact us today to schedule an appointment. We are a state board certified backflow inspection company.
Backflow prevention should be an important concern for any business owner. Backflow may result from a build-up of gases or materials that cause your water system to run in a backward direction. Backflow can also happen when there is a loss of pressure within your system or too much pressure from the source. What this may mean for you is a contaminated potable water supply. There are many harmful materials that could enter your potable water supply in a cross-connection situation, including sewage, cleaning materials, pesticide chemicals, heavy metals, and other harmful contaminants. It is important to know how your system is working and if you are at risk for a contamination.
Our commercial backflow services include testing for backflow, as well as installing a backflow prevention device. We want to ensure your your customers' safety. No matter your system or how long since it has been serviced, let us at South End Commercial Plumbing make sure there is no contamination in your potable water supply. We have more than 25 years of experience in the Charlotte, NC, area and our technicians are ready 24/7 for any emergencies.
Book Online
Book Online
Charlotte NC Backflow Testing
In preventative maintenance, backflow testing is an important step in determining if your backflow valve is state compliant. It is vital that you have service performed regularly to ensure your family is kept safe from a contaminated water supply. If you have an old plumbing system or one that hasn't been broad up to code, you may be in need of our backflow testing service.
Here at our company, we can easily test your system for harmful malfunctioning backflow valves, as well as other damages that may cause you problems down the road. Backflow is often caused by the buildup of gases and other materials, or it can result from a loss of pressure from your water suppliers. This means a backflow may be difficult for you to notice without using the proper techniques. That is why you should contact our trained professionals to perform the certified backflow testing and ensure your customers are kept safe from contaminated water.
Backflow testing will detect any harmful flow in the reverse direction from the source. It is important that reverse flow is not present in a backflow system. If backflow is detected, we can help to resolve the problem quickly and effectively. Our services may even include the installation of a backflow prevention valve if your system is found to be faulty.
Turn to Us for Backflow Preventor Repair
Backflow can be an important concern for business owners. If your system experiences an extreme loss or build-up of pressure, it can cause your system allow water to flow in reverse. What this can mean for you is a contaminated potable water source. A contaminated water source may include harmful materials, such as sewage, pesticide chemicals, and cleaning products. This can be dangerous for you, your family, or your customers. If your system is not functioning, you may have a contaminated water source and not even know it.
For your safety, we offer a variety of backflow services that can keep your system running as it should. We have more than 25 years of experience, and our qualified technicians will help ensure your water system is functioning and up to code. Save money and time with preventative maintenance now. Also, enjoy peace of mind knowing your potable water is clean. If your system may be contaminated, let us test it now and guarantee you and your family's safety.
When you turn to us for all of your plumbing needs, we make sure you are 100% happy. If a contaminant is detected, our backflow repair services will include cleaning out your system, potentially installing preventative devices, and ensuring your system backflow valve is functioning properly again. Our backflow repair services will allow you to feel confident in your system and the water you are drinking.
Full Backflow Prevention Installation
It may be hard to determine if you have a malfunctioning backflow preventor, and it can happen at any time. Backflow may occur when gases and other materials build up and cause the system to flow in the opposite direction as it should. Backflow can also occur when there is a loss of pressure in the system resulting failing seals, source pressure loss, and other issues. It is important that your system be monitored, maintained, and secured at regular intervals.
One way to secure your system is to have a preventive backflow installation preventor installed into your current system. There are many types of devices that can be part of your backflow prevention, and we are experienced and qualified to show you the best option for your system. Your device is used to protect potable water from contamination by backward flowing potentially contaminated water, and it can be an important step in keeping your customers and neighbors protected from a contaminated water source.
Preventing Backflow at Your Business
Backflow can be a serious problem for any home or business owner. The most important step in avoiding problems associated with backflow is to seek out backflow prevention testing. These services will help you feel confident in your system. They may help you avoid costly repairs, state imposed fines, damage to your property, and a contaminated water supply.
Backflow prevention includes a proper cleaning and inspection of your system. When your system is well-maintained, it is more likely to continue working as you would expect. If a system is left for too long, unseen damages inside your backflow valve may be causing backups and backflow. You may not realize your system is in trouble until it reaches a point of costly and large-scale repairs. Even an undamaged system can produce a backflow. Gases and water pressure can build up over time, moving the pipe's contents in a reverse flow direction. The most concerning issue with this backflow is a contaminated potable water supply.
Contact us in Charlotte, North Carolina, to discover more on our backflow prevention options. We work with home and business owners throughout the area.
Don't Hesitate To Contact South End Plumbing, Heating, and Air For Your Plumbing Services
We will assess your situation and give you a free estimate before we begin the work, so you can rest easy that the final bill will be something you are comfortable with, with no hidden costs or fees. Our plumbing services are 100% guaranteed, and customer satisfaction is our top priority.
Contact us in Charlotte, North Carolina, to request our plumbing services around the clock. We are available 24 hours a day to take on your repairs and Charlotte plumbing installations.
Book Online
Book Online