Commercial Leak Detection
NO TRIP FEE MEANS WE EARN YOUR BUSINESS
Commercial Leak Detection Charlotte, NC
Here at South End Commercial Plumbing, we specialize in a variety of different plumbing services, one of which is leak detection. There are a number of ways to determine if you have some sort of leak on your business, including:
Wet Ground – The #1 indicator of a leak is standing water or saturated ground around your property. If you know your irrigation system is not leaking, then you may have another type of water leak. If you walk the perimeter of your business and notice standing water, moss, mud, etc. with no clear source, contact a plumbing professional immediately.
High Water Bill – A water bill fluctuates month to month, but if you notice a dramatic increase in the bill with no known source, it may be caused by a water leak. This indication can be hard to narrow down the leak and may be coming from many sources in and around your business. A leaking toilet or drain may cause this, as well.
Damaged Flooring – If a leak is bad enough, you will begin to notice changes within your flooring. There may be hot spots in your flooring when you step in certain areas. Also, your linoleum may bubble and cracks may appear. This is a strong indication that something is wrong.
Reduced Water Pressure – If the leak is in your main water line, you may notice a loss of water pressure in your business.
Hearing Water Running –If you can hear water running through any pipes when you know no one is using water, you may be hearing a leak in the piping under the property.
Book Online
Book Online
Why Choose South End for Your Charlotte Plumbing Needs?
South End Plumbing, Heating, and Air has over 25 Years of Experience
Licensed Bonded & Insured
100% Satisfaction Guaranteed
Up-Front Pricing, 24/7 Emergency Service
BBB member
Free Estimates.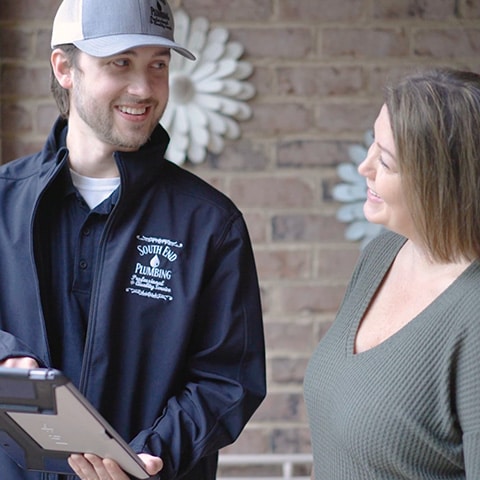 Your 24-Hour Plumber in Charlotte, NC
In most cases, you only think of calling for plumbing services when you've had it up to your neck with a toilet or sink backup or clogging, you may need a drain rooter service. While we can definitely help with those problems, we also specialize in other plumbing services and plumbing repairs in Charlotte, NC, including:
Water Heater Installation and Repairs
Sump Pumps
Gas Piping
Drain Cleaning
Drain Line Stoppages
Leak Detection And Repairs
Copper Repiping
Pressure Regulators
Drain Rooter Services
Backflow Prevention Services
One important reason you should call for professional plumbing service rather than relying on your own expertise is that your plumbing system connects to other systems within and outside your household. For example, your septic system is directly tied to your plumbing lines, making it easy to damage one or both systems if not well-cared for.
Any time you have a septic system backup, there is a good chance it's related to a former or ongoing plumbing problem that has not been addressed. Dealing with a plumbing concern in a timely manner is one of the best ways to ensure that your plumbing remains in great condition and that you can protect your septic system from any residual damage or backups due to plumbing concerns. Calling on us for Charlotte plumbing services will give you peace of mind that this is less likely to ever be an issue for your home.
Free Estimate And Trip Fees
You'll never pay for a trip fee like other companies charge you. We offer an every day FREE Estimate, even on weekends. Your comfort in your home is our priority and it's one of the reasons our customers keep coming back again and again.
Commercial Leak Detection Indicators
At South End Commercial Plumbing, we are experienced in commercial leak detection and resolution, and if you notice any of these indications that you may have a slab leak, give us a call. Remember these indicators that suggest you should call us for leak detection:
Abnormally expensive water bills
Hearing water running somewhere in the business even when all faucets or spigots are turned off
A warm spot on your floor could be a sign that you have a hot water line leak somewhere in the pipes in your foundation or slab
Floor and wall cracks or excessive water damage or moldy carpets
Pooled water on your lawn may be an indicator of a pipe crack or leak
Depending on the level of your leak, it may be an invasive and expensive procedure to get it repaired. Commercial leak detection is a great way to avoid unnecessary damage to your pipes and the foundation of your Charlotte, North Carolina business or property, pinpointing where the leak is without needing to dig up the pipes.
Book Online
Book Online
How to Detect Bathroom Leaks
A water leak in a bathroom can quickly lead to extensive damage. If you notice any of the following signs, it's best to call in a plumber for leak detection as quickly as possible:
The paint or wallpaper on the bathroom walls has started to peel. Even a tiny leak can permeate paint and wallpaper and compromise their adhesive qualities.
Mold or mildew growth continues to show up along non-tiled walls or between the baseboards and flooring in bathrooms.
The ceiling stains below bathrooms.
Spongy bathroom floors.
Video Sewer Line Inspection
When your business has a problem with your sewer line, it can cause serious damage to your home or office. If the sewer line has a clog, it will cause your toilets, sinks, and floor drains to back up, resulting in contaminated water and even raw sewage coming into the business. This is dangerous to your health and can cause significant damage to flooring and walls, as well as to business assets inside the property. Most state sanitation laws require that any carpeting that has been touched by sewer water must be completely replaced, which is an expensive renovation cost.
If your plumber doesn't use video sewer line inspection, they won't be able to find the precise location of the clog within the sewer line. This means that the plumber may have to excavate up large portions of the pipe in order to locate the clog, which is a more expensive fee. It also causes additional damage to your lawn or parking lot, since the plumber has to remove grass or soil to get to the plumbing beneath the ground.
At South End Commercial Plumbing, we offer video sewer line inspections to properties in Charlotte, North Carolina. We use a long snake with video equipment, which allows us to get into the pipes without causing any damage to your yard. We can then figure out where and what the clog is, which means we can target and fix the exact problem as fast as possible. If you have any signs of sewer pipe backup, give us a call, and we can come out immediately to give you an estimate.
Call South End Plumbing, Heating, and Air Today For Your Commercial Leak Detection Needs!
At South End Commercial Plumbing, our commercial leak detection services are non-invasive, allowing us to diagnose your problem in a quick, clean, and efficient way. We can then offer you a free estimate on the repairs needed if leaks are detected. We pride ourselves on being a family owned and operated business, fully licensed, bonded, and insured. Contact us today for commercial leak detection services, and we guarantee your 100% satisfaction.
Don't Hesitate To Contact South End Plumbing, Heating, and Air For Your Plumbing Services
We will assess your situation and give you a free estimate before we begin the work, so you can rest easy that the final bill will be something you are comfortable with, with no hidden costs or fees. Our plumbing services are 100% guaranteed, and customer satisfaction is our top priority.
Contact us in Charlotte, North Carolina, to request our plumbing services around the clock. We are available 24 hours a day to take on your repairs and Charlotte plumbing installations.
Book Online
Book Online