Commercial Water Heaters
NO TRIP FEE MEANS WE EARN YOUR BUSINESS
Commercial Water Heaters in Charlotte
Newer water heaters are much more energy-efficient than old models, so upgrading can save you money on the utility bills for your Charlotte, NC business or commercial property.
Book Online
Book Online
Why Choose South End for Your Charlotte Water Heaters Needs?
South End Plumbing, Heating, and Air has over 25 Years of Experience
Licensed Bonded & Insured
100% Satisfaction Guaranteed
Up-Front Pricing, 24/7 Emergency Service
BBB member
Free Estimates.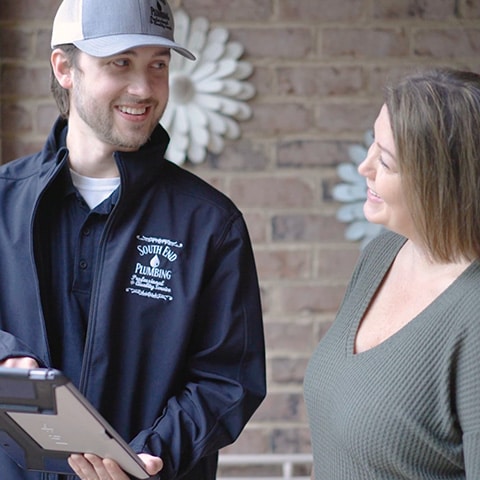 Your 24-Hour Water Heater Services in Charlotte, NC
In most cases, you only think of calling for water heater services when you've had it up to your with neck with high utility bills, you may need a water heater replacement. While we can definitely help with those problems, we also specialize in other water heater services in Charlotte, NC, including:
Water Heater Repair

Water Heater Installation

Tankless Water Heaters
You will be able to save on your utility bills while enjoying the use of hot water whenever you need it by upgrading your tank less water heater with South End Plumbing, Heating, and Air. We install and repair all the major brands such as Rinnai Tankless Water Heaters, A.O. Smith, Rheem, General Electric, Whirlpool, Bradford White, American Standard, Kenmore, Ecosmart, State Water Heaters, and including 50 gallon electric water heater.
Calling on us for Charlotte water heater services will give you peace of mind that this is less likely to ever be an issue for your home.
Free Estimate And Trip Fees
You'll never pay for a trip fee like other companies charge you. We offer an every day FREE Estimate, even on weekends. Your comfort in your home is our priority and it's one of the reasons our customers keep coming back again and again.
Commercial Water Heaters and Boilers in Charlotte
Most of the water heater manufacturers recommend that you replace these important appliances at least every 10-12 years. Most older water heaters are not as efficient as newer models, which means they will waste energy and cost you extra money in utilities each year. An older water heater can also experience sudden pressure changes, causing a burst of water that can cause damage to your immediate interior area. Leaking water heaters can also cause mold to grow, which is dangerous to the health of you and your employees. If the heating element on your water heater breaks down, you may be stuck without hot water on a busy day.
All of these concerns make it clear that older water heaters should be replaced, but the process of replacing a water heater is not easy to do on your own. The best way to ensure that you get a water heater that will work with the space available and will accommodate your company's needs is to call us at South End Commercial Plumbing. We have plumbing technicians who will help you choose the perfect option.
Book Online
Book Online
What Every Business Owner Should Know About Their Water Heater
Commercial Water heaters are an appliance most business owners don't want to live without. To keep yours in good shape and keep warm water running through your pipes, make sure you know the following:
Location Options–Not only should you know where your water heater is located, but you should also have clear access to it at all times.
Heat Type–Most residential water heaters run off electricity, propane, or gas. Make sure you know what's fueling your water heater in case you ever need to repair it or shut it off for emergencies.
Age–How old your commercial water heater is heavily impacts whether you repair or replace it if it ever stops working.
When you're considering different styles and models of commercial water heaters, our plumbers can give expert recommendations. These suggestions are typically based on usage demands and their measured efficiency ratings, so you can save money on heating costs each month. We also look at the type, so larger businesses with more bathrooms will need water heaters with larger capacities. Additionally, we look at how many people live in the household to make sure the water heater will provide enough hot water for every usage in the business. This is essential to meet demands of peak usage hours. Newer and more efficient commercial water heaters and boilers offer higher volumes of hot water at lower costs. Some of the newest models of water heaters have a layer of foam insulation, which helps to heat the water without using extra energy.
Commercial Tankless Water Heaters
Tankless water heaters are a wonderful innovation in providing hot water to your business or commercial property.  No longer do you need to devote an entire closet space to that bulky 60-gallon tank.
There are several advantages when choosing tankless water heaters to replace your old tank system.
Compact Design– Tankless water heaters are small and compact. They are wall-mounted taking up zero floor space and can be installed on an interior or exterior wall.
Real Energy Savings – Tankless water heaters do not store hot water like conventional water heaters. They only produce hot water on demand, allowing for a huge reduction in energy costs.  Most tankless water heaters are considered to be up to 30% more efficient than a traditional tanked water heater.  This can reduce your bill by a considerable amount each year.
Extended Lifespan – Traditional water heaters usually have a 6-8 year warranty and last as little as 8-10 years. Tankless water heaters often come with a 10-15 year warranty and may last more than 20 years.  Due to their design they are less prone to rust and scale.
Unlimited Hot Water – As tankless water heaters heat water on demand, you will not see the end of hot water as you would with a tank water heater system. With a tank system, when you're out of hot water it can take 2 hours to heat the water to temperature again.  You are now at the mercy of waiting until that time. With a business like a restaurant this can be highly inconvenient.
Call for Commercial Water Heater Installation or Repairs in Charlotte Today!
If you have any questions about water heaters, feel free to give us a call to receive expert advice. We offer our commercial plumbing services in and around Charlotte, North Carolina.
Don't Hesitate To Contact South End Plumbing, Heating, and Air For Your Plumbing Services
We will assess your situation and give you a free estimate before we begin the work, so you can rest easy that the final bill will be something you are comfortable with, with no hidden costs or fees. Our plumbing services are 100% guaranteed, and customer satisfaction is our top priority.
Contact us in Charlotte, North Carolina, to request our plumbing services around the clock. We are available 24 hours a day to take on your repairs and Charlotte plumbing installations.
Book Online
Book Online